Advances in Manufactured Masonry Thin Veneers
New products look, adhere, and weather better
Sponsored by Oldcastle® Architectural
This test is no longer available for credit
Because it is made with concrete, manufactured masonry thin veneer provides a number of benefits. By its very nature, thin veneer is light in weight, making it generally more economical than full-depth veneer. Thin veneer also tends to install faster, saving money and the all-important resource of time. Further, thin veneers may be used for non-load bearing applications and do not require a footing, further eliminating costs because of the reduction of structural reinforcements required. They offer flexibility in customizing sills, arches, coping units, and larger-size units, and can be easily cut and shaped in the field. While most commercial applications have used a thin veneer stone from time to time, they have been increasingly utilized over the past few years due to several reasons, including the need for a lighter veneer due to an application or particular location on the building, and installations on projects with other thin veneer systems such as metal panels or glass curtain walls.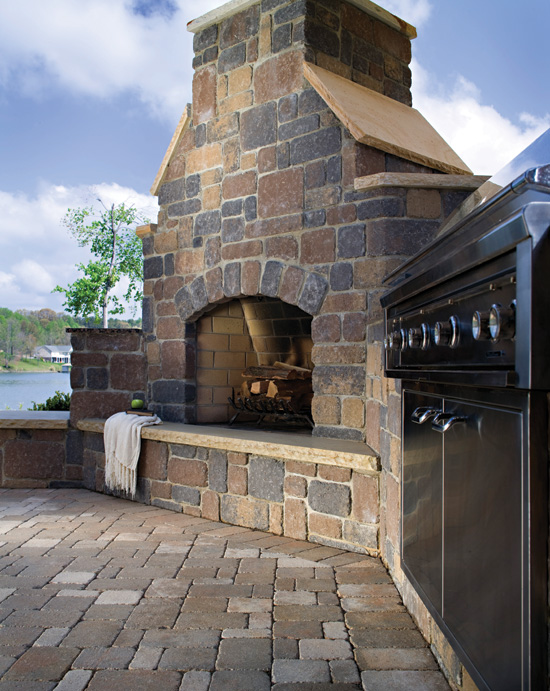 Photo courtesy of Oldcastle® Architectural
Manufactured masonry veneer in thin and full-profile styles creates distinctive outdoor spaces.
Manufactured vs. Natural Stone
Many applications call for the look of stone and, in use since the 1950s, manufactured stone is a frequent lightweight alternative to natural stone. Particularly with wood frame walls, building codes may stipulate that when natural stone cladding is used, more wall support, footings, and expansion joints may be required. Over the years, manufacturers have solved a number of problems present in early versions of manufactured stone, particularly its sometimes unauthentic look and texture, and manufacturing innovation in finishes and installation methods has generated an uptick in face and size options. With the actual material costs of manufactured stone and natural stone veneers running neck and neck1, due to its lighter weight—roughly one third the weight of natural stone—manufactured stone is a less expensive alternative in terms of fabrication, shipping, lifting, and installation, and a more economical and environmentally sound option in areas without natural quarries. Manufactured stone may also have an edge over natural stone in color options—while natural stone is confined to the palette that Mother Nature has presented, manufactured stone products are available in almost limitless colors and textures.
Market Conditions
Manufactured masonry thin veneer usage is on the rise, with the North American market for general masonry veneer in residential and commercial applications reaching more than 160 million square feet valued at nearly $700 million in 2010, according to a study by business consulting firm Principia Partners entitled Masonry Veneer 20102. The firm maintains that the residential market for masonry veneer will be the primary driver of new growth between 2010 and 2012, contributing over $150 million in new demand.
According to the study, masonry veneer including manufactured stone, thin veneer stone, thin brick, and masonry panels, simulates stone or brick appearance at an installed cost of 50 to 60 percent that of full-dimensional masonry—a figure made even higher with the shortage of skilled masons to install full-dimensional masonry.
Ken Jacobson, partner at Principia Partners, says, "Property owners are increasingly using masonry veneer products because they are significantly more affordable than natural stone and full-dimensional brick." Jacobson continues, "According to our extensive research, property owners continue to seek products that are aesthetically pleasing, offer a wide range of design options in color, form, and texture, and can be easily installed. Masonry veneer products install easier than full-dimension masonry. More product can be moved and installed per man hour. Due to masonry veneer's lower volume and weight, more product can be shipped per truckload than traditional masonry, and with no load-bearing foundations required, thin masonry veneers are easier and less expensive to install than their full-dimension equivalents."
Applications
Thin veneers have wide applicability in settings from residential single-family homes to multi-story commercial buildings, and are used extensively not only in façades and foundation facings but in many interior settings as well, creating striking effects. Archways, entrance pillars, courtyards as well as accent walls, alcoves, stairwells, chimneys, mantels, and fire pits are all popular candidates for thin veneer installations. Further, thin veneer can be an effective solution in both new construction and renovations, and can be fabricated to replicate a natural or specified material.
Interior. Considered a premium aesthetic as both a full application or as an accent, manufactured thin veneer is widely used in interior settings, as the 1-inch depth of a typical unit leaves more space than the full 4-inch profile. Accenting one part of a wall in a living or dining room can add visual interest and high drama at a relatively low cost. In the kitchen, stone veneer backsplashes, islands, walls, and entry arches can enhance the appearance of the room, adding a rustic feel, or emphasizing a natural aesthetic. Thin veneer is appropriate for fireplace upgrades, changing or reinforcing the design sensibility of the space—a rugged surface around the fireplace, for example, may add warmth and texture to a modern room. Door and window surrounds as well as transitional walls or arches are also prime spots for manufactured thin veneer stone treatments and can bring the dramatic richness and warmth of natural stone without the drawbacks. Options in manufactured veneers range from rough edged to natural cut, irregularly shaped field stone and the rounded smoothness of river rock.
Exterior. Manufactured thin veneer can be used to striking effect in both complete coverage or as an accent to the exterior of a structure, with a combination of different surfaces and textures adding interest and depth. Appropriately colored and textured units can help the structure blend in to its natural surroundings, be they marked by stone outcroppings or deep woods or other types of landscape. Simple or multidimensional designs for outdoor living can also be created with a combination of thin veneer products. Popular trends include built-in seating, definition of an outdoor room with seat walls, and customization of water or fire features and an outdoor kitchen. Architects can also use thin veneer walls to pleasing and practical effect in outdoor living settings to define spaces, wrap columns, control erosion, build seat walls and raised gardens, and create multidimensional poolscapes and patios.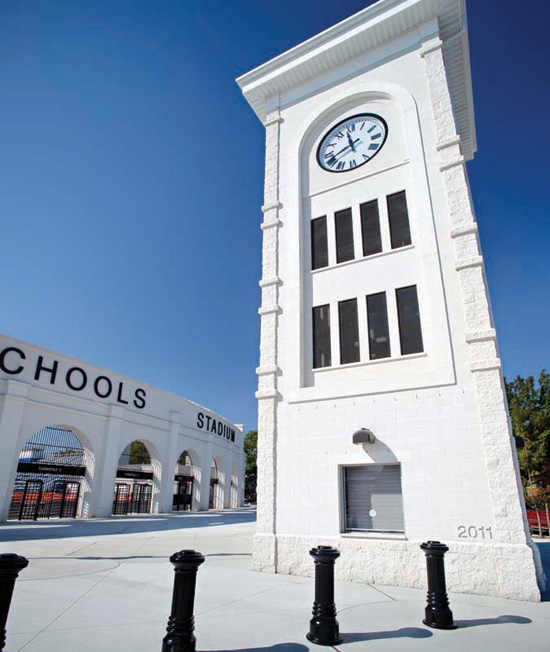 Photo courtesy of Oldcastle® Architectural
A popular option in full-profile veneer is a monument white exterior look, achieved by a mixture of white Portland cement combined with fine aggregates.
The diversity of face alternatives of manufactured full-dimension stone veneer, including color, texture, and size options, can also offer architects a versatile palette. Exterior veneer, for example, can have the look and feel of natural limestone or cast stone, creating the unique appearance of old stone with a slightly embossed, antique finish to achieve an air of softness and warmth. In some instances, a choice of two types of joints is available in order to create two very different looks within the façade, and many product lines include various proportions of large stones and accessories to create interesting architectural details that require few or no cuts. Angular and surround stones offer a variety of design possibilities, as do thin veneer units with rounded contours, and modular shapes.
Originally published in Architectural Record
Originally published in May 2015
Notice