Sustainable Hand Drying and Life-Cycle Assessment
Innovative product designs boost building life cycle
Sponsored by Dyson Inc.
Learning Objectives:
Discuss the use of LCA for product comparison and selection, including restroom products.
Explain how restroom hand-drying choices can have a significant environmental impact.
Discuss trends in sustainability and energy efficiency and how they impact the environment, with attention to life-cycle impacts or ROI (or both).
List related trends in sustainable building or occupant health that could influence the choice of hand-drying products.
Credits:
This test is no longer available for credit
Unitary systems and equipment tend to be relegated to the last-minute spec or punch list. In some cases, they are considered items left beholden to the operational preferences—or standards—of the owner or tenant. This has long been the case, but the trend is changing quickly. Behind the move toward greater architect control and influence over appliance choices is the adoption of life-cycle analysis or assessment (LCA) into sustainable building standards, and the benefits of return-on-investment (ROI) analysis for both building occupants and owners.
Of course, some equipment has a greater impact than others in the ROI and life cycle of a building. Packaged terminal air conditioners, often found in hotel or motel rooms, offer a typical example; these products may be used for years, and their energy-efficiency ratings indicate a real effect on operational costs. Yet another type of equipment that deserves renewed scrutiny today is an option in restroom equipment: the category of hand dryers. In some buildings, the hand dryer is left out and towel dispensers are selected, leaving the client a legacy (and open-ended tab) for bulk quantities of roll or folded paper.
In more buildings, however—from the London Eye and Los Angeles International Airport to the Time Warner Center in New York and in Costco stores around the United States—electric dryers are chosen. This choice is an important one because relying on consumables has a significant impact on sustainability and occupant health, says James Dyson, an inventor and entrepreneur known for his designs of vacuum cleaners, fans and hand dryers. "Paper towels—like vacuum bags—are from a bygone era. Technology has moved on," he explains. "People want to dry their hands quickly, completely and without damaging the environment."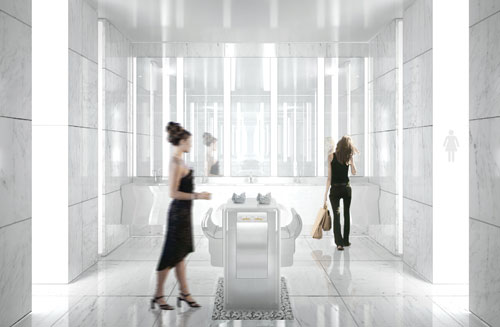 High-speed, hands-in dryers are an alternative to hands-under type dryers and paper or cotton towels. Life-cycle assessment (LCA) studies have been used to compare their relative performance for a variety of environmental benefits.
Image and design study courtesy of Borgo7
Originally published in Architectural Record
Originally published in September 2012
Notice