Labor Shortage Solution Specifying a Factory-Made Roofing Membrane
Sponsored by Duro-Last®, Inc.
Learning Objectives:
Discuss the decline of skilled building labor in the United States and its effect on building quality, safety and durability.
Explain the history and benefits of a controlled factory setting for building components that decrease faulty onsite installation.
Discuss studies of roof failures that show that most moisture intrusion and uplift problems occur because of installation errors.
Describe how single-ply membrane roofing assemblies work for quality control and increased safety and durability.
List case studies where prefabricated membrane roofing saved labor time onsite, decreased disruptions to building occupants, and increased durability of the roof and health and comfort for the occupants.
Credits:
This test is no longer available for credit
In a perfect world, the architect designs a building and the contractor builds it, accurately and on time, with all the skilled labor necessary.
In the real world, the supply of skilled construction labor ebbs and flows. Today it has ebbed. The scarcity of skilled labor drives up costs and drives down quality as crews rush from project to project in a quickening market.
This article is about how skilled labor shortages are affecting construction timetables and quality, with a focus on the roofing industry, and how a solution that architects can specify—factory-controlled, prefabricated membrane roofing systems that install on-site in a fraction of the time and with fewer workers—is helping to solve the problem.
The Decline of Skilled Building Labor
While the construction labor shortage has been many years in the making, it has recently received wide attention.
A recent headline in The Atlantic reads: "Where Have All the Construction Workers Gone?"
A headline in Engineering News Record reads: "Contractors Turning Down Work Due to Labor Shortages."
Even back in 2013, a Forbes.com article rang the warning bell with the headline: "As Construction Begins Rebound, Looming Labor Shortages Raise Concerns."
With the recent upturn in the construction industry, unemployment levels for construction trades are at their lowest level in a decade and a half.
"Expanding job opportunities throughout the economy make it increasingly difficult for contractors to find experienced construction workers," Ken Simonson, the chief economist of the Associated General Contractors of America, notes in a press release.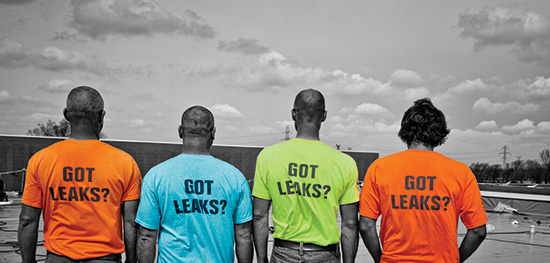 Photo courtesy of Duro-Last
The quality and durability of roofing products has increased in the past decade. A durable roof depends on accurate installation, which can be difficult because of the skilled labor shortage. Factory prefabrication of the roofing membrane and accessories, resulting in less labor needed on the rooftop, helps ensure a high-quality installation.
"This scarcity shows up in record workweeks for craft workers and flattening of employment totals despite higher construction spending," Simonson adds.
Recent Census Bureau data on construction spending indicates there is robust demand for new construction, particularly for apartments and private nonresidential projects.
However, Simonson warns, "Some projects may be delayed or put on hold without new measures to recruit and prepare future workers."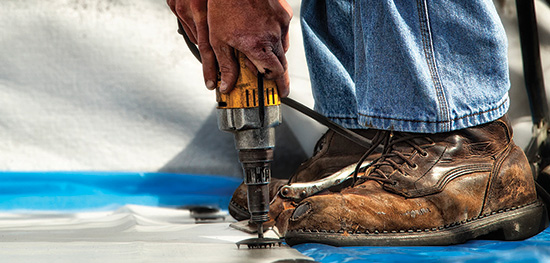 Photo courtesy of Duro-Last
Many skilled workers left the building industry during the downturn and never came back.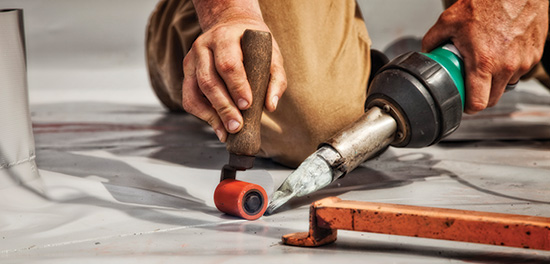 A recent survey released by the Associated General Contractors of America revealed that 83 percent of construction firms struggle to fill positions for qualified craftworkers, carpenters, equipment operators, and laborers. Roofing labor shortages were a problem for 64 percent of firms surveyed.
The Ebb and Flow of Construction Labor
There are several reasons why construction labor decreased.
Fewer unions, fewer union apprentices. The percentage of workers belonging to a union in the United States peaked in 1954 at almost 35 percent and the total number of union members peaked in 1979 at an estimated 21 million. Membership has declined since, with private sector union membership beginning a steady decline that continues into the 2010s, even while the membership of public sector unions grew steadily.  Today, union membership is down to 11 percent overall. Traditionally, unions have operated training and apprenticeship programs, therefore with decreasing union power comes decreased worker training.
Dismantling of vocational and technical education. Decades ago, vocational and technical education was a viable and popular path for high school students not headed to college. However, in efforts to send nearly every student to college, much of that vocational funding has been shifted to college-preparatory programs.
In economic downturn, workers left construction field. As the Forbes article noted, "Hundreds of thousands of workers left the field in the downturn, changing career paths or retiring altogether. Young adults haven't clamored to enter the field and even for the ones that have, training programs have shrunk or evaporated altogether."
Changes in immigration policy. According to the Bureau of Labor Statistics, 53 percent of roofers today are Hispanic, with a large number of that population being immigrants. Legal immigration for people in jobs like roofing, which is a skilled trade but doesn't require higher education, is becoming increasingly difficult.
Roofing Industry Affected
In the roofing industry, labor shortages rank as a top concern for contractors. According to the most recent State of the Industry Report from Roofing Contractor magazine, business is good but labor shortages are tempering the growth.
"The past recession has put us in a tough spot. We lost a generation or more of trained workers in our industry," Kent Schwickert, senior vice president, national business unit - Tecta America Corp., tells the magazine.
"An extreme labor shortage is going to impact the entire country, in my opinion. This is going to drive up wages and make competition for experienced roofers fierce," says Scott Baxter, a commercial sales manager for Interstate Roofing Inc. in Portland, Oregon, in an interview with the magazine.
One solution noted in the report is factory-made roofing systems to minimize labor needed in the field.
Roofing Problems and Faulty Installation
The shortage of skilled roofing workers is particularly concerning when the impact of roofing failures is examined. We'll discuss later in the article how and why faulty roofing installations lead to massive and costly building failures. But suffice it to say that a failed roofing system has far greater implications than sloppy interior trim work, for instance, or sloppy drywall finishing. While those installation failures may well stem from a similarly debilitating shortage of skilled workers, the outcomes are not likely as consequential as those caused by a poorly executed roofing job.
Roof installation is unique in the construction industry because it is one of the only building components that is partially or fully constructed on the job site. This means that the performance of the roof—which is a building's defense against the elements—relies heavily on the workmanship used to complete the installation.
Many rooftop problems are caused by installation workmanship, not material failure. The most common installation errors include:
Improper Fastening. Fasteners are installed at specified intervals, depending on the height of the roof and wind speeds, to reduce flutter and properly absorb the load. Not installing fasteners correctly can cause individual fasteners to fail, putting increased pressure on the remaining fasteners and eventually causing the entire roof to fail.
Flashings. Precise workmanship is required at all roof penetrations or transitions. These are the most critical areas of a rooftop and failure to properly seal these areas can lead to leaks and deterioration of the entire roof.
Perimeter Edges. In addition to the membrane, proper installation of edge metal terminations is equally important. Recent statistics estimate that more than half of all roof warranty claims are attributed to metal edge failures.
Lack of Code Knowledge. Another downfall of using unskilled laborers is that they often lack knowledge of local building codes, which vary greatly around the country and change depending on the building's location, height, and if it is located in a high wind zone.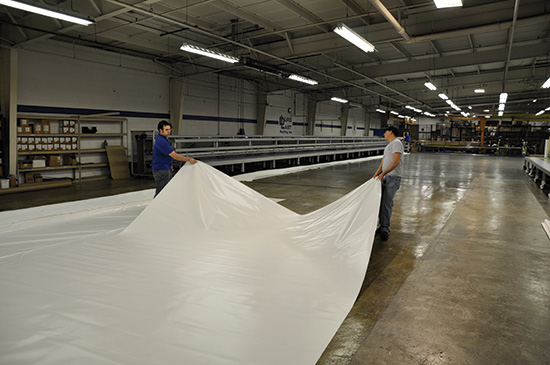 Photo courtesy of Duro-Last
Membranes up to 2,500 square feet can be prefabricated in a factory setting.
Originally published in Architectural Record
Notice