Enhancing Roof Deck Performance with PVC Waterproof Membranes
How to create safe, attractive outdoor spaces and durable, walkable surfaces
This course is no longer active
Advertorial course provided by Duradek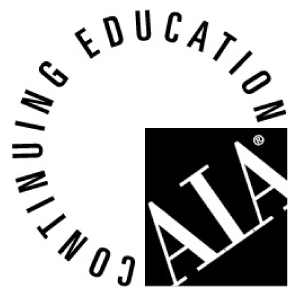 Continuing Education
Learning Objectives - After this course, you should be able to:
Examine the types of walkable roof decks, waterproofing options, and common problems.
Analyze the characteristics, advantages and applications of walkable roof deck, and outdoor flooring systems.
Explore design and installation considerations for walkable roof decks, balconies, and outdoor flooring systems.
Understand key issues in specifying waterproof PVC-based roof deck and flooring membranes.
Credits:
Roof decks offer inexpensive living space geared to relaxation and socializing and, especially in urban environments, often afford views over a glittering cityscape. Yet because these outdoor rooms can quickly become unsightly and even unsafe if they are not built of the proper materials, they can be particularly challenging for architects. Roofing products are not intended for pedestrian traffic. Protective carpet or wood can be placed over the roofing, but are susceptible to damage from the elements. Applied coatings and fiberglass have been used with limited success due to the inherent deficiencies in the materials themselves. With walkable, waterproof decks being so problematic, many architects and building officials have shied away from them.
However, walkable decks finished with heavy-duty polyvinyl chloride (PVC) thermoplastic waterproofing membranes are one way to ensure that outdoor spaces remain livable for years to come. The surface has its origins in the 1960s when it was used in small boats to provide an attractive, slip-resistant flooring that would clean easily and stand up to the abuses to which a fishing or water ski boat may be subjected. PVC membranes were adapted and introduced as a waterproofing roofing material in Canada, and have been growing in popularity in the U.S. market ever since.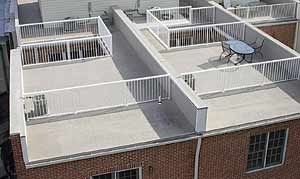 PVC membranes were specified for roof decks at a Baltimore-area town house development. Bond Street Townes, Fells Point, Maryland. Architect: Architecture Collaborative, Inc.
Typically applied with heat-welded seams, and formulated for long-term, direct exposure to the elements, PVC membranes have distinct advantages over traditional waterproofing methods. This article will detail the differences between the traditional and the PVC approach to waterproofing and provide an overview of design and installation considerations, as well as introduce the basics involved in specification of PVC-based membranes.
Originally published in Architectural Record.
Notice