Prefabricated EIFS-Clad Wall Panel Assemblies
Designers, contractors, and owners all benefit from this advanced building approach
Sponsored by Dryvit Systems, Inc.
This test is no longer available for credit
Design and Engineering Process
The design process using prefabricated EIFS panels is very straightforward and consistent with most typical design sequences. The architect determines the aesthetic and performance requirements in accordance with the overall design intent of the building envelope. Panel layout and engineering design for the framing can be done in concert with a structural engineer or with a specialty engineer for prefabricated EIFS panels. Either way, the panel engineers coordinate with the fabricator and/or erector, perform the final detailed engineering for structural performance, and develop the panel connections. They also provide the fabrication engineering calculations required to meet the building's wind, dead, and live design loads. Since EIFS panels are among the lightest prefabricated panel options available, they allow for reduced structural capacities for materials to be used in the panels, which will reduce building dead loads and overall building structural cost. The panel engineers also create the detailed shop drawings specific to the overall panel size and configuration in accordance with the architect's building design and desired exterior aesthetics. Once the architect reviews and/or approves the shop drawings, then fabrication begins.
Quality Control
By employing a specified prefabricated panel process, architects as well as building owners can be assured that the exterior wall will be completed correctly and with no substitute products. Additionally, the architect can readily inspect, monitor, and observe the prefabricated EIFS panel wall system's quality off-site during fabrication and before it is placed on the building. This is a very important quality-assurance measure that is not usually available with traditional construction methods where the exterior wall is constructed directly on-site, occasionally in difficult-to-access areas, with numerous steps, layers, materials, and trades.
Storage and Staging Space
Storage and staging space can be extremely limited on job sites. Prefabricated EIFS panels made off-site do not require any on-site production area, staging area, or on-site storage space. Of course, they can be assembled on-site if a suitable area and protection are available. Either way, they are typically crane-lifted into place directly off of a truck or a designated place on-site. Sometimes, that means the sharing of an already available on-site crane is possible. This lends itself to panels being installed at night or other off-crane hours, thus making full use of the crane's availability and sharing cost.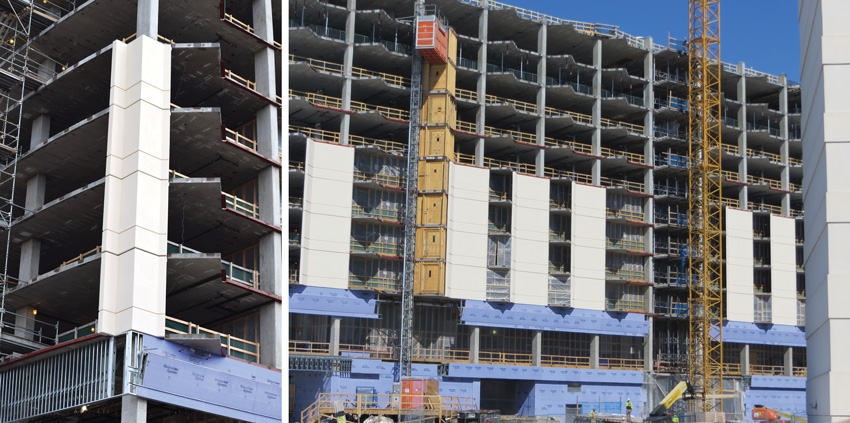 Prefabricated EIFS panels can be delivered to the site, placed directly onto the building structure, and attached in a variety of ways.
Using this process, prefabricated EIFS panels can be shipped on a "just-in-time" basis, erected, and installed the same day. No scaffolding is needed, which assists sites with limited space and helps control costs. Prefabricated EIFS panel construction also limits the number of subcontractors and bodies on the job site, along with reducing or eliminating job site waste from the assemblies. The entire panel consisting of framing, sheathing, air- and water-resistant barriers, continuous insulation, and aesthetic finish is fabricated and then installed by one subcontractor with a small crew, compared to the multiple trades that are required with more traditional field construction methods and far more on-site labor.
Building and Energy Code Compliance
Since their introduction to the U.S. market in 1969, EIFS have evolved into one of the most tested and well-researched wall claddings in the construction industry. Today's EIFS are in full compliance with building codes which emphasize weather protection, energy conservation, and fire-resistive construction and performance. These codes include the International Building Code (IBC), the International Energy Conservation Code (IECC), ASHRAE Standard 90.1, and other related standards.
Recent updates to the IBC require water-resistive barriers and full-assembly fire testing for exterior walls, which prefabricated EIFS panels can provide. Further, the IECC latest requirements for continuous air barriers and continuous insulation have made exterior wall assemblies far more sophisticated not to mention thicker in their composition. Coupled with enhanced requirements for flashing integrations, these code changes are fueling an increased concentration toward dramatically improved energy efficiency compared to the past. Of course, many of these changes are impacting overall building structural cost that could be offset by the significantly lighter weight of a prefabricated EIFS panel wall assembly.
Most notably, the IECC has dramatically increased the requirement for exterior continuous insulation (CI) on commercial-framed wall assemblies as a means of mitigating heat energy gain/loss through thermal bridging at the stud lines. These new criteria alone add two or more inches of depth to a traditional veneer wall assembly. Adding CI also pushes the cladding or veneer off its normal structural plane, which can significantly increase bearing structure, anchoring, and attachment needs, additionally increasing cost and possibly effecting long-term cladding performance.
Traditional EIFS as well as prefabricated EIFS panels have always been an energy-efficient cladding. This energy efficiency is attributed to the continuous insulation and air barrier used as components of the system. EIFS continuous insulation wraps the exterior of buildings eliminating the thermal bridging that occurs when traditional cavity insulation is installed between the framing studs. While traditional cavity insulation has a stated R-value, the effective R-value of the total assembly is actually much lower. For example, a building with steel studs at 16 inches on center that uses cavity insulation rated at R-13 has an effective value of R-6 due to thermal bridging. This dramatic reduction comes about because heat is transferred through the studs of the wall, completely compromising the cavity insulation. Continuous insulation installed outside of the studs overcomes that thermal bridging issue and is much more effective in terms of energy performance.
Fire Safety
While many cladding products can be code compliant with modification, EIFS are completely code compliant unto themselves. Traditional EIFS as well as prefabricated EIFS panels have been tested in a variety of typical wall assembly configurations and have successfully passed the stringent NFPA 285 flame-propagation test as well as the ASTM E-119 2-hour load-bearing wood-frame assembly test.
Air- and Water-Resistant Barriers
Prefabricated EIFS wall panels are highly unique in that they are composed of all the building, and energy-code-required barrier layers, including an integrated air- and water-resistive barrier (AWRB) in addition to the continuous insulation (CI). The majority of EIFS manufacturers offer fluid-applied AWRBs that also contribute to the development of a drainage plane in wall assemblies. The AWRB can be applied via trowel, roller, or airless sprayer depending on the contractor's preference or underlying substrate requirements. Further, they are available in either a permeable or nonpermeable vapor barrier version depending on the hygrothermal performance needs of the overall wall assembly. Part of the beauty of a prefabricated EIFS panel assembly is that since there are no through wall mechanical attachments, no punctures are created in the AWRB. That means there are fewer opportunities for air and water to infiltrate or cause damage.
Prefabricated Panel Types
With an understanding of the basic principles and makeup of prefabricated EIFS panels, let's take a closer look at how they are physically constructed. Essentially, there are three common types of fabrication techniques, each of which are explored further in the following paragraphs.
Originally published in Architectural Record
Notice