Prefabricated EIFS-Clad Wall Panel Assemblies
Designers, contractors, and owners all benefit from this advanced building approach
Sponsored by Dryvit Systems, Inc.
Learning Objectives:
Describe the performance, constructability, and durability characteristics of prefabricated exterior wall panels using EIFS cladding.
Investigate the design and construction considerations when incorporating prefabricated EIFS panels into a new or renovation project.
Assess the ability of prefabricated EIFS panels to meet code requirements for energy conservation, integration of air- and water-resistant barriers, and fire-testing compliance.
Recognize the three common types of prefabricated EIFS panels and be able to incorporate panel configurations effectively into building envelope designs.
Credits:
This course can be self-reported to the AIBC, as per their CE Guidelines.
This course is approved as a Structured Course
Approved for structured learning
Approved for Core Learning
This course is approved as a Core Course
Course may qualify for Learning Hours with NWTAA
Course eligible for OAA Learning Hours
This course is approved as a core course
This course can be self-reported for Learning Units to the Architectural Institute of British Columbia
This test is no longer available for credit
Architects and general contractors are constantly in pursuit of time-efficient, cost-effective, and quality-assured solutions related to building design and construction. Currently, this objective is even more influenced with the developing skilled labor shortage present in many construction disciplines and markets. An increasingly common solution to address all of these objectives is the use of off-site fabrication of key building assemblies. In particular, prefabricating exterior walls with metal studs and exterior sheathing has been routine practice for many commercial buildings. A growing number of design and construction professionals have recognized that it is also quite possible and advantageous to go several steps further and create more complete wall panels. In fact, many prefabricated wall sections can be air and water sealed to meet code, insulated with continuous insulation to meet or exceed energy requirements, and finished in a variety of appearances. One of the best means to accomplish all of this in an exterior wall assembly is found in using prefabricated wall panel assemblies clad with exterior insulation and finish systems (EIFS). This course addresses, in detail, the characteristics, advantages, and design considerations in using this proven construction approach.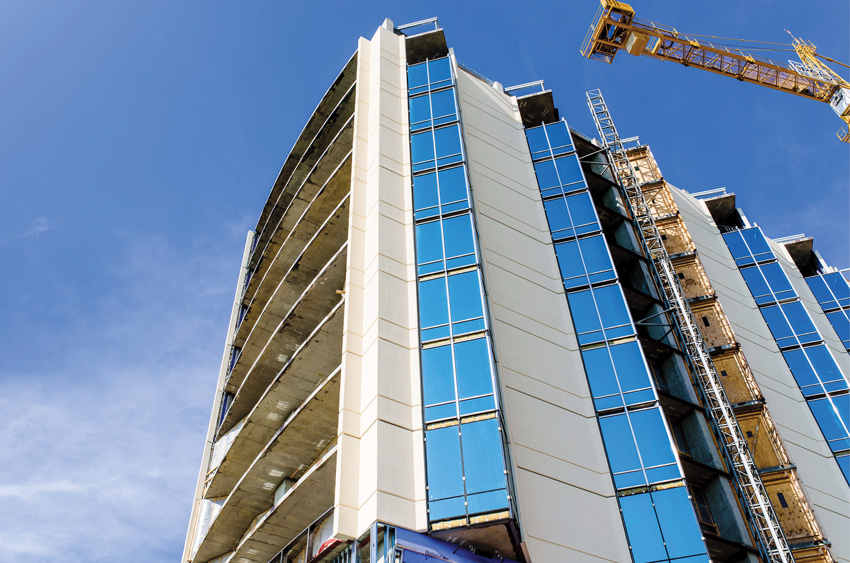 All images courtesy of Dryvit Systems, Inc.
Prefabricated EIFS panels are a means to achieve a high-performance, quality-controlled, code-compliant exterior wall system on virtually any type of building.
Prefabricated EIFS Panel Overview
Prefabricated panel construction has been around for many years, but the process is still largely misunderstood. Owners, developers, and designers not familiar with prefabrication may wrongly perceive it as a complex, costly, and/or time-consuming process. Without overcoming these misconceptions, they run the risk of not considering all available options and missing out on the potential real benefits of prefabricated construction.
Prefabricated EIFS panels are essentially no different than traditional field-applied EIFS. From an engineering, performance, and code-compliance standpoint, they do everything that field-applied systems do. The only difference is that they are simply fabricated in an off-site shop or in a designated area at or near the construction site in a well-managed and protected manner. Once the panels are complete, they are then delivered or lifted into place onto the building. The fabrication and installation can be done by the same company or different contractors depending on the circumstances of a project.
Prefabricated EIFS panels are designed, detailed, engineered, and completely sealed around their entire perimeter as a full-face sealed wall assembly. Fabricated essentially as a series of performance layers, they provide complete air, water, vapor, and thermal barriers. They can also incorporate drainage capacity in the wall assembly through the integration of fluid-applied air- and water-resistive barrier coatings, integral fluid-applied flashings, and horizontal weep and drainage detailing.
If the finished prefabricated panels are constructed off-site, then their maximum size may be dictated by over-the-road trucking limitations for width, length, and height (i.e., 45–55 long, 8–8.5 feet wide, and 8–8.5 feet tall). This can usually be worked around in most designs, but if large sizes are needed with critical dimensions, then consultation with a fabricator may be in order to determine their practical limits. Panel size for either on-site or off-site fabrication could also be limited by crane-lifting and erection access and capabilities for size, weight, and space availability. Nonetheless, prefabrication is suitable for a wide range of sizes, shapes, and configurations.
Using Prefabrication to Overcome Weather and Temperature Issues
Quality assurance and project time schedules are important aspects of all building construction projects. The most common challenges associated with both are weather, temperature, and the related protection of materials and processes. Field-applied materials, including EIF systems, can be limited by unintentional negative influence from such weather conditions, leading to possible schedule delays. If the temperature and/or weather falls outside the product curing guidelines, then the contractor may need to delay the work or install temporary protection until the materials cure—both of which create unknown and uncontrolled conditions that can add significant cost to a project if not budgeted initially. These conditions may also lead to material defects and void any warranty.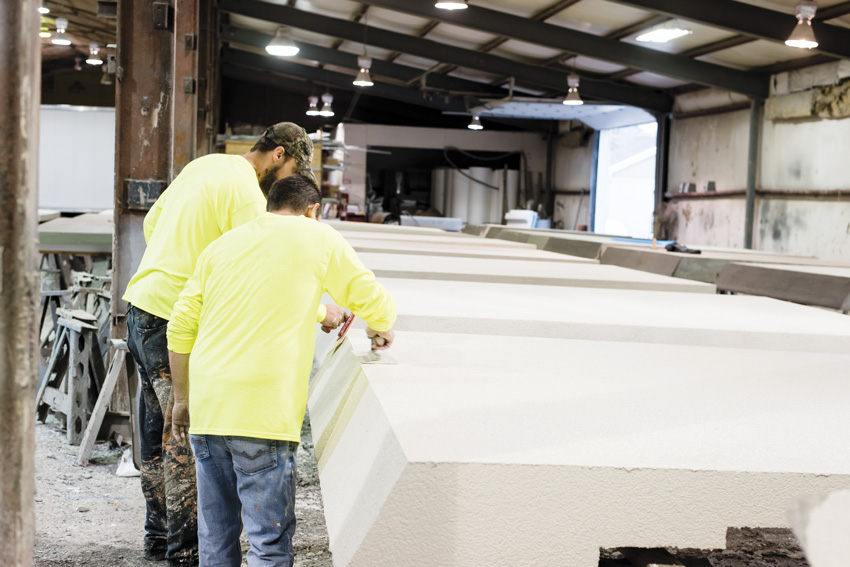 Fabricating EIFS panels indoors avoids the problems of weather and scheduling delays often associated with field construction.
By contrast, when construction is protected from weather and temperature conditions outside of one's control, the building envelope can be more consistent in quality, more easily meet time schedules, and be more readily coordinated. When prefabricated wall envelope panels are built off-site, or even on-site but indoors in a controlled environment, there is a more predictable production schedule and multiple quality assurance verification points in the process. Within a prefabricated EIFS panel production facility, the temperature is controlled, enabling proper and managed material curing time. Additionally, with no concern for weather conditions, prefabricated EIFS panel production can be completed on schedule despite outside temperature fluctuations or precipitation events. Furthermore, for a great portion of the country, winter significantly impacts all temperature- and weather-sensitive construction. Prefabricated EIFS panel production and erection can occur during the winter months, significantly enhancing building envelope enclosure time objectives and dramatically shortening a project's overall construction schedule. Overall, prefabricated EIFS panels can be worked on and completed while the building structure itself is underway, allowing for a quicker enclosure and completion of the exterior facade, thus enabling the building to open sooner.
EIFS Panel Design and Construction Considerations
Based on the schedule and quality advantages just described, it is increasingly common to see components of a project prefabricated, including exterior wall portions of the building envelope. Since these enclosure components can be manufactured cost-effectively off-site and easily transported, the on-site work is focused on lifting and attaching the panels to the building structural frame to provide the enclosure for the building. Due to the fairly universal ease and application of this process, prefabricated EIFS panel construction can be used on practically any building but is more commonly used in education, hospitality, health-care, office, entertainment, and multifamily buildings. These buildings tend to be larger in size, have more repeating and rhythmic features that result in duplicating panel designs, and are built under tight timelines. For commercial buildings, they have become favored because a faster construction cycle leads to quicker occupancy.
Architectural Character, Style, and Finish
EIFS claddings have a long-standing history for easily accommodating any architectural character or style. This remains true whether the building uses a field application or prefabricated panels. That means EIFS-clad panels can incorporate quoins, cornices, trim bands, medallions, or grooves, all of which are integrated as components of the panel during the production fabrication process.
While much has changed to enhance EIFS' performance over the years, the biggest advancement is the availability of a wide variety of finishes. Traditionally, EIFS have been thought to look similar to conventional stucco. Standard finishes are available in almost any color in a rough or smooth finish. Further, sophisticated specialty finish options now allow the EIFS facade to represent the aesthetic appearance of other materials, such as brick, granite, stone, travertine, limestone, metal panels, and even weathered steel. In addition to the appearance, there have been significant advancements in the chemistry and long-term performance of finishes. EIFS' textured finish can now incorporate a hydrophobic water-repellant enhancement that utilizes both state-of-the-art chemistry and fractal geometry technology to enable a textured finish surface treated to repel water. This allows it to dry faster and reduce the accumulation of airborne dirt and other contaminants, keeping it cleaner longer and reducing maintenance costs. Additionally, there have been significant advancements in enhanced UV-stable colorants, raising the bar for color science to a whole new level of stability, resistance to UV degradation, and long-term color brightness, and paving the way for the use of many colors not previously considered.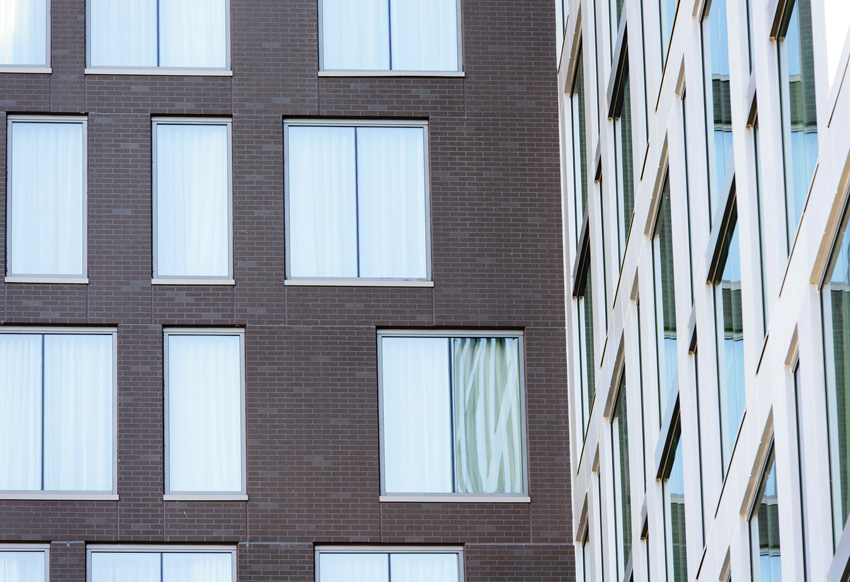 EIFS finishes are no longer limited to stucco-like appearance but now include brick masonry and metal shown here plus a range of others.
Originally published in Architectural Record
Notice