Managing Heat and Light Through Exterior Shading Systems
The advantages of solar control from the outside
Sponsored by Draper, Inc.
Learning Objectives:
Discuss the key aims of solar control and how they influence energy costs of a building.
Explain the reasons why exterior shading systems are more effective than interior shades in controlling unwanted heat gain and thus improving energy costs and occupant productivity and well-being.
Enumerate the factors that influence the choice of a shading system that will add to a building's sustainability profile and user comfort.
Explain the benefits of using exterior venetian blinds to control solar gain through vertical glazing, and the benefits of using the rack arm system to control solar gain through skylights and sloped glazing.
Credits:
This course can be self-reported to the AIBC, as per their CE Guidelines.
This course is approved as a Structured Course
This course can be self-reported to the AANB, as per their CE Guidelines
Approved for structured learning
Approved for Core Learning
This course can be self-reported to the NLAA
Course may qualify for Learning Hours with NWTAA
Course eligible for OAA Learning Hours
This course is approved as a core course
This course can be self-reported for Learning Units to the Architectural Institute of British Columbia
This test is no longer available for credit
Who hasn't enjoyed the feel of the sun streaming through a window, bringing a warm glow to the building inside. Unmitigated sunlight, however, comes with problems of its own, notably unwanted heat and glare, a situation that, particularly in large commercial structures, requires a well-thought-out solution. While American designers and architects generally opt for interior devices to shade rooms from the sun, for years their European counterparts have embraced another method: exterior shading systems. An aesthetic solution that can add up to superior energy savings, exterior shading systems reflect and absorb solar energy outside the building, before it penetrates the window, which is a key advantage over interior shading devices. This article will cover the dynamics of solar control as well as options in exterior shading systems and how they affect a building in terms of energy costs, user comfort, and overall sustainability profile.
Solar Control—What Is It?
The term solar control is often used, but its meaning is not always fully understood. Solar control is about managing the energy from the sun. The sun provides both heat and light and the aim of a solar control system is to maximize the use of natural daylight in a building while ensuring that problems do not occur as a result of excessive heat gain and glare. This sounds like a fairly straightforward exercise; getting a shading system to meet these requirements is not that easy to achieve. In the end, a combination of systems might be needed to address all three areas of concern.
It may seem obvious, but when questioned, most people cannot explain how energy from the sun turns into heat. This is a very important issue to grasp in order to understand why it makes sense to use an exterior shading system rather than an interior one.
Sunlight is made up of energy with a range of different wave lengths covering what is known as the solar spectrum. The solar spectrum can be split into three main sections—ultra violet, visible light, and infrared. All of these sections have a short wavelength. When sunlight reaches the earth and hits a surface, however, it is either absorbed or reflected. The surface might be the ground, vegetation, water, or a person. The absorbed part of the solar energy is emitted as long-wave energy which produces heat.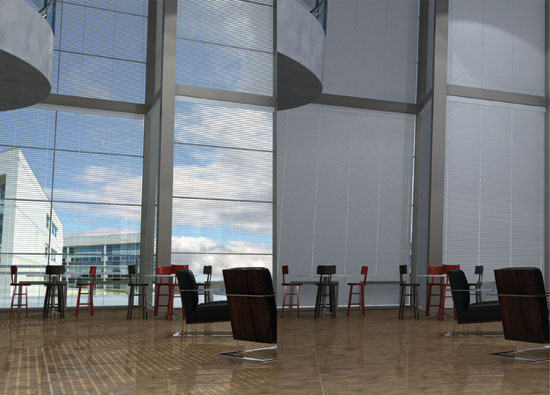 Image courtesy of Draper, Inc.
Exterior shading systems offer enhanced user comfort and reduced energy costs, contributing to greater overall project sustainability.
To get an understanding of this, consider the example of a car on a bright, sunny winter day. It is cold outside, but the inside of the car is very hot, almost like an oven. This is because the solar energy comes through the windshield of the vehicle, as glass is almost transparent to short-wave energy. The solar energy is absorbed by the surfaces inside the car (seats, dashboard etc.) and is then emitted as heat. Long-wave energy doesn't pass through glass easily and, as a result, the hot air is trapped inside the car. To deal with this issue, people sometimes put highly reflective silvered screens onto the windshield of cars on sunny days, as the screen will reflect the solar energy back out of the windshield before it is absorbed and converted into heat.
Originally published in Architectural Record
Originally published in June 2014
Notice