Safety in the Gym: Specifying Equipment to Protect Users and Spectators
Sponsored by Draper, Inc.
This test is no longer available for credit
Best Use of Divider Curtains
Divider curtains perform many safety and aesthetic functions in a gym. They prevent balls, and to a lesser extent people, from flying into adjacent areas, reducing the likelihood of injuries. Divider curtains also allow use of a walking track or other adjacent area(s) while basketball, volleyball, and other sports are going on.
Divider curtains should be at least 36 inches from walls. This space is required by the fire code in many areas. This provides a safer passage for people in the event of fire or other emergencies.
A generous space from walls also improves curtain fabric life. If the curtain is too close to a wall, people will pull on the fabric as they go around, causing wear and potential tears.
Dividers should be 12 inches from adjacent curtains. This creates a safer way of exiting in case of emergency without the need to go around the entire length of the curtain. If "complete closure" is desired or needed, curtains can be staggered with overlap to create the necessary bypass.
An upward-lifting gym divider curtain is a convenient and simple way to divide an area. The curtain hangs from overhead supporting steel structures. To operate, the operator simply turns a key, and the curtain unrolls as needed or rolls up for storage. This motorized folding curtain is a strong solution to dividing space.
Divider Curtain Winches and Safety Locks
Vertically lifting-style divider curtains are operated by an electric winch assembly. It's important to note that not all curtain winches are equal in quality and durability. But quality is important because they are holding a lot of heavy vinyl material above the heads of spectators and athletes.
Unlike basketball backstop winches, UL listing for divider curtain winches is not available because gym equipment falls under standard UL1340 for hoist systems. Since the full curtain drive mechanism, including the drive shaft, spools, and cable guides, are designed to building conditions, it is not possible to obtain a blanket approval; UL Listing would require on-site inspection of each installation.
To be self-locking, dividers need a 60-to-1 or higher gear ratio.
Curtain locks work on the same principle as backstop safety straps. Curtain locks are for use with any drive-shaft-style divider curtain, such as fold-up, roll-up, or top-roll curtains. They stop the rotation of the drive shaft if its speed exceeds the preset trip point, stopping the heavy curtain and batten from falling onto people in the case of a failure. Divider curtain locks have a definite rotation direction and only work in one direction.
A temptation exists to use basketball backstop safety straps for divider curtains, but these can provide a false sense of security. The bottom batten tubes on dividers are too flexible, and when these straps only catch the ends, the center of the curtain will likely still hit the ground, injuring people below.
Backstop safety straps are only acceptable on center-rolling divider curtains, and then only if attached to the center drive tube and not to the bottom batten tube.
Another element of safety is a pulsating alarm that warns bystanders to move away from the curtain when the winch is activated. Ideally, the alarm is 80 decibels. The alarm is plugged in between the winch and power supply. An alarm can be added to almost any divider curtain at any time.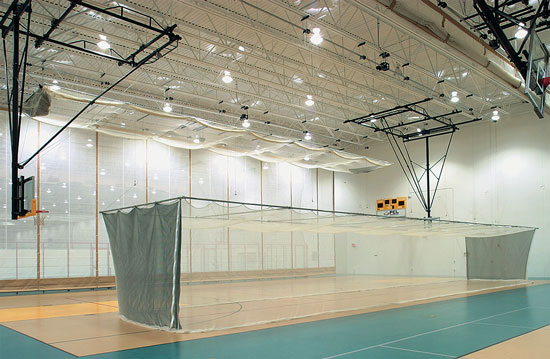 Photo courtesy of Draper, Inc.
When batting cages are not spaced correctly, injuries may occur.
Originally published in Architectural Record
Notice