Safety in the Gym: Specifying Equipment to Protect Users and Spectators
Sponsored by Draper, Inc.
This test is no longer available for credit
The Equipment: Safety Measures
As accidents have shown over the years, gymnasiums can be dangerous places if the equipment is not secured properly and if necessary safety equipment is not in place. Many of the injured are children or athletes in the prime of their physical lives. It is incumbent on the gymnasium architect, designer, or specifier to understand the danger and safety implications of each piece of equipment, and each strategy for keeping gym users and spectators safe.
Basketball Backstops
Basketball backstops can weigh thousands of pounds. That's a great deal of weight hanging above people's heads when they are in the gym. Unfortunately, there are no governing standards. There is nothing from ASTM or any other body, and there is nothing in the Uniform Building Code (UBC) that is specifically aimed at backstops or other ceiling-suspended gymnasium equipment.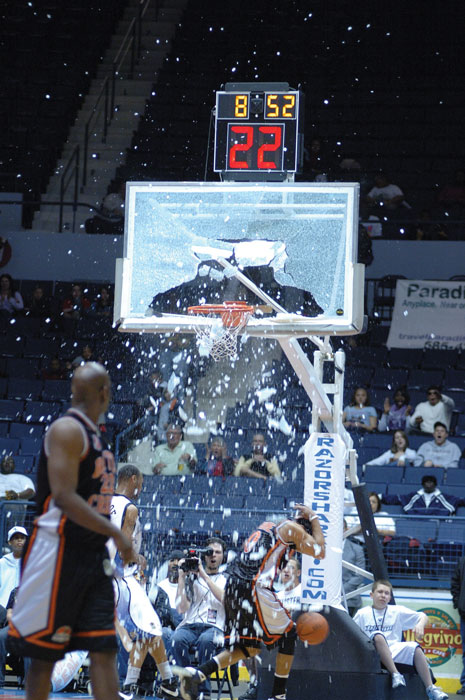 Photo courtesy of Draper, Inc.
Considering the amount of force glass backboards are subjected to, it's not surprising that they are susceptible to shattering when they are not constructed properly.
For safety in the gymnasium, however, some guidelines should be followed. First and foremost, every folding backstop should have a safety strap. Safety straps function similar to an automobile seat belt, and they prevent backboards from falling in the event of a winch or cable failure.
Safety straps come in several different forms and are available from every backstop manufacturer, as well as from other sources. Some claim to react a little faster than others. Some claim they are rated slightly heavier than others. Some may look a little better than others. Regardless of which you choose, make sure all folding backstops have a safety strap.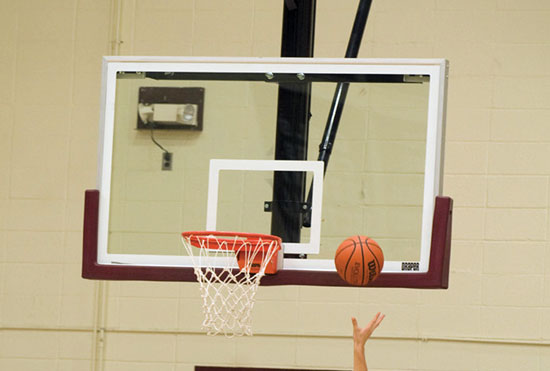 Photo courtesy of Draper, Inc.
Backboard edge padding helps prevent serious head injury when a player jumps up and makes contact. Ideally, the edge padding is 2 inches thick and runs 15 inches up each side.
Winches for Basketball Backstops
Winches should be UL listed to ensure they meet minimum standards for hoisting devices. Standard UL1340 covers power-operated hoists of the overhead type, and are intended for material-lifting service using either chain or wire rope. The standard requires a self-locking gear ratio or brake mechanism, establishes load capacities, and requires the product to be marked with its capacity.
The Problem of Shattering Backboards
A shattered glass backboard can occur when the backboard itself, and not the support structure, is taking too much of the playing load. Even though glass backboards are required to be made of tempered glass, thus limiting the size of pieces, a shattered backboard means flying glass that could potentially be stepped on or cause damage to eyes.
A concerned gymnasium designer or specifier will wonder: How can this be prevented? The solution is to transfer playing loads to the support structure, which reduces the risk of breaking glass backboards. This is accomplished with bolts through the glass backboard to the support structure directly behind the goal.
For safety purposes, this assembly is required by the National Federation of State High School Associations (High School) in Rule 1, Section 11, Article 1. It is also required by the National Collegiate Athletic Association (College) in the form of Rule 1, Section 15, Article 1.
With this assembly, manufacturers can offer limited lifetime warranties for glass backboards.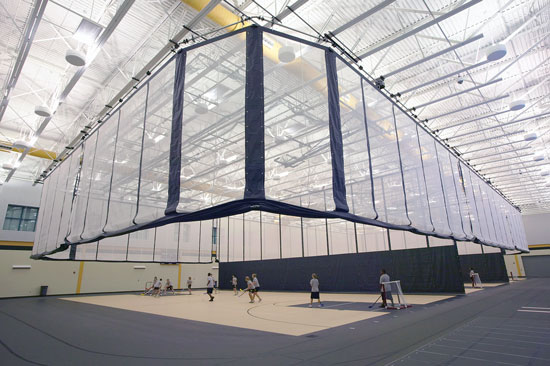 Photo courtesy of Draper, Inc.
Divider curtains allow a variety of sports to be played inside a gymnasium and protect participants from errant balls.
The Importance of Backboard Edge Padding
Backboard edge padding is required by all sanctioning bodies, and for good reason. Backboard edge padding reduces the chances of player head injuries from jumping up and hitting his or her head on the board. To be effective, the padding must cover the bottom of the backboard and 15 inches up each side with 2-inch-thick padding.
The sanctioning bodies requiring edge padding include:
National Federation of State High School Associations (NFHS) in Rule 1, Section 9, Article 1
National Collegiate Athletic Administration (NCAA) in Rule 1, Section 11, Article 1
International Basketball Association (FIBA) in Rule 2, Article 3
Note that the National Basketball Association (NBA) Rulebook does not address this issue. But, in fact, every NBA board is padded.
Although rulebooks don't recommend the type of padding, bolt-on padding has a better attachment and lasts longer than padding that is glued into place.
Originally published in Architectural Record
Notice