Managing Heat and Light Through Exterior Shading Systems
The advantages of solar control from the outside
Sponsored by Draper, Inc.
Exterior Shading Systems—The Benefits
If an external shading system significantly reduces the level of solar energy entering the building and the amount of heat gain that occurs as a result, it follows that the use of such a system will also reduce the building's cooling requirements. As a result, the size of the HVAC system can be reduced, providing up front savings to offset the cost of the shading system. As the cost of energy increases, however, the ongoing savings from the reduced running costs of a smaller HVAC system can also be significant.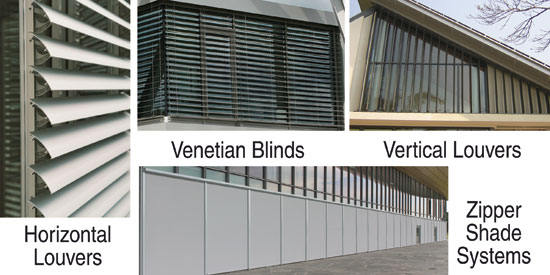 Image courtesy of Draper, Inc.
Exterior shading systems offer a host of benefits.
Other benefits of exterior shading systems include the following.
Increased sustainability. Consistent with concerns about energy use, greenhouse gases and global warming, using systems that reduce mechanical cooling requirements is an environmentally sound approach.
Conforming to regulations. Building codes around the world address the energy performance of the façade and many of them specifically refer to the use of exterior shading systems to assist in meeting code requirements.
Health and productivity. People like working in buildings where they have natural daylight and contact with the outside. Excessive heat gain, however, can cause discomfort for people in the building, particularly if they work adjacent to the glazing. Exterior shading devices can therefore contribute to a better working environment. Many studies have been undertaken and the results are all very similar: natural light improves peoples' mood and general well being and, perhaps most important to building and company owners, natural light increases their productivity, while reducing the number of sick days.
Better use of computer equipment. The almost universal use of computer screens in offices means that effective control of light is important. Computer usage also, however, generates significant heat and in most office environments triggers a substantial cooling requirement throughout the year. Reducing cooling needs by controlling solar gain is therefore a sensible approach to take in these situations.
LEED certification. LEED credits are available for optimizing energy performance, thermal comfort, daylighting, and quality views. The use of exterior shading systems can potentially assist in obtaining credits in all of these areas.
Options in Exterior Shading Systems
There are many different exterior shading systems available today. Exterior shading systems can be fixed or operable. Operable systems can allow the louver angle to be adjusted or they can be fully retractable as is the case with exterior venetian blinds and roller shades.
Not all the systems, however, will provide the same level of solar control. Fixed exterior systems such as brise soleil systems and fixed louvers are purely designed for heat control. While they may provide some light control, this is not their intended function. Operable louvers can be rotated to provide an increased level of solar control, which means they will also provide some daylight control, though that is not their main function either. The other systems listed in the accompanying chart provide much higher levels of light and glare control as well as the control of heat gain. As will be examined in more depth later, the rack arm system, for example, is often used in museums and art galleries where light control is critical.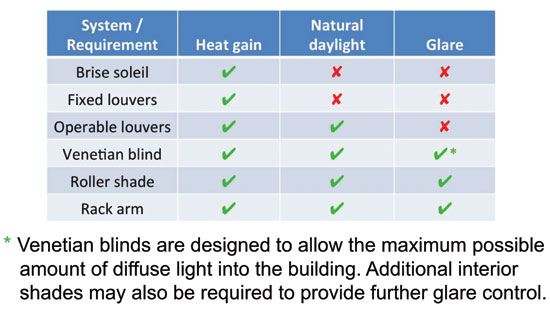 Chart courtesy of Draper, Inc.
Originally published in Architectural Record
Notice