Managing Heat and Light Through Exterior Shading Systems
The advantages of solar control from the outside
Sponsored by Draper, Inc.
Heat Gain in Interior Systems
Let's now take this concept and apply it to an interior shading system. Effectively, it is the same situation as with the example of the car. Any solar energy that gets into the building will be absorbed and will turn into heat. An interior shading system will, to a certain extent, act like the silvered screen in the windshield of a car; it will reflect solar energy back through the glazing to the outside. Unlike a car screen, however, the shading system is not completely opaque; it is designed to allow some light into the building and to afford views to the exterior. It will therefore reflect some of the solar energy but some will be absorbed by the system and some will pass through it.
If the shading system has a light color, the amount of energy reflected will be increased and the amount of energy absorbed will be reduced. Dark surfaces will absorb more of the solar energy. A reflective surface facing the glazing is therefore important to improve the solar performance of the shading system. To try and address this, some shade fabrics, for example, have an aluminized finish applied to the side that faces the glazing to improve the amount of reflectivity. The solar energy that has not been reflected back through the glazing will either be absorbed by the shading system or will be transmitted through it. The absorbed energy will then be radiated into the building while any that is transmitted through the shading system will be absorbed by surfaces inside the building and will also be radiated as heat.
As with the example of the car, this energy is trapped inside the building and not much of it escapes to the exterior, particularly if a low E finish is applied to the glazing. The inside of the building and the occupants will heat up.

Photos courtesy of Draper, Inc.
An effective solar control system is one that maximizes the use of natural daylight while addressing the problems of glare and excessive heat gain.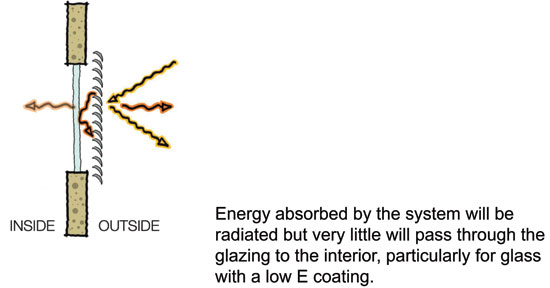 Image courtesy of Draper, Inc.
Originally published in Architectural Record
Notice