Managing Daylight with Automated Solar Control
Motorized shades lead to sustainable solutions
Sponsored by Draper, Inc.
This test is no longer available for credit
The Design Process
Designing a well thought out and functioning automated window treatment system takes planning. Window shades are often seen by many as merely a fabric choice and the deciding factors are sometimes waited on too long. Electrical considerations, of which there are many, must be made by the architect and electrical engineer preferably early in the design process. Can the space accommodate line voltage wiring? Or, do the building structure and the design require the use of low-voltage motors? Will the shades fit with low-voltage motors or are the shade sizes too large to fit comfortably with this type of motor? Will there be any type of system integration? Will the automated shade system be integrated with an audiovisual system, a building information management system, or an overall lighting control system? Do the corresponding specification sections correlate to one another? Although snags in these situations can typically be rectified after the fact, they can end up being time consuming and ineffective from a cost perspective. In rare instances, a unique building situation may require a redesign or completely new design of certain types of hardware.
Architects and designers should take full advantage of the manufacturer's product experts—they are a valuable yet often overlooked resource. Like many other automated systems, automated shade projects face a smoother operation when they are fully considered by all professionals involved in the task as early in the design process as possible.
Project Scenarios—Two Approaches
No two buildings will take the same approach to deployment of an automated shading system. Building orientation, geographic location, interior layout, budget, and other factors will best determine the appropriate configuration of the system. In the multi-floor office building in the accompanying photo, designers opted for a shading system specified to provide automatic glare and heat control. Included in the system is a sun sensor control with manual override. The offices are pictured with the shade alignment that occurs at 7PM.
In another case, a single-story office space was in need of a sun tracking system for its perimeter offices. The automated shading system was set to track the angle of the sun in 10 percent increments per the request of the owner. Manual override switches are provided in the conference rooms and the studios, with PC-based control of all shades enabled from individual offices.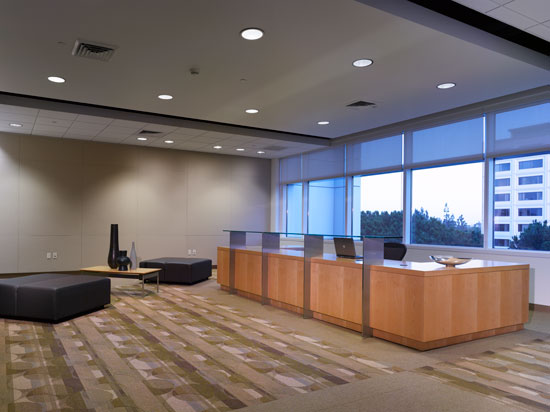 Photography by Alex Krall, courtesy of Draper, Inc.
A multi story office building deployed an automated shading system for automatic glare and heat control.
Automated Shades: Letting the Sun Shine In…Correctly
As energy costs continue to rise, harnessing the power of the sun's natural light is a valuable way of keeping a cap on building energy consumption. Increasingly, incorporating daylight is becoming a much sought after design goal in buildings of all types and sizes. Yet unmitigated daylight is not an option and can actually work against cost and comfort goals. A responsible daylight management system will regulate heat and glare to boost occupant comfort while decreasing costs of air conditioning and other energy expenditures. Shading systems represent a straightforward way to achieve these goals. Architects should be aware that automated systems in particular are a good means of solar control, and that considering such systems early in the design process can yield an important contribution to the building's energy management and sustainability.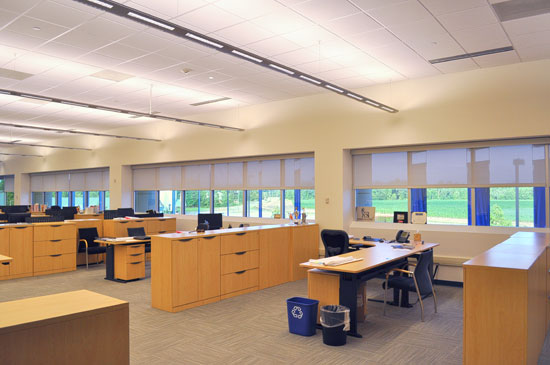 Photo by Alex Krall; courtesy of Intex Design, Raleigh, North Carolina
PC-based control of all shades was enabled from individual offices in this one-story office space.
Draper, Inc. is a Spiceland, Indiana-based manufacturer of window coverings, audio visual equipment, and gymnasium equipment. Draper has more than 110 years of experience in the window coverings industry. www.draperinc.com
www.draperinc.com
Notice