Thick Porcelain Tiles Elevate Outdoor Installations
Gauged porcelain tile pavers provide durable, innovative design opportunities for high-use exterior spaces
Sponsored by Coverings 2023
Learning Objectives:
Examine the latest opportunities and building criteria for the use of gauged porcelain tile pavers for exterior applications, including updated standards for tile surfaces that support the health and safety of users of the outdoor spaces.
Discuss a variety of applications where gauged porcelain tile products provide a safe, durable, high-performance design solution.
Describe substrate preparation for gauged porcelain pavers and tiles as well as identify several methods of thick porcelain tile installation that contribute to sustainable, long-lasting, safe application.
Describe how thicker format porcelain tiles solved design and sustainability challenges in several high-end projects and the reasons thick tiles were selected instead of thin tile profiles or other materials
This course is part of the Tile Academy
This webinar is part of the Tile Academy
Extra-strong, gauged porcelain tile pavers are taking exterior spaces by storm. With a thickness of 2 cm (20 mm) or greater, gauged porcelain tile pavers are proving to be an ideal solution for a wide range of outdoor installations—from terraces and gardens to driveways, pathways, and pool areas. Porcelain tile in general, which is made from natural materials, is recognized for being a dense and durable solution, one whose characteristics allow it to withstand freezing temperatures and heavy loads, and is water-, stain- and slip-resistant. Porcelain tile pavers, with their unique level of durability, can withstand high loads and stresses, offering an optimal solution for residential and commercial outdoor areas while maintaining the aesthetic sensibility and versatility that porcelain tile products offer.
This webinar will examine the use of gauged porcelain tile pavers, bringing together architects and other industry experts to explore design opportunities, installation strategies, code and standards considerations, sustainability benefits, and the overall performance advantages of incorporating thicker format tiles into exterior applications.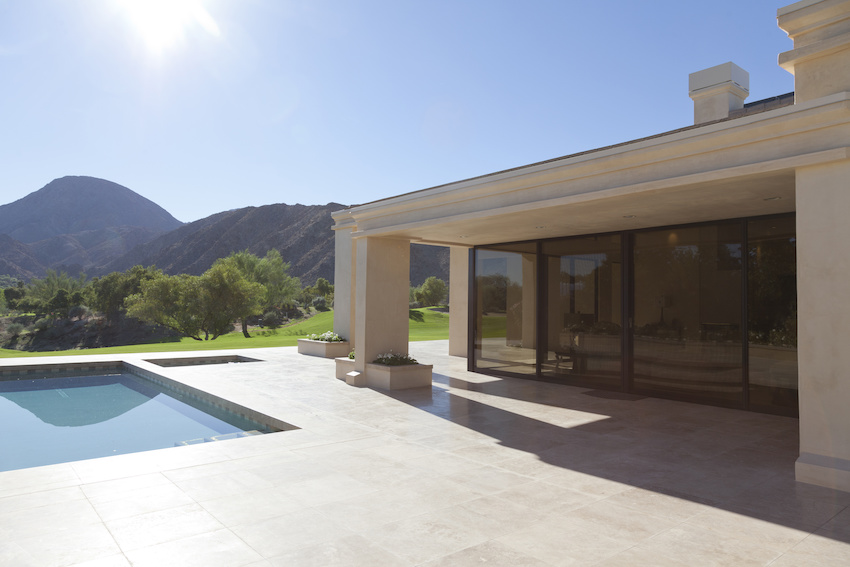 | | |
| --- | --- |
| | Bart Bettiga, has over 35 years of experience in the ceramic tile industry and has been the Executive Director of the National Tile Contractors Association since 2002. He is a member of the Executive Committee of the Ceramic Tile Education Foundation and is a board member of Coverings, the international tile and stone exposition held annually in the United States. Bettiga is a voting member of many tile industry standards and methods committees and serves on the board of directors of the Floorcovering Education Foundation. He is the publisher of TileLetter Magazine and has authored numerous articles related to the promotion of proper tile installation and qualified labor. He was the 2018 recipient of the prestigious National Tile Contractors Association Ring Of Honor. The NTCA has over 1600 members and represents thousands of installers and contractor business owners. |
| | Woody Sanders, founded DW Sanders Tile & Stone in 1994. Following the footsteps of his Grandfather AW Cook who started his tile contracting business in 1929, he grew up in the tile industry, becoming a journey man tile and stone setter at a young age. In college, his focus of study was in the school of Environmental design. After college, he worked as technical service manager for a mortar and grout manufacturer before starting his own tile contracting firm. His strong technical underpinning shows up in the company motto: "Craftsmanship by the standards". Woody, a Certified Tile Installer, serves on NTCA Technical and Educational Committees, as well as the Regional Evaluator for Ceramic Tile Education Foundation. Woody is committed and passionate about nurturing and educating the young work force. He was the featured speaker at Covering's about recruiting and retaining future industry workforce. DW Sanders Tile & Stone sponsored CEFGA in the last 3 years, working with area high schools which support tile education in the vocational tech programs. |
| | Ryan Marino, is the Standards Development and Research Manager at the Tile Council of North America. He is involved in the research, development, and revision of ASTM, ANSI, and ISO standards. Ryan earned his Bachelor of Science degree in Ceramic and Materials Engineering from Clemson University. |
| | |
| --- | --- |
| | Coverings is the preeminent event for the ceramic tile and natural stone industry in North America. Join us April 18-21, 2023 to discover 800 global exhibitors from more than 30 countries, breathtaking product innovations, invaluable insights, and crucial industry connections you need to grow your business. |
Originally published in Architectural Record
Originally published in December 2022
Notice