Cool Roofs for Hot Projects
Using cool roofs to save energy, address global warming, meet code, and have the coolest project on the block.
This course is no longer active
Sponsored by the Cool Roof Rating Council
Solar and Green Roofs
Cool roofs can be designed to complement other sustainable roof systems allowing designers to maximize their roof options by combining green roofs and solar collection systems with cool roofs. Each sustainable system offers unique benefits and although green roofs and solar collection systems are not considered cool roofs, their benefits can be enhanced with a cool roof.
Green roofs or "living roofs" use plants as the roof covering. While green roofs have many benefits such as providing habitat, increasing roof lifespan, and reducing storm water runoff, they do not have high reflectance, a key feature of cool roofs. If you are specifying a green roof, consider using cool pavers for the pathways and using a cool roof on the non-green roof regions. Cool pavers act similarly to cool tile roofs, helping maintain a cool surface and ambient air temperatures that create a more pleasant environment for occupants and plants.
Several studies are currently being conducted on the interplay between cool roof coatings and solar photovoltaic systems. Because cool roofs can keep the roof surface 70 °F cooler than dark roofs, cool roofs may maintain solar photovoltaic and solar thermal systems at optimal temperatures, improving both performance and lifespan of the systems.1 Some solar photovoltaic systems are even designed with curved surfaces to capture solar radiation reflected off the cool roof surface.
Cool Roof Advocacy
Governments and organizations around the country have been promoting the benefits of cool roofs by creating incentives and cool roof outreach programs:
NYC °CoolRoofs is a collaborative project of NYC Service and the NYC Department of Buildings. The initiative was designed to bring together building owners and volunteers to retrofit their roofs. NYC °CoolRoofs exceeded its 2010 goal of coating one million square feet of roofing, and plans to continue the program in upcoming years.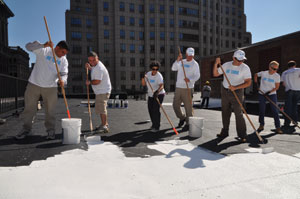 Global Cool Cities Alliance focuses on cool roof and pavement outreach. The organization recruits cities worldwide to adopt cool surface policies and codes for widespread installation by 2020. Global Cool Cities Alliance provides financial mechanisms, for example research support, to facilitate their cool surface adoption goals.
As more and more people learn about cool roofs and surfaces, we can realize the benefits of cool roofs on not only a personal level, but collectively to cool our neighborhoods and urban centers.
Volunteers participating in the NYC °Cool Roofs Program paint an urban rooftop with a cool roof coating.
Photo by of Samantha Modell
 
Comprehensive Design with a Cool Roof
Smart designers consider the pros and cons of a variety of sustainable design features for one project. A combination of energy efficient and energy generating design features can be used in passive solar design. You may choose to specify a cool roof coating and solar photovoltaic panels on the south side of the building to capitalize on the higher solar exposure. Tall plants on a green roof may be used to shade windows oriented west from high solar gain, or to distract from an unpleasant view. If your project has a tight budget, the vast array of cool roof options allows you to specify a cool roof for areas of the building that receive high solar radiation, such as the south and west sides of a pitched roof, while saving money on a visually similar, yet not cool product for the northern side. When designing your next project, consider integrating multiple roofing products or technologies to take advantage of their distinctive benefits.
Aging and Maintenance
Solar reflectance and thermal emittance are surface properties. The "coolness" of a roof is therefore dependent on the surface condition of roofing products, which must withstand years of harsh climates, solar radiation, pollutants and algae growth. ORNL studied the three-year aging and weathering of cool roofing membranes made of single-ply roofing at various locations across the United States.6 Results indicated that when washed with detergent, the majority of the roofs will still provide 90 percent of their un-weathered reflectance (in some cases an algaecide was required). Standard maintenance practices as suggested by the roofing manufacturer will keep your cool roof "cool" for a longer period.
Originally published in Architectural Record
Notice