Cool Roofs for Hot Projects
Using cool roofs to save energy, address global warming, meet code, and have the coolest project on the block.
This course is no longer active
Sponsored by the Cool Roof Rating Council
Product Rating Resources
Rated product databases can assist the designer in selecting an appropriate cool roof product because they list pertinent product information that can be easily compared. The designer can search roofing products by the initial and aged solar reflectance, thermal emittance, and SRI values as well as the slope application and type of roofing material. Most specifications define a low-slope roof as having a pitch less than or equal to 2:12 and a steep-sloped roof with a pitch greater than 2:12.
While existing rating systems are complementary to one another, they do have slight differences in their requirements. ENERGY STAR, for example, aims to capture the most efficient products and set minimum requirements for both initial and aged solar reflectance. In order for a product to be listed by ENERGY STAR, it must meet their minimum requirements (initial solar reflectance of 0.65 and three-year aged value of 0.50 for low-slope products and an initial reflectance of 0.25 and aged value of 0.15 for steep sloped products). The Cool Roof Rating Council (CRRC), on the other hand, does not set minimum requirements, but does require that all testing be conducted by a licensed CRRC-accredited Independent Testing Laboratory. The primary values of independent ratings for the CRRC are standardized and consistent test methods for initial and aged ratings, credible test results, a strict chain of custody, equal subjection of products to weatherization in key climates, and reliable product comparisons.
Both rating systems include aged testing, where products are exposed to natural weather conditions for a three-year period of time. The CRRC uses three specific locations representing three key climate zones (hot/dry, hot/humid, and cold/temperate) to determine aged product performance. ENERGY STAR allows aged testing to be conducted on existing roofs in place of weatherization, but also accepts products that have been rated by the CRRC so long as the ratings meet ENERGY STAR's minimum requirements for both initial and aged reflectance values. The most reliable source for solar reflectance and thermal emittance data for cool roofs is independent roofing product ratings.
Product Types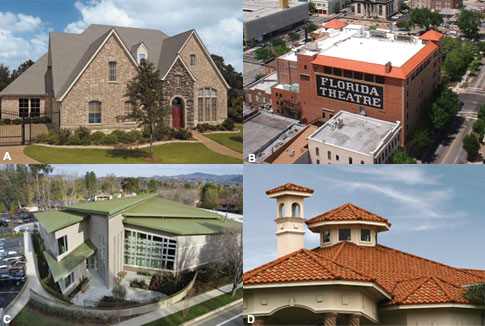 This composite image shows only a few of the many "cool" roofing product types that are currently available in the marketplace.
Photo A courtesy of GAF Materials Corporation, Photo B courtesy of Hydro-Stop, LLC., Photo C courtesy of Custom-Bilt Metals, Photo D courtesy of Decra Roofing.
 
The following is a list of common roofing materials. Once you have determined the appropriate material for your project, you can find cool roof options for most of these product types. Two useful resources to search for cool roofs by product type are the CRRC's Rated Product Directory and the ENERGY STAR Roof Product List.
Field-Applied Roof Coatings.

Field-applied coatings are applied directly onto the roof surface, either on a new roof assembly or over an existing roof surface and may require an appropriate primer. Once applied, the coating is what determines the reflective properties of the roofing product.

Foam Roof Systems.

Field-applied foam systems are sprayed on in liquid form and harden as they set on top of the roof. Factory-applied foam systems are formed into rigid panels and coated with a reflective coating in the factory. The foam usually gives the roof system additional insulation properties and the coatings provide the "cool" rating.

Metal.

Metal roofing products can be shaped to look like shingles or shakes, or to fit unique curvatures, in addition to a typical standing seam configuration. They come in a variety of factory-applied textures and colors, including darker "cool" colors with infrared reflective pigments. Metal products can also be coated in "cool" custom colors to meet a variety of client preferences.

Modified Bitumen and Built-Up Roofing.

Modified bitumen is bitumen (asphalt or tar) modified with plastic and layered with reinforcing materials then topped with a surfacing material. Built-up roofing (BUR) consists of built-up layers of coated asphalt and insulation applied on site and can be covered with a capsheet or field-applied coating (surfacing materials). The "cool" part of these roof products refers to the reflective properties of the capsheet, top coating or surface granules.

Shingles.

These roofing products are commonly used for residential or steeper-sloped buildings, including some commercial buildings. For "cool" colored shingles, the heightene d solar reflectance comes from granules that contain solar-reflective pigments.

Single-ply.

Single-ply roofing is a pre-fabricated sheet of rubber polymers. Single-ply roofing is laid down in a single layer over a roof. The single-ply membrane can be firmly set on the roof and attached with mechanical fasteners or adhesives. There are two main types of single-ply materials: single-ply thermoset and single-ply thermoplastic. These roofing products can be specified with an ultra-violet-resistant and highly reflective surface.

Synthetic Polymer Composite Products.

These polymer injection molded roofing products can be shaped into any form, often to look like wood shakes, tile or slate roofing products. "Cool" composite products are selected by color, or may have cool reflective pigment colorants built into the polymer formula. Some composite products are additionally sustainable are more sustainable if they are made from recycled materials or can be recycled after full-life use.

Tile or Pavers.

Tile products (clay or concrete) are available with solar-reflective surfaces that increase the number of "cool" colors from which the designer can choose. Additionally, the dense, earthen composition of tile products provides increased thermal mass and ventilation properties, which yield additional energy savings that are not captured through solar reflectance and thermal emittance measurements.
Originally published in Architectural Record
Notice