Cool Roofs for Hot Projects
Using cool roofs to save energy, address global warming, meet code, and have the coolest project on the block.
This course is no longer active
Sponsored by the Cool Roof Rating Council
With increasingly rigorous roofing code and standards, and promising technologies on the horizon, cool roofs are quickly becoming one of the most effective ways to obtain significant energy savings and environmental rewards. Cool roofs can be the simplest design measure to implement, in both new construction and existing buildings, without compromising project design or performance. Whether a project incorporates cool roof emerging technology or utilizes standard reflective processes, a designer specifying a rooftop now has several resources available to make informed and confident cool roof choices.
LEED Project-The King Abdullah University of Science and Technology-HOK
The design firm of Hellmuth, Obata and Kassabaum (HOK) designed the King Abdullah University of Science and Technology to be the first LEED certified project in the Kingdom of Saudi Arabia. It is also the largest LEED Platinum project in the world. The project features a 90,000 square foot cool roof combining the following materials:
White Ethylene Propylene Diene Monomer (EPDM) with an SRI of 84
Coated Metal with an SRI of 82
Galvanized Steel with an SRI of 46
Light Gravel with an SRI of 37
The project takes design cues from traditional Arabic architectural features developed in response to the harsh climate. These passive design strategies include a shading system that mimics traditional latticework screens called mashrabiya, natural ventilation through solar chimneys, and a compact, staggered building plan that allows building sections to shade each other. These features complement and magnify the cooling effects of the roof.13
Similar to the vernacular design strategies used on the University, cool roofs are not a new idea, being employed around history throughout the world from Greece to Bermuda.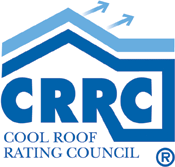 The Cool Roof Rating Council is a non-profit organization that maintains a credible, third-party rating program for measuring and labeling the radiative properties of roofing products. The Council publishes these ratings via its online directory as a public service for use by architects, code officials, building owners and other interested parties. www.coolroofs.org.
Originally published in Architectural Record
Notice