Cool Roofs for Hot Projects
Using cool roofs to save energy, address global warming, meet code, and have the coolest project on the block.
This course is no longer active
Sponsored by the Cool Roof Rating Council
Learning Objectives:
Identify a cool roof and its energy performance benefits.
Describe resources to specify a cool roof.
Identify codes or green building programs that either require or offer credit for cool roofs.
Explain how cool roof technology is evolving.
Credits:
Imagine specifying a roof that is visually dynamic, yet also reduces cooling energy loads by 30 percent, combats global warming, and decreases roof maintenance costs. This miracle roof can meet all your expectations for comfort, cost and aesthetics and it is not some product from the future-it is a cool roof. Technological advancements and ecological awareness have evolved cool roof materials from the flat, white roofs of yesterday to the myriad colors, materials, and profiles of today. Because they are so versatile, cool roofs can be applied to all styles of projects, from pitched residential to flat commercial roofs. Innovative technologies are pushing the "building" envelope with cool roofs that self-clean, change color accordingly to the temperature, or are holographic, bringing countless design options to an architect's table.
The extent of the energy benefits to be gained from cool roofing correlates to the building's location, type and use, as well as to the specific radiative properties of the selected roofing product. Fortunately, there is a broad range of locations in which cool roofs are proving to be a viable energy efficiency measure. Simply put, cool roofs are roofing products that integrate materials with greater spectral reflectance than their traditional, non-cool counterparts, and thereby minimize the transfer of heat to the building below. This is true for a broad range of product types, colors, textures and roof slope applications.
Cool Roofs 101:
Deciphering the Language of Cool Roofing
The energy performance properties of a roof can be determined by two characteristics of the surface layer: solar reflectance and thermal emittance (see diagram above). These radiative properties describe the roof's ability to minimize the solar heat gain of a building by first reflecting incoming radiation and then by quickly re-emitting the remaining absorbed portion. As a result, the cool roof stays cooler than a traditional roof of similar construction.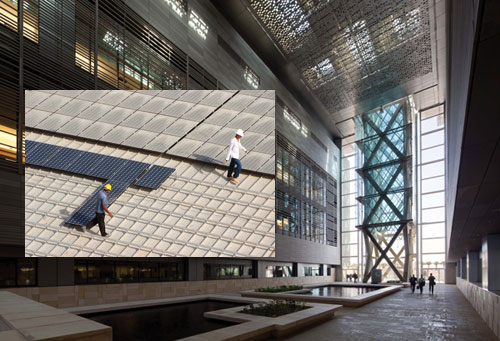 The King Abdullah University of Science and Technology, designed by HOK, utilizes several types of cool roofing materials. The solar performance benefits of the roofing were combined with the passive cooling strategies of vernacular design for an energy-efficient building, recognized by the U.S. Green Building Council as the world's largest LEED Platinum project.
Photo by Sam Fentress; courtesy of HOK; inset photo by JB Picoulet, courtesy of HOK
Originally published in Architectural Record
Notice