Specifying Real Wood Veneer: Versatile, Economical, Sustainable
Veneer profile wrapping and laminating boosts wood's green quotient, reduces costs and encourages design creativity
This course is no longer active
Sponsored by Contact Industries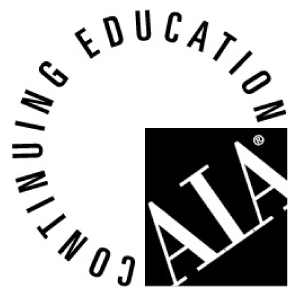 Continuing Education
Learning Objectives - After this course, you should be able to:
Compare the two primary veneer processes: veneer profile wrapping and flat lamination.
Explain the sustainability benefits of veneer profile wrapping and lamination.
Identify and apply options available for both veneer and core material.
Identify situations where profile wrapping or lamination may be the best design and environmental option.
Discuss the production process.
Explain the concept of shared responsibility as it relates to resource efficiency when specifying wood products.
Credits:
Wood is an inherently green building material, offering design professionals product durability, longevity, design creativity, and aesthetics. When properly sourced or environmentally certified, and used efficiently, wood's environmental advantages are magnified.
Architects, design professionals and organizations involved in the building design process play a critical role in ensuring resource efficiency when specifying materials. As we will outline in this course this is particularly important in how wood products are specified, as there can be significant resource efficiencies gained when specifying the use of profile wrap veneered or flat laminated products.
With the shared recognition that all our natural resources must be wisely managed, there are growing numbers of ways to judiciously use wood-based materials without compromising sustainability, aesthetics or structural stability - and many of them come with favorable cost and design implications.
An increasingly popular option for efficiently specifying architectural millwork and mouldings is the use of veneer profile wrapping and laminating, which involves applying real wood veneer to a substrate or core that has been engineered and shaped to meet specific design criteria.
Initially developed as a process to create sustainable, cost-effective, easy-to-handle (and install) alternatives to existing solid wood moulding and millwork products, veneer profile wrapping and laminating have quickly proven themselves as unique process solutions to both standard products and design challenges. Wrapping a simple, common moulded substrate is barely scratching the potential of the veneer technology process.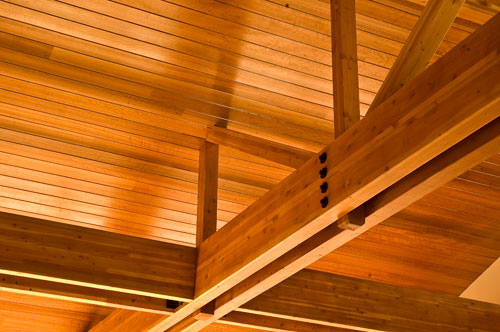 Cherry veneer profile wrapped wood paneling was used on the ceiling of this commercial bank branch location on Washington State's Olympic Peninsula, resulting in the aesthetic look sought by the design team at significant cost savings.
Photo courtesy of Contact Industries
Notice