Real Wood Veneer: The Sustainable, High-quality Product Choice
Veneer profile wrapping and laminating boosts wood's green quotient, reduces costs and encourages design creativity.
This course is no longer active
Sponsored by Contact Industries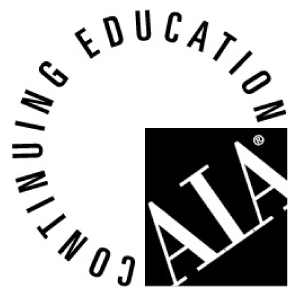 Continuing Education
Learning Objectives - After this course, you should be able to:
Define veneer profile wrapping and lamination and identify its benefits.
Explain the sustainability benefits of veneer profile wrapping and lamination.
Identify situations where profile wrapping or lamination may be the best design and environmental option.
Discuss the production process.
Credits:
Properly sourced and environmentally certified wood is an inherently green building material, offering design professionals product durability, longevity, design creativity, and aesthetics.
With the recognition that all our natural resources must be wisely managed, there are a growing number of ways to judiciously use wood-based materials without compromising sustainability, aesthetics or structural stability - and many of them come with favorable cost and design implications.
An increasingly popular option for architectural millwork and mouldings is the use of veneer profile wrapping and laminating, which involves the application of a real wood veneer to a substrate or core that has been engineered and shaped to meet specific design criteria.
Initially developed as a process to create sustainable, cost-effective, easy-to-handle (and install) alternatives to existing solid wood moulding and millwork products, veneer profile wrapping and laminating have quickly proven themselves as unique solutions to both standard products and design challenges. Wrapping a simple, moulded substrate is barely scratching the potential of the veneer technology process.
"As design professionals become familiar with and better understand what can be achieved through veneer profile wrapping and laminating we, as manufacturers, are gratified by the greater sense of creativity that ultimately results," says Peter McKibbin, Vice President, Contact Industries, an Oregon-based profile wrapping and laminating concern. "Many of the products manufacturers have developed are a direct result of a specific design or product requirement initially created by and requested by a design team. After the design intent is discussed, it becomes very much a matter of executing on the principals' product vision."
Over the years, the creativity of design professionals has resulted in all manner of new products that, in addition to pushing the design envelope, are more robust from an engineering perspective, easier to handle, more sustainable, generate less job site waste and, very often, are more cost effective.
This article will cover some of the product and design possibilities that can be achieved with veneer profile wrapping and laminating, describe the advantages and limitations of the process methods and highlight the steps involved in the process itself.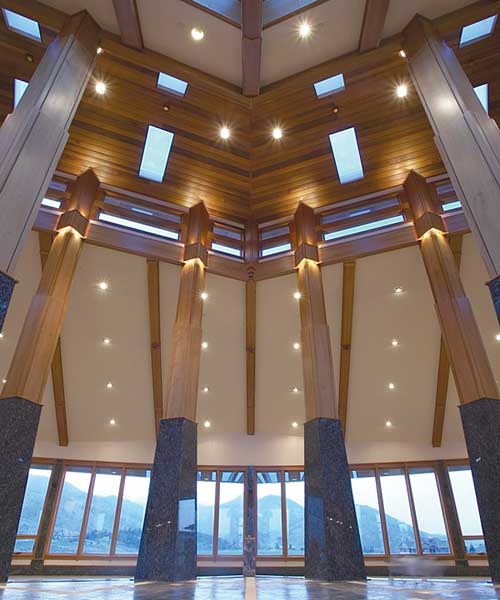 20,000 feet of clear wood-wrapped cherry moulding add grandeur to the 52-granite based columns and 28-foot ceilings at the Heaven Bent Ranch in Colorado's Rocky Mountains.
Photo courtesy of Contact Industries
Originally published in GreenSource
Notice