Digital Fabrication and Natural Stone
Transformative digital technology now provides enhanced opportunities to choose natural stone for contemporary and traditional projects
Sponsored by Coldspring
This test is no longer available for credit
The Greenest Museum on the Mall
The National Museum of African American Culture and History, Washington D.C.
Materials selected for museums require permanence and durability. When designing a new museum on the National Mall in Washington, D.C., all of the design team focused on selecting materials that would require very little maintenance, last for centuries, and fit within the context of one of American's largest cultural places.
After nearly 10 years of planning and fundraising efforts, the Smithsonian Institution's new museum in Washington, D.C., features granite hardscape elements that relied on 3-D modeling technology and CNC fabrication. The National Museum of African American Culture and History, which opened in September of 2016, is the only museum dedicated to documenting the history, life, and culture of African Americans. In 2017, the museum celebrates its first anniversary. The landscaped space has become a community gathering area surrounded by gourmet food trucks and is now considered to be one of D.C.'s hottest places to go for lunch.
Located on a 5-acre site on the National Mall between the National Museum of American History and the Washington Monument, the museum, designed by Freelon Group, Adjaye Associates and Davis Brody Bond, encompasses 322,600 square feet with five levels above grade and four below grade. Appropriately, the museum's design is distinctive among other structures on the National Mall. Its facade consists of 3,600 customized, cast-aluminum panels known as the Corona. These bronze-colored panels call to mind the craftsmanship of enslaved workers in the pre-Civil War cities of Charleston and New Orleans and create a distinctive impression for the museum representing traditional African architecture.
Just as the museum's architecture makes a unique design statement, its landscape design also distinguishes it among nearby museums and monuments. The landscape architects, GGN, incorporated the site design of the museum into the larger configuration of the National Mall, integrating the site within the museum's larger story. According to the landscape architecture firm, "The site is designed to encourage visitors to extend the museum experience outside and to linger and reflect on the important narratives being told within."
Granite played an important role in meeting design goals, as approximately 37,000 square feet of black granite in various finishes were used for numerous hardscape elements, such as paving, wall facing, wall coping, steps, curbs, benches, and bollards. A majority of the stones for the project were modeled in 3-D software, which allowed the fabricator to coordinate with the landscape architect and ensure the design expectations were met. Due to the project's complex nature, an extensive amount of coordination between the fabricator's drafting team and the architect ensured the 3-D models were accurate prior to fabrication. Once the design team approved the fabricator's drawings and models, the fabricator converted the models into a file for use on a 5-axis CNC machine.
CNC technology was critical for creating the intricately crafted cubic wall of black granite encompassing the site's perimeter. Most of the walls feature a highly polished finish. However, a combination of polish coping and a less reflective facing were selected for the museum's north wall, which serves as the museum's main entrance. The north wall spans approximately 340 feet across the front of the museum, running parallel to Constitution Avenue. The less-reflective finish was selected due to concerns over too much reflection off the wall at the highly traveled entrance.
Fabrication of the granite pieces for the north wall proved particularly challenging because of the wall's slight radius and continuous bullnose creating many unique pieces. The fabricator had to produce each of these stones at precisely the same thickness to ensure an exact alignment at installation. Most of the wall's cap pieces were milled by the fabricator's 5-axis CNC machine and then finished by hand to create the bullnose. With multiple workers applying a bullnose to hundreds of pieces, accomplishing the precision required for alignment required an exceptional level of coordination and craftsmanship.
In addition to the honed and polish finishes used for the site's walls, various finishes were used for additional granite elements at the site. A honed finish with an applied additional process enhances the color of granite and removes microscopic crystals that may leave a hazy appearance. The curbing features a honed finish. Bench seats feature a polish finish. The paving—encompassing 25,000 square feet of granite—and stair treads feature a rough finish that provides an ideal slip-resistant surface.
Having a majority of this project modeled in a 3-D software allowed the fabricator to provide a virtual model of the final product. They were able to coordinate with the architect to assure design integrity and quality control prior to fabrication. According to a leader in sustainable design, author and architect Lance Hosey, FAIA, reports in The Huffington Post that the Smithsonian's National Museum of African American Culture and History received the U.S. Green Building Council's LEED Gold Standard, making it the greenest museum in Washington.3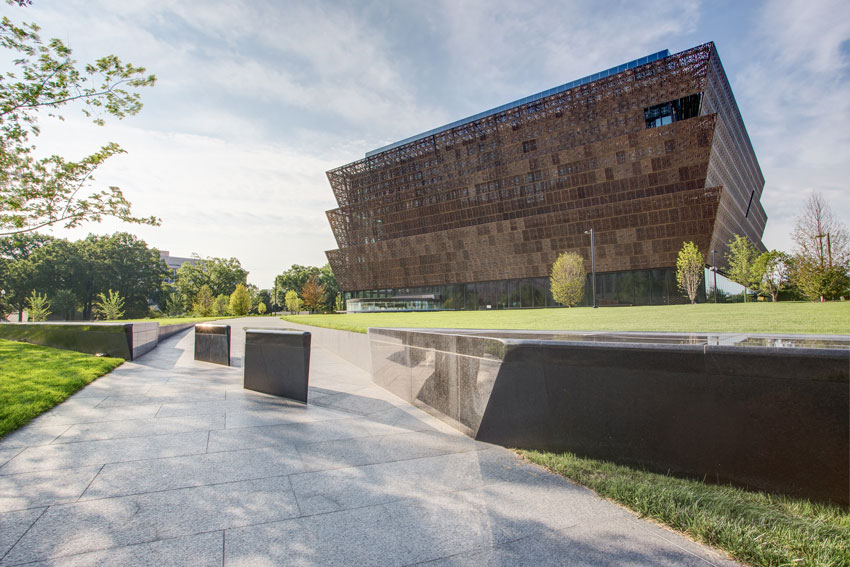 Photo courtesy of DC Real Estate Photo
Granite played an important role in meeting design goals, as approximately 37,000 square feet of black granite in various finishes were used for numerous hardscape elements, such as paving, wall facing, wall coping, steps, curbs, benches, and bollards.
NSC 373: The Story of Certified Natural Stone
Many of the design professionals in the examples above and many more across the United States are choosing natural stone as a material that contributes to their goals to protect the environment and deliver healthier buildings. While natural stone is inherently a naturally sustainable material, a new certification program, ANSI/NSC 373: Sustainable Production of Natural Dimensional Stone, establishes criteria to measure the extent to which natural stone is extracted and processed in an environmentally preferred way. Compliance with ANSI/NSC 373 requires third-party verification to the standard as well as the companion chain-of custody.
The goals of NSC 373: Sustainable Production of Natural Dimension Stone are to:
Establish a set of well-defined environmental, ecological, social responsibility, and human health metrics for extraction and processing of natural stone.
Educate key members of the design and building professions on the value and benefit to them, and connect to green building programs.
Provide a method for improving baseline environmental performance for the stone industry.
Be applicable domestically and internationally, from quarry through fabrication and installation.4
This consensus-driven standard encourages material selection transformations aligning with the way green building programs have shifted as well. This approach encourages design professionals to look beyond single attributes of a material, such as the use of recycled material, and instead look at a multi-attribute approach.
The chain of custody tracks the stones as the material moves from the quarry to processing and through the supply chain. For a product to be claimed as Genuine Stone certified, there must be an unbroken chain of certified organizations that conform to the COC standards covering every change in the legal ownership of product, from the certified quarry up to the point where the product is finished and delivered to a project site for installation. More information on this standard can be found in the continuing education article "Sustainable Stone From Cradle to Gate."5
In 2016 The Natural Stone Council (NCS) announced that the ANSI/NSC 373 certification is recognized by the U.S. Green Building Council's LEED v4 building certification program and the International Living Future Initiative's Living Building Challenge (LBC) version 3.1.
Natural stone provides numerous environmental benefits. This material is durable, easy to maintain, and does not off-gas. Many architects and landscape architects are exploring the benefits of designing with natural stone as a better choice for a healthy environment in buildings and landscapes.
Conclusion
The ultimate goal of any project is beauty. Whether designing buildings, sculptures or public spaces, materials matter. Today's ancient and enduring natural stone products are more diverse and sustainable than ever before due to 21
st
century technology. As in the past, today's architects, artists, and landscape architects are choosing natural stone as a material of choice for some of their most complex and creative designs.
End Notes
1Panek, Richard. "A World's Geology on a City's Face." The New York Times. 4 Oct. 1991. Web. 19 Oct. 2017. www.nytimes.com/1991/10/04/arts/a-worlds-geology-on-a-city-s-face.html?pagewanted=all.
2O'Sullivan, Feargus. "Where to Find Fossils, Lava, and Meteorites in London's Buildings." City Lab. 11 July 2016. Web. 11 Oct. 2017. www.citylab.com/life/2016/07/where-to-find-fossils-lava-and-meteorites-in-londonsbuildings/490766/.
3Hosey, Lance. "DC's Museum of African American History Is the City's Greenest." The Huffington Post. 30 Dec. 2016. Updated 19 July 2017. Web. 14 Oct. 2017. www.huffingtonpost.com/entry/the-greenest-museum-in-washington_us_5866e66de4b068764965c1c9.
4Natural Stone Certification Program Fact Sheet. Web. 14 Oct. 2017. www.naturalstonecouncil.org/manage_files/d7b77b4eb63-D7d94b4b88ac50ae926ad.pdf.
5Allen Novak, Celeste. "Sustainable Stone From Cradle to Gate." Continuing Education Center. Architectural Record. BNP Media. Web. 19 Oct. 2017. continuingeducation.bnpmedia.com/courses/miabsi-the-natural-stoneinstitute/sustainable-stone-from-cradle-to-gate.
Celeste Allen Novak, FAIA, LEED AP BD+C, is an architect, writer and planning consultant in Michigan. www.celesteallennovakarchitect.com


| | |
| --- | --- |
| | From all types of natural stone and bronze to industrial and diamond tooling products, Coldspring® has been serving the architectural, memorial, residential, and industrial markets since 1898. With headquarters and primary operations in Cold Spring, Minnesota, including a bronze foundry, the company has fabrication facilities and quarries across the country. www.coldspringusa.com |
Originally published in Architectural Record
Notice