The Solution to the Parking Problem
Automated parking systems improve the space efficiency and security of a parking structure
Sponsored by CityLift Parking
This test is no longer available for credit
Case Study: Paper Box Lofts
The conversion of an old mid-block industrial site into a mixed-use development known as Paper Box Lofts will bring affordable housing, green space, midblock pedestrian walkways, and new, much-needed parking into downtown Salt Lake City. In a March 2019 Salt Lake Tribune article, Micah Peters, CEO of ClearWater, one of the developers, called the endeavor "a multifamily project we have not seen in this city before." As another notable feature, the project will host Utah's first standalone automated parking system.
Located less than a block from the Vivint Smart Home Arena, home of the Utah Jazz, Paper Box Lofts will include 195 apartment units, retail, and restaurant space, a public park, and a 10,000-square foot "pocket park" open to the public. As part of an effort to alleviate parking woes in the area, developers are incorporating a seven-level, 112-parking space automated parking system into the project that will automatically stack and retrieve cars parked by their drivers.
Here is how the system will work. When a tenant arrives, he or she will pull onto one of six ground-level platforms. After exiting the car, it will be automatically delivered to its secure, designated spot within the parking structure. When the tenant returns to retrieve the car, he or she will swipe a key fob at the parking kiosk, and the system will return the car to the ground floor.
Councilwoman Amy Fowler has said the new parking system could help the city meet a range of parking needs downtown. The lofts are expected to be completed by spring 2021.
Case Study: The Hive Parking Structure
Automated parking systems can also be used to replace conventional parking garages. The Hive automated parking structure is the first and only fully automated parking structure in Northern California. It is an impressive example of just how much space these automated parking systems can save on a project. The entire system has a footprint of just 1,600 square feet, which is roughly the size of seven parking spaces. But the Hive can store 39 cars within its seven-story system.
The Hive showcases the many benefits that can be realized when designers choose an alternative to the conventional, multilevel parking structure. The Hive reduced the amount of space that needed to be consumed by the project by as much as 80 percent, offering cities and designers alike a solution that can supply the increased demand for parking in a smaller footprint, leaving valuable square footage that can be used for other activities.
The automated parking system also adds an extra level of safety and security to the parking experience. When a customer drives into the parking bay and parks his or her car, the garage lifts it into an available resting spot. Only technicians are capable of going up into the parking structure, which minimizes the ready access to unattended cars that makes conventional parking lots such magnets for theft and vandalism. In addition, the structure is designed to be mishap free, so scratches and dents are less likely to occur in an automated parking system than in a typical parking situation.
There is also an environmental benefit to offering a parking solution that no longer requires patrons to drive slowly around the complex looking for an available spot. It is estimated that cars in an automated parking system will emit just 4 percent of the greenhouse gases that are emitted in a traditional garage. The automated parking system can also be equipped to offer electric vehicle charging.
This new technology and its parking structure application are garnering some impressive accolades and changing the way industry professionals think about parking. The Hive automated parking structure project, developed by Signature Development Group, was the Winner of the 2017 Parade of Products at the Pacific Coast Builders Conference. "With the launch of the Hive automated parking structure, we now provide a better parking solution for our tenants and their customers that is cost-effective and environmentally sustainable," says Mike Ghielmetti, president of Signature Development Group. "It is a parking system that represents the future of real estate."
Case Study: Star Tower
When the developer of the Star Tower condo project in Long Island City, New York, discovered that installing a traditional garage in the 26-story, 184-unit property would mean sacrificing its entire basement, it went looking for an alternative parking solution. Ultimately, the team decided upon a fully automated horizontal parking solution that stores 32 cars in the five-level system. This solution allowed the developer to recapture 75 percent of the space that would have been consumed by the traditional parking structure, which was then used to create additional amenities like extra storage spaces and a basketball court.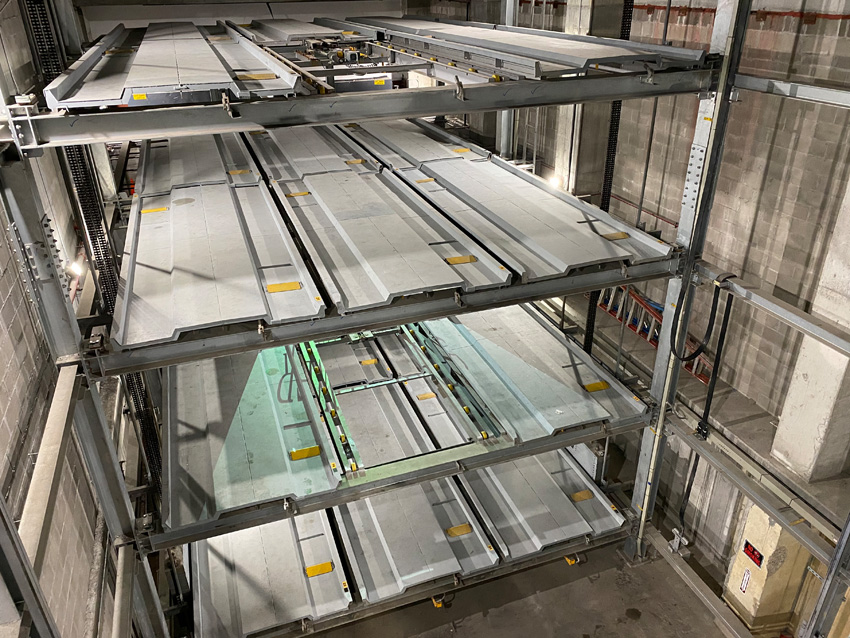 The design team of the Star Tower condo project in Long Island City, New York, used a five-level, fully automated horizontal system to recapture 75 percent of the space that would have been consumed by a conventional parking structure.
A Note about City Approval
While automated parking systems have been bringing secure parking in a smaller footprint to hotels, multifamily developments, standalone parking garages, and other applications for years, there are still a few myths circulating about this technology that must be dispelled. Perhaps the most egregious is the belief that cities will not approve these unique and innovative systems for use.
The truth is that many cities already have approved the use of these automated parking systems, and the technology continues to receive approval. It has been approved in Oakland, California; San Francisco; Salt Lake City; Nashville; Chicago; Miami; New York City; Long Island, New York; Jersey City, New Jersey; Boston; Culver City, Santa Monica, and Long Beach, California; and San Diego, and the list continues to grow. The technology has even earned the Los Angeles Research Report (LARR) approval for its recently completed project in Los Angeles.
Because the technology is new and different, most cities are unfamiliar with it. City councils can be approached to review and approve the use of automated parking systems in their jurisdictions. By and large, the cities see the benefits of these automated systems and are receptive to finding ways to make them work. To that end, city guidelines may be adjusted or customized for a specific project, and the manufacturer of the automated parking system will typically work with the design team to get an approval of the concept and meet any needs of the jurisdiction having authority. Says Oakland Mayor Libby Schaaf, "These parking innovations are already spreading across the United States, and I am so proud that it started right here in Oakland."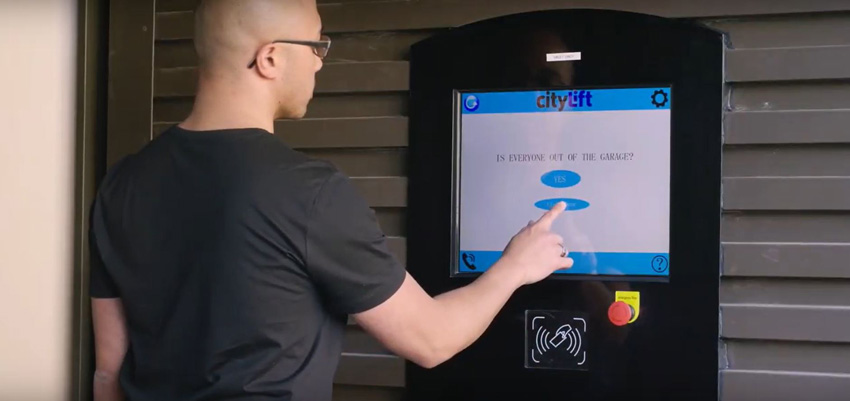 Many cities have seen the benefits of using automated parking systems, and the technology has been approved in several cities, including San Francisco, Chicago, New York City, Boston, San Diego, and Los Angeles.
For example, Culver City approved automated parking systems on October 26, 2016. The City requires that the system have an operational plan and backup power. By far, Los Angeles has some of the most restrictive guidelines and most rigorous approval process. Los Angeles does not issue a general approval for automated systems, so each project using an automated system must undergo a one-time approval, but LARR approval has been attained.
The LARR is an evaluation from the Los Angeles Department of Building and Safety (LADBS), which reviews and approves building, mechanical, and electrical products within the City of Los Angeles. This is a parallel process to the rest of the typical building permits. The manufacturers and design team meet with LADBS and the Los Angeles Fire Department to get an approval of concept. Then the LARR application is submitted six weeks prior to the completion of the installation.
The automated parking system undergoes a thorough review process by the LARR electrical laboratory, and additional approvals are received for fire safety, structural steel, and an independent third-party electrical system certification using ETL standards.
Originally published in January 2020
Notice