The Solution to the Parking Problem
Automated parking systems improve the space efficiency and security of a parking structure
Sponsored by CityLift Parking
This test is no longer available for credit
Additional Benefits of Automated Parking
Beyond delivering parking solutions in a more space-efficient manner, automated parking systems can improve upon some of the other troublesome issues that plague the conventional parking structures. Automated parking systems may improve the safety of people and property in the parking area and support important sustainability objectives.
More Safe and Secure
Let's start exploring the additional benefits of automatic parking systems by taking a closer look at their safety implications. Conventional parking garages with rows and rows of unattended cars are a popular setting for crime and assault. The most common crimes in parking lots are theft and vandalism. According to the Bureau of Justice Statistics, part of the Department of Justice (DOJ), between 2004 and 2008, more than 1 in 10 property crimes occurred in parking lots or garages. They are also a common location for violent predators to prey on women. In fact, according to the DOJ, in a report titled Female Victims of Sexual Violence, 1994–2010, 10 percent of sexual assaults occur in an enclosed but public parking area, such as a garage or parking lot.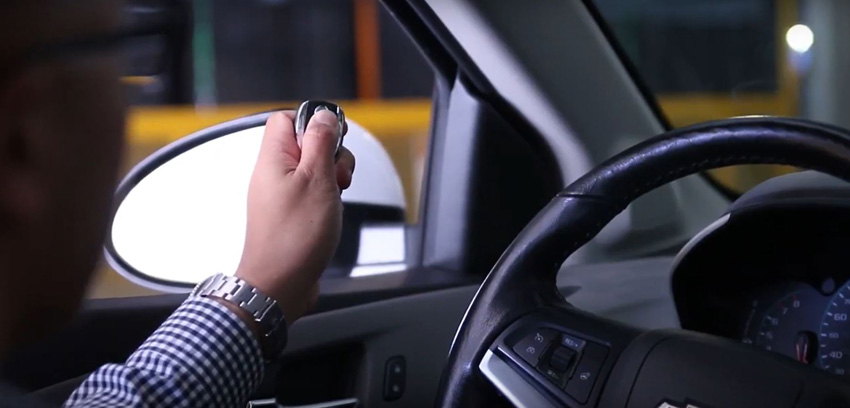 Automated parking systems improve the overall safety of a parking lot by consolidating the drop and retrieval sites and keeping cars and patrons closer to the building.
Automated parking systems can improve the overall safety in a parking lot by consolidating the retrieval points and keeping them closer to the building, eliminating a situation where a person is walking past rows and rows of empty cars that stretch and wind further from the entrance. Keeping parking patrons in busier parking areas is a good way to deter opportunistic criminal activity.
In terms of protecting property, automated parking systems provide a more secure parking solution than conventional lots or garages. The National Highway Traffic Safety Administration suggests that it is a good idea to ensure that valuables left in a parked car are not visible in plain sight. Cars in the automated parking system are not left in plain sight or easily accessed by people who are not the driver. In addition, the use of automated parking systems has been shown to minimize the occurrence of door dings or other types of vehicle damage.
Environmentally Responsible
Improved efficiency is a central theme for much of the sustainable design occurring today. Automated parking systems allow designers to provide the necessary number of spaces in a much smaller footprint. This means that the total structure can either be built smaller or the extra space can be used in other ways. Beyond being more space efficient, automated parking systems, as a solution, are also more material efficient than conventional parking solutions. Instead of the many levels of concrete of which parking garages are constructed, automated parking systems are made from steel beams and columns. The frame of the system is considered a sustainable material.
Steel has many qualities that lend itself to being a good choice for sustainable construction. Steel has an excellent strength-to-weight ratio. It is recyclable and does not lose any of its material properties when recycled. It is said that steel is the most recycled material in the world. Structural steel produced in the United States contains an average of 93 percent recycled steel scrap.
As evidence of their sustainability, automated parking systems are currently being certified under the U.S. Green Building Council (USGBC) through its Parksmart program. Parksmart is the LEED equivalent for parking structures and first of its kind in the United States. There are a few notable qualities that allowed automated parking systems to earn this green building distinction. With their smaller and steel-centric structure, these systems used 69 percent less construction material per parking space, and it is estimated that over the lifetime of the parking solution, it will eliminate 91 percent of the greenhouse gas emissions typically emitted in a comparable conventional parking structure.
Improve City Planning
Automated parking systems can also make parking more readily available in areas that are heavily congested. Traffic congestion is frustrating part of living in an urban area. It may be surprising to learn that a major contributor to congestion is people looking for parking. The activity is referred to as "cruising," and it describes the amount of time drivers spend driving around looking for parking. In a 2019 article by Alex Weissman titled "Minimum Parking Requirements: A Word of Caution," he explains, "Cruising causes up to 74 percent of traffic every year in some cities. In an average Los Angeles neighborhood, cruising in one year contributed to 945 thousand vehicle miles travelled. It was the equivalent to driving around the earth 38 times. Cruising wasted 100,000 hours of drivers' time, consumed 47,000 gallons of gasoline, and produced 728 tons of CO2.
Automated parking systems can be used in new construction and retrofit projects. This means that city planners can use automated parking systems to relieve congestion by increasing the parking capacity of existing parking structures. The thought here is that if more spots are available, people will not have to drive in as many circles looking for an available spot.
As an added benefit, the steel structure of the automated parking system can be taken apart like an erector set. This enables building owners to dismantle the automated parking system much more easily than breaking down a conventional concrete garage if they wish to repurpose the space.
Case Studies
Perhaps the best way to showcase the types of projects that can benefit from automated parking systems is to profile a variety of different projects where the system is in use. There are currently more than 100,000 automated parking spaces storing cars in a more efficient manner throughout the United States.
Case Study: Bento Box Living
Nineteen conventional parking spaces were converted to 83 spaces on five levels on a 20-foot by 120-foot space. The Bento Box Living development in Nashville is a six-story, mixed-use project that includes 23 flex-stay rental apartments, 66 hotel rooms, 4,000 square feet of entrepreneurial retail, and a 5,500-square-foot restaurant. Located across from Dudley Park in Chestnut Hill, this project is the first in "flexible living" communities, offering fully furnished, short- and long-term stay options in a range of floor plans that measure 250, 400, 600, and 800 square feet with boutique hotel amenities. The 250-square-foot microunits are unique because they are furnished with a folding Murphy bed, a mini-fridge, television, and bathroom and share a communal kitchen. The property also features a resident lounge, two restaurants, an on-premise market, and an expansive roof deck with dramatic view of downtown.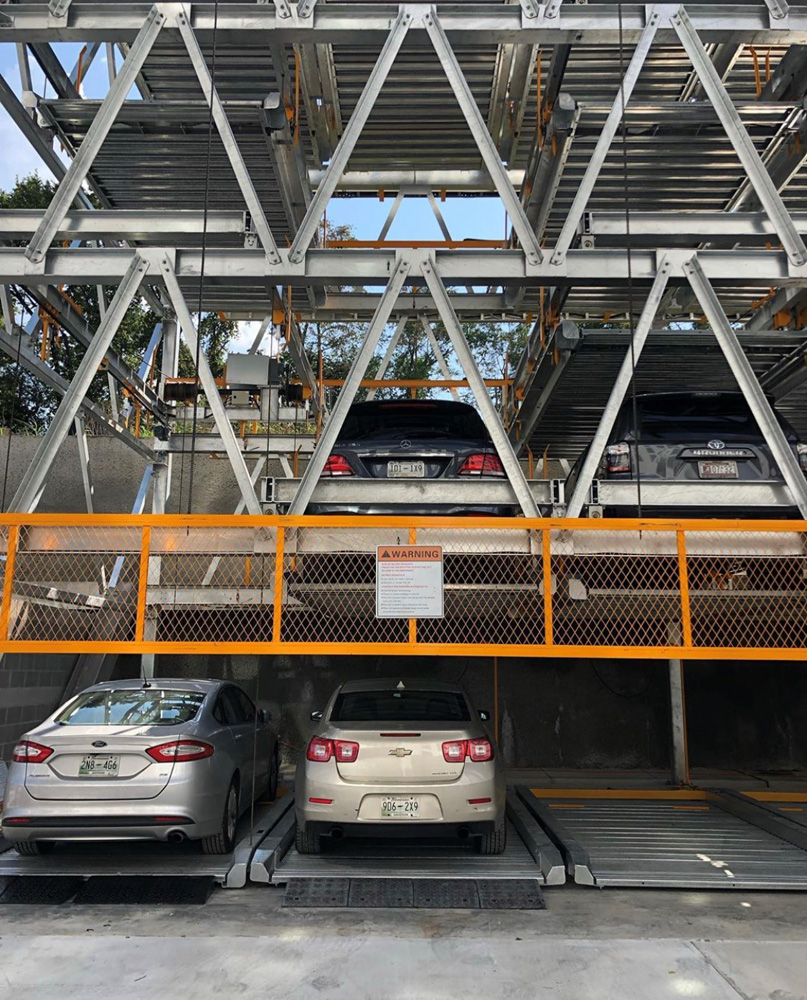 A five-level, 83-space semi-automated parking system shuffles cars vertically and horizontally at the Bento Box Living development in Nashville.
Another progressive aspect of the Bento Box Living concept is the use of an automated parking structure. The project features a semi-automated, five-level, 83-space parking system that shuffles cars vertically and horizontally to maximize the number of cars that can be parked within the project footprint.
The COO of Bento Box Justin Koziol notes that this flex-living automated parking system solution for this residential and mixed-use apartment is a first of its kind in Nashville. "We saw a big shift in the way people are choosing to live," Kozoil says. "People are not buying as much stuff and sharing more, like car sharing. It is really a more sustainable way to live, so we decided to start a couple of businesses that would help facilitate that."
"The whole project is about small footprint living," adds EOA Architect Tracy Ford.
Originally published in January 2020
Notice