The Solution to the Parking Problem
Automated parking systems improve the space efficiency and security of a parking structure
Sponsored by CityLift Parking
This test is no longer available for credit
Manually Operated Parking Lift
A manually operated parking lift is a solution for increasing the parking capacity of a valet parking area. These highly adaptable, customizable car stackers offer a maximum of two levels, allowing valets access to a second-story tier to increase the number of cars they may park in their allotted area. The experience of the patron (customer driver) is no different when a manually operated system is used, as the driver will drop the car off to the valet, who parks it, and then receive the car from the valet, who retrieves it. These systems can make retrieval quicker and easier for the valet rather than parking some distance away and retrieving the vehicle, which improves the overall parking service provided.
Semi-Automated Parking System
A semi-automated parking solution allows each parking space to be independently accessed and, in most cases, does not require an attendant. Here is how it works. Instead of driving around and around looking for an empty parking space, like one does when parking in a surface lot or multilevel garage, drivers pull up to the automated parking system and pull into an open platform. Once parked, the driver and passengers exit the car and receive a retrieval ticket or issued fob for assigned parkers. While parked, the car is part of the parking ecosystem. The system will lift and slide the car on its platform, both vertically and horizontally, to make the necessary adjustments to accommodate new cars entering the system and cars being retrieved. When the driver returns, he or she can call for the car from a kiosk or remote key fob. The system automatically moves other cars as necessary to return the requested car to the ground level, where the driver enters the car and drives away. The average retrieval time for systems like this, which is the amount of time that it takes for the system to return a parked car to the driver at the ground floor, is 33 seconds for the most utilized systems.
These semi-automated parking systems can be configured with up to seven levels and can include a pit, or below-ground parking area. They can be designed in a tandem configuration, with one structure behind another. These parking systems are suitable for new construction and retrofit applications and are widely used in multi-residential, mixed-use, and public garages in urban areas. These solutions are well-suited to projects that have a ramped garage with enough clear height or an outdoor surface lot. Most impressively, these systems can save more than 60 percent of the space required by a conventional parking garage and reduce the cost and timing of construction.
Fully Automated Vertical Parking System
A fully automated vertical parking system is ideal for narrow spaces. This solution can be built up to 20 levels high. The average retrieval time for these systems is 120 seconds, and multiple vertical parking systems can be installed side-by-side for greater parking capacity, without increasing the retrieval time.
The way it works is very similar to the semi-automated parking system. The driver pulls into a bay, exits the vehicle, and receives a retrieval ticket or issued fob. The car, on top of its moveable platform, is lifted into an available parking space where it is stored until the driver returns. The biggest difference between a semi-automated parking system and the fully automated one is that the car in the fully automated system remains in one spot while it is stored, and the position of the car in the semi-automated parking system may change more frequently as it accommodates the movements of the other cars in the system. The fully automated systems are targeted for non-ramped garages.
Fully Automated Horizontal Parking System
A fully automated horizontal parking system delivers the largest capacity automated parking system available. There are projects in the United States that feature horizontal parking systems that offer up to 240 spaces. Whereas the vertical parking system, described above, is designed for vertical space solutions, this system is designed for more horizonal space and subterranean solutions. This system can be built to have up to seven levels above ground and five subterranean levels. The average retrieval time is 120 seconds, and it can also be designed with one or more retrieval arms to accommodate periods of more intense demand, simultaneously parking and retrieving vehicles. Just like the fully automated vertical system, cars are immediately moved to an open parking space and do not move again until the driver returns.
By incorporating an automated parking system into a project, designers can transform the entire layout of a building and regain use of valuable space that would otherwise be dedicated to storing cars. "As land in America's urban core becomes scarce, automated parking solutions are the most cost- and space-effective way for developers and public agencies to meet parking requirements within increasingly smaller footprints," says Scott Gable, CEO of CityLift Parking.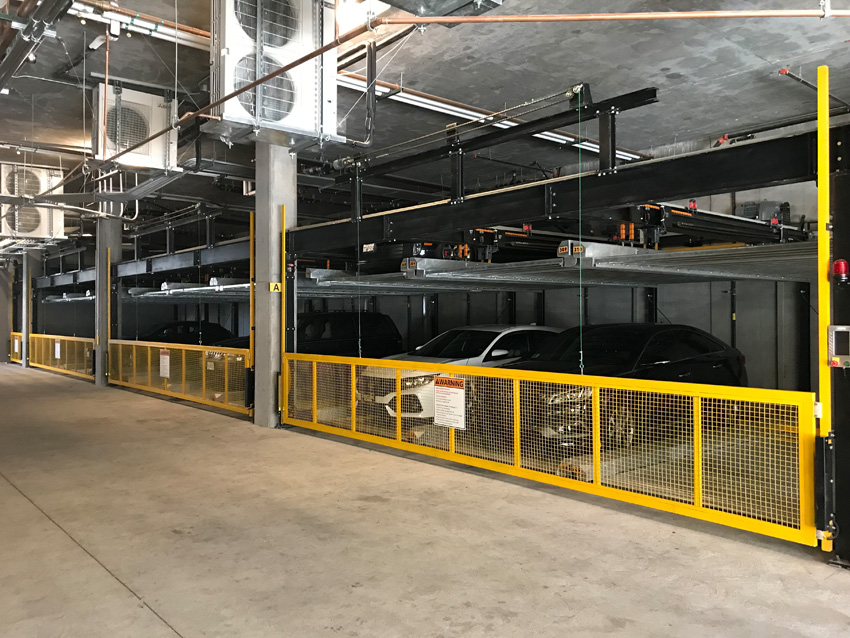 A fully automated horizontal parking system has an average retrieval time of 120 seconds, which means that it returns the car to the driver on the ground floor within 2 minutes.
When Does Automated Parking Make Sense?
Automated parking systems help designers solve the parking-related issues and expenses that many projects face by providing a more space-efficient parking solution. For example, while some cities are currently reevaluating their mandated parking minimums, many are not, and designers often find themselves struggling to meet those mandated parking goals, within the designated footprint of the project, with a space-intensive conventional approach. This is especially true in urban and densely populated areas, or when a site is oddly configured or constrained, where teams may be limited in their ability to build up or build down to create more available square-footage within the structure. Automated parking systems can deliver the parking solution the city demands in a fraction of the footprint and make some projects possible, where they otherwise might not be built.
"We had a job that had an incredibly tight site with a high water table and an awkward shape, and we were not sure if we were going to be able to build the project given all the parking requirements that we needed to include," explains Samantha Beadel, associate at GGLO in Seattle. "Using an automated parking system has made this project possible, and we are incredibly excited to find this solution."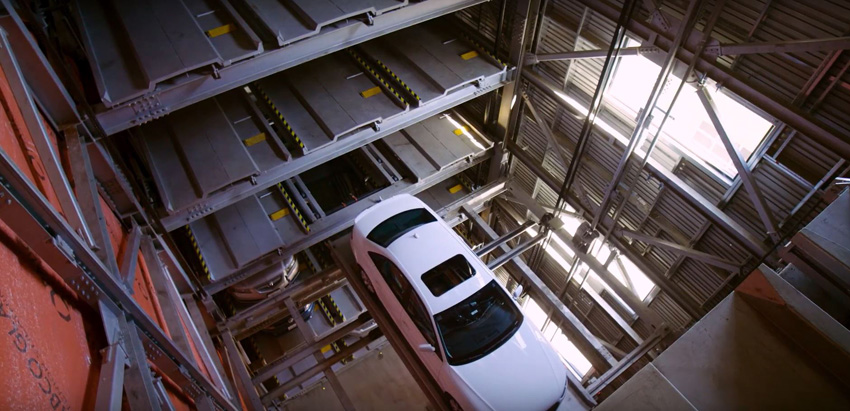 Automated parking systems offer a parking solution that is more space efficient, enabling designers to meet parking criteria on sites that are constrained or oddly shaped, and reducing the total amount of excavation necessary on projects that involve excavation.
Projects that involve excavation are also excellent candidates for automated parking systems because these systems can reduce the reduce depth, levels, area to be excavated, risk, and costs. Excavation is an intense, expensive, and risky undertaking, and it becomes more expensive and has a greater inherent risk the deeper the digging. Deep excavations require earth retention and shoring systems to prevent soil and water from sliding into the new hole and support adjacent structures, when necessary. Also, as the excavation becomes deeper, the earth being removed must be lifted higher, which is more expensive. As the hole becomes deeper, the potential for encountering unexpected ground water increases, which is a big complication for any excavation project. For these reasons, the cost structure of excavation is nonlinear, so each additional foot of excavation depth costs more than the previous foot. Subterranean parking costs can reach as high as $95,000 per space when water tables are involved. Automated parking systems can dramatically reduce the amount of space and depth required to store a certain number of cars, especially when compared to the footprint of conventional underground garages.
"Automated parking helped us with the cost of a project," explained Anthony Jansen, project manager, Henbart, Seattle. "We were working through different cost scenarios to strategically attack some legacy parking and transportation requirements, and automated parking was suggested to us by a contractor. The solution minimized the scope of excavation that the project needed, which saved money, because any time you go below grade, it gets very expensive."
Architect and design lead Chester Weir at Katerra in Seattle has also incorporated automated parking into a project. "We became aware of automated parking out of necessity. We had some urban infill sites that were very constrained and required innovative approaches that would minimize excavation and concentrate parking in constrained sites." The design team chose a fully automated vertical solution that reduced the amount of space used for parking by 89 percent. "The automated parking solution enabled us to minimize excavation, which is always risky, and provide parking in less space than you typically would dedicate to a parking garage. It also gave us the potential to rededicate that space in the future if the need for cars changes."
Automated parking systems can also help designers do more with less. Today, designers are often asked to include more amenities in a space, without being given extra space for the desired features. To meet client demands, designers are looking for ways to free up space that can be repurposed into the extra storage or coveted community-building areas (gyms, co-working spaces, pools, basketball courts, etc.) desired by many building owners. Providing the necessary number of parking spaces in a smaller footprint opens up the space designers need to deliver these additional amenities. The Star Tower project in Long Island, New York, was able to provide additional tenant storage and a basketball court with the savings in parking space.
This was also the case with the Harmon Guest House, a 39-room boutique inn located in the heart of Sonoma wine country in Healdsburg, California. Designed by David Baker Architects, each guest room features private outdoor space—either a balcony or patio—and has a view out toward either the main street and town square or the swimming pool and creek-side park. The LEED Gold certified guesthouse also offers a stunning central courtyard and an inviting rooftop bar. A three-level semi-automated parking system was selected to provide the 50 desired parking spaces in a smaller footprint. "The automated parking system allowed us to modernize the hotel guest valet experience and minimize the square footage devoted to parking so we could maximize hotel amenities," explains Construction Project Manager Daniele Petrone.
Originally published in January 2020
Notice