Natural Materials in Biophilic Design
In creating a direct connection to nature, wood ceilings and wall systems can boost occupant health, well-being, and productivity
Sponsored by CertainTeed Architectural
This test is no longer available for credit
Acoustics
Because wood naturally reflects sound, as noted in the discussion of the different wall and ceiling systems, the addition of acoustical fabric or acoustic infill or insulation behind or above the panel/tile may be needed.
"Wood ceilings and wall systems can significantly impact the acoustics of a space through the modulation and shape of surfaces, texture, and porosity of materials, and with the use of framing and backup systems that can be integrated into the system to incorporate acoustical properties," states Lucas Rew.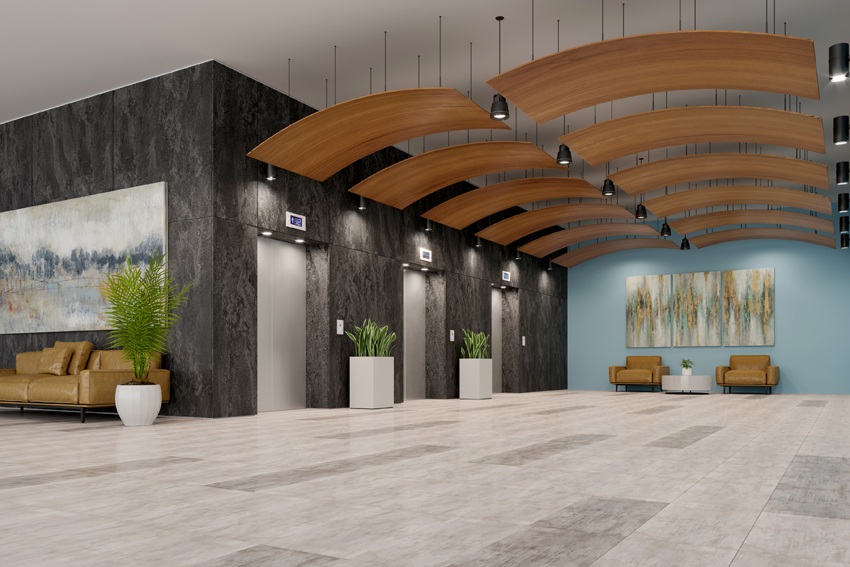 Traditional-looking wood ceiling panel designs provide a comforting biophilic backdrop, while wood canopy installations can up the aesthetic value by offering an unconventional, sculptural look.
For example, by selecting perforated panels or reveals between wood panels, a certain percentage of the sound will pass through the panels. Similarly, wood lattice and grid systems will help reduce acoustic reverberation, though they often require a backup sound-absorption material. As an alternative, McNay recommends systems with asymmetrical geometries that work to help reduce reverberation.
For applications where acoustics are prioritized, including theaters, school auditoriums, salons, galleries, or restaurants, products such as a fiberglass infill can help achieve the required NRC ratings.
Standard versus Custom-Engineered Solutions
Another issue that often comes up when specifying wood wall and ceiling systems is whether the design can be supported by standard products or an additional investment is required for a custom solution.
"Having a wide array of standard products to choose from is always ideal," Paleczny says. "Standards provide a great baseline for decision making. They provide a modularity that can integrate other ceiling components with greater ease, they can reduce the lead times significantly, and they can be economical solutions for elevating spaces."
Whereas custom-engineered systems frequently require a highly specialized installer, standard wall panel and ceiling systems are contractor friendly, which opens up bidding to a wider range of installers, as most manufacturers include very detailed installation drawings and instructions.
Hutchison agrees that a wide range of standard products—not only in terms of color and texture but also shape, installation method, panel size, and acoustical properties—provides flexibility to specify wood products for a variety of space types and in a variety of locations without the added expense of custom systems.
At the same time, there seems to be a misconception that standard products are limiting and impinge upon designers' creativity. On the contrary, Lucas Rew asserts that these off-the-shelf solutions offer a wide range of possibilities. "A unique design solution can be customized and created by combining multiple standard products by varying patterns, shapes, and colors," she says.
Bennett raises another point, which is the fact that more costly custom-engineered solutions run the risk of being value engineered out of the project. Consequently, if the design team is able to work within the framework of standard solutions, there is a much better chance of keeping the design aesthetic while staying within budget.
Ultimately, whether standard or custom engineered, wood wall and ceiling systems have a proven track record of creating inviting, warm interiors that capitalize on the wellness, productivity, and biophilic benefits that this natural material offers. As building owners, organizations, and society itself continues shifting toward a health and wellness mindset, biophilic design will continue to gain traction.
Barbara Horwitz-Bennett is a veteran architectural journalist who has written hundreds of CEUs and articles for various AEC publications. www.bhbennett.com
End Notes
1Ohtsuka, Yoshinori. "Shinrin-Yoku (forest-air bathing and walking) effectively decreases blood glucose levels in diabetic patients." International Journal of Biometeorology. February 1998. Web. 10 February 2020.
2Browning, William. "The Economics of Biophilia: Why designing with nature in mind makes financial sense." Terrapin Report. Terrapin Bright Green. September 2015. Web. 10 February 2020.
3Augustin, Sally and Fell, David. Wood as a Restorative Material in HealthCare Environments. FPInnovations. February 2015. Web. 10 February 2020.
4Ohta, H. et all. "Effects of redecoration of a hospital isolation room with natural materials on stress levels of denizens in cold season." Shimane University. 24 October 2007. Web. 10 February 2020.
5Kelz, Christina. "Interior wood use in classrooms reduces pupils' stress levels." Ninth Biennial Conference on Environmental Psychology. September 2011. Web. 10 February 2020.
6Fell, David. "Wood in the human environment: restorative properties of wood in the built indoor environment." November 2010. Web. 10 February 2020.
7Ridoutt, Bradley G. "First Impressions of Organizations and the Qualities Connoted by Wood in Interior Design." Forest Products Journal. October 2002. Web. 10 February 2020.
8Tsunetsugu, Y. "Physiological Effects in Humans Induced by the Visual Stimulation of Room Interiors with Different Wood Quantities." Journal of Wood Science. The Japan Wood Research Society. 1 February 2007. Web. 10 February 2020.
9Sakuragawa, S. "Influence of Wood Wall Panels on Physiological and Psychological Responses." Journal of Wood Science. The Japan Wood Research Society. April 2005. Web. 10 February 2020.
10Browning, William. "14 Patterns of Biophilic Design: Improving Health & Well-Being in the Built Environment." Terrapin Report. Terrapin Bright Green. 2014. Web. 10 February 2020.
| | |
| --- | --- |
| | The ceilings and walls you create in a space are more than mere surfaces. They offer aesthetic beauty that inspires creativity and contributes to well-being in offices, schools, medical facilities, hotels, and more. They offer acoustic benefits that help workers focus, students learn, and patients heal. So it's critical to find partners and collaborators who help you solve building problems creatively and efficiently, while tackling the most demanding challenges in acoustics, installation, engineering, and innovation. That's where CertainTeed Architectural Products comes in. We'll manage the details so you can focus on pushing the boundaries of ceiling design. From economical acoustical tiles and suspension systems to custom-engineered ceilings showpieces in metal, felt, fiberglass, and wood, the CertainTeed Architectural Products portfolio includes solutions for every space and every budget – all with the backing of technical expertise and world-class customer support that can help you unleash the creative potential of every project. |
Originally published in Architectural Record
Originally published in May 2020
Notice