Natural Materials in Biophilic Design
In creating a direct connection to nature, wood ceilings and wall systems can boost occupant health, well-being, and productivity
Sponsored by CertainTeed Architectural
This test is no longer available for credit
Wood Biophilia Research
Among research proving the positive benefits associated with biophilic design, wood stands out as being a particularly effective strategy. With a high level of design and application flexibility, wood is not dependent on access to windows, like some other biophilic design strategies, and when exposed, it can simultaneously serve both biophilic and functional purposes.
Compiling a number of noteworthy studies in Wood as a Restorative Material in Healthcare Environments, Design With Science Principal Sally Augustin and FPInnovations Research Leader David Fell report that physical well-being is enhanced when wood is employed.3
Looking at some key studies, a group of researchers at Japan's Shimane University found that adding cedar wood panels and rice straw paper to the walls of a hospital isolation room reduced the stress levels (measured by cortisol levels) experienced by people in the space compared to people in rooms with concrete walls.4
In another study, as presented at a Netherlands Conference on Environmental Psychology, the stress levels in Austrian classroom students exposed to wood were compared to non-wood conventional classrooms.5 The heart rate variability increased in students in the wood classrooms. This variability is tied to the parasympathetic nervous system that acts to reduce stress levels and promote healing and recovery functions in the body.
Fell was also involved in another study that analyzed the autonomic responses of 119 subjects in wood and non-wood offices, with and without plants, before, during, and after a stressful mental task.6 Results showed that the wooded offices delivered the most stress-reducing effects.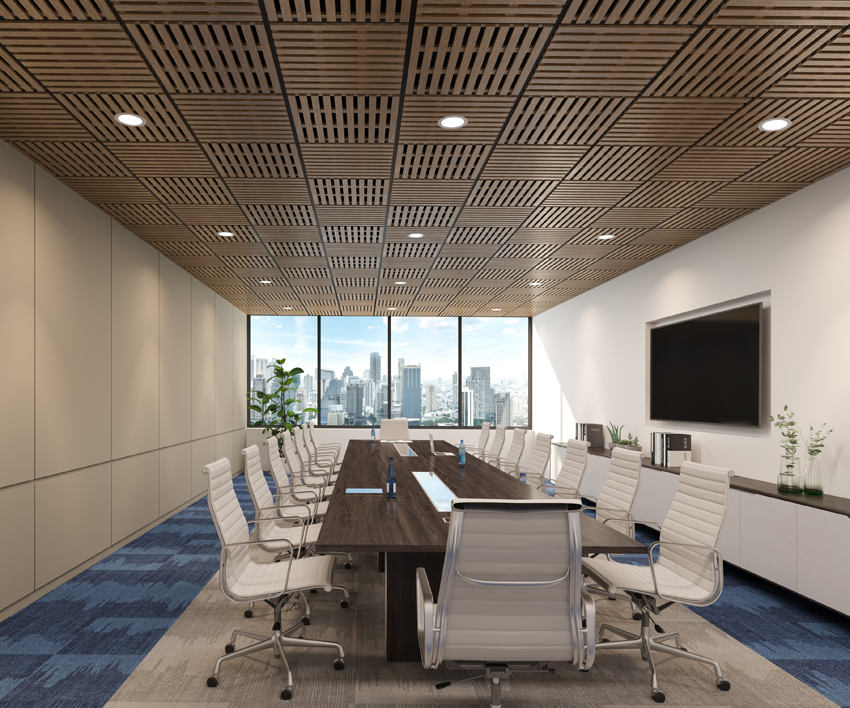 A recent study of office designs revealed that those designed with wood offer the most stress-reducing effects for workers.
Taking an interesting approach to analyzing responses to wood, researchers in Australia and New Zealand presented images of office lobbies furnished with wood and lobbies decorated with other materials.7 The wood-finished lobbies were perceived as being associated with more prestigious, energetic, innovative, comfortable, and desirable companies for which to work.
Studying wood from another angle, the Japan Wood Research Society analyzed the blood pressure of participants exposed to a wooden wall vs. a white steel wall.8 In the latter case, those with a dislike for steel experienced an increase in blood pressure, while those who like steel experienced no change. On the contrary, people who like wood as a finishing material found their blood pressure dropped significantly when they faced the wooden wall, whereas those who dislike wood found their blood pressure was not affected by viewing it.
Another study by the same Japanese group sheds some key insights on how to optimally design with wood. The project analyzed the heart rate and blood pressure of occupants inside rooms with 0 percent, 45 percent, or 90 percent of the surfaces covered with wood.9 While blood pressure levels were the lowest in the 90 percent coverage rooms, the 45 percent wood-covered spaces are actually the most preferred by occupants as being the most comfortable.
"Covering less than half the surfaces appears to be the sweet spot," observes Augustin.
Unique Aspects of Wood
One key point with all of this research is that to reap these benefits, the wood grain on the interior surfaces has to be exposed. Consequently, if the wood is painted, these biophilic effects will be lost, as the grain is one of the most important aspects lending authenticity to the wood.
"The texture, color, grain pattern, and overall appearance of wood make each piece unique," explains Alana S. Morris, IIDA, NCIDQ, EDAC, senior interior designer manager and team leader at ESa, Nashville, Tennessee.
Commenting on some unique aspects of the material, Paleczny says that wood has the ability to straddle multiple design styles by making the space feel inviting and familiar yet cool and collected at the same time.
Wood is exceptional at sound absorption, temperature, and humidity control, and can offer hypoallergenic qualities in many cases. Wood interiors are easily recyclable and are therefore sustainable.
Wood is also a multisensory material, capable of influencing four of the five basic senses: touch, smell, sight, and sound. Jennifer Walton, principal and corporate studio director at H. Hendy Associates, Newport Beach, California, points out that wood:
Represents a celebration of local materials, helping humans connect with the nature surrounding the built environment inside the building.
Provides a connection to craftsmanship—a sense of human touch instead of machine-made products.
Is pliable and can be shaped to represent the rhythm of natural materials through organic expression.
Matures and changes over time, giving people a sense of time that helps shape human life and behavior.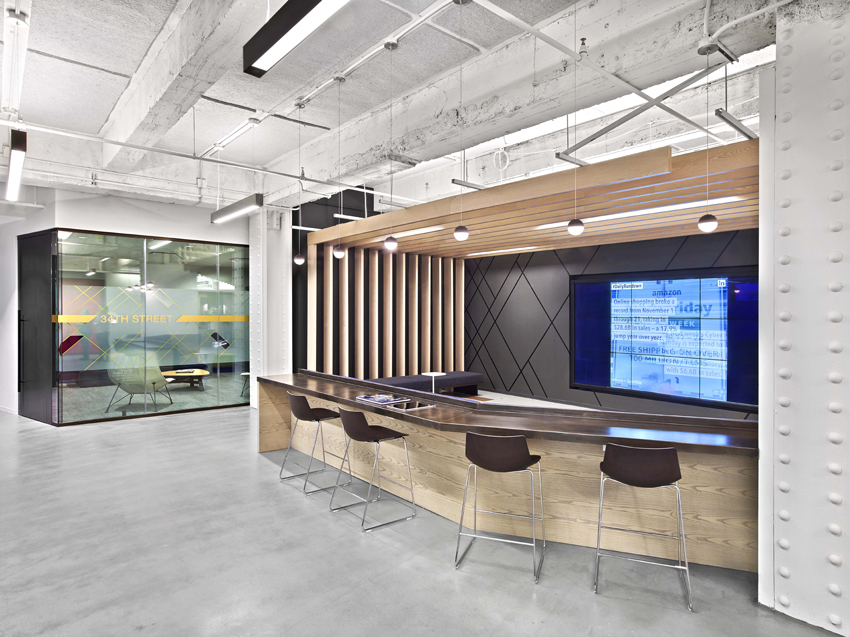 Wood is an ideal biophilic design material because it is multisensory, appealing to occupants' senses of touch, smell, sight, and sound.
In a similar vein, Peggy Bennett, IIDA, LEED AP, associate vice president and director of commercial interiors for Hoefer Wysocki in Kansas City, says that wood does an excellent job of creating a sense of place to localize commercial interior design through site integration, which prioritizes the use of materials that are native to the area.
In integrating wood ceilings and walls while keeping biophilic principles of recreating nature in mind, Emrich advises selecting light-colored species. "The sky is usually brighter than the ground, even on a cloudy day, so a dark wood ceiling can be counterproductive, depending on the desired space usage and occupancy type," he says.
It is not uncommon for wood ceiling designs to create the impression of a tree canopy, suggesting a sense of shelter, warmth, and protection.
For the walls, he recommends wood as an accent or trim. "When you are in a forest, you will never see a blanket of wood—there are breaks between the trees and visual cues like foliage in the depth of field," Emrich adds. "The wood in nature is broken up, and wood in biophilic design should similarly offer visual breaks."
Originally published in Architectural Record
Originally published in May 2020
Notice