Innovations That Drive Sustainable Ceramic Material Selection
Twenty-five years of advances in digital manufacturing, material science, and life-cycle certifications provide new sustainable ceramics
Sponsored by Ceramics of Italy
This test is no longer available for credit
Design Intelligence
Design professionals can influence perceptions and behaviors in buildings through both the form of a building as well as material selections. Social scientists and health-care professionals are providing data as to how humans respond to color, daylight, and natural textures. Intelligent design seeks to define environments that support human well-being. Innovative products that expand the designer's palette include a wide array of images with very high resolutions replicating stone, wood, and marble through introduction of new digital ink printing. Tiles are provided in sizes both rectangular and square, small or large, as "planks" and large-format "wallpaper." These products are specified for health-care projects, in restaurants, and also for high-end residential and hotels.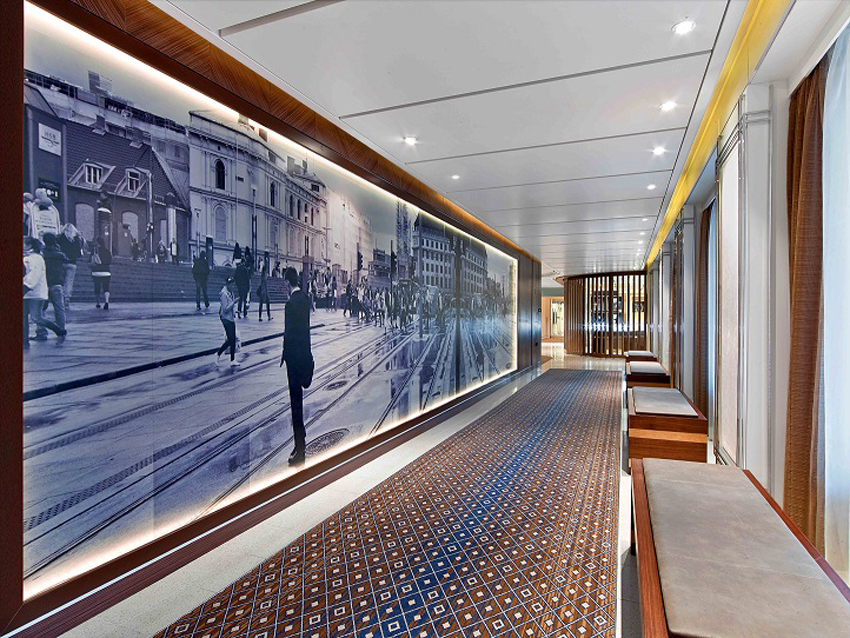 Photo: © Eric Laignel/Rottet Studio
A large custom-printed graphic wall tile, digitally printed flooring, and benches are clad with moisture-resistant large porcelain panels and tiles on the decks of this Viking Ocean Cruises ship designed by Rottet Studio.
Not only are these surfaces applied to interior finishes but also to exterior pool decks, patios, and even the decks of a Viking Ocean Cruises ship line. When creating the brand for the ships and to meet strict marine environmental regulations, the international architecture and studio design firm Rottet Studio, along with the architect of record SMC, specified large hallway ceramic murals, hallway ceramic "carpets," and seating. Simulated "terrazzo" flooring tiles in the hallways appear in and throughout the deck. The mid-ship pool is surrounded with tiles that look like wood but meet the requirements for slip resistance and durability at a very wet area. The team selected lightweight porcelain ceramics for this location where every ounce counts. These techniques are used to brand and coordinate the design character throughout the ship. The designer employs the change in color and texture to influence human behavior through wayfinding, universal design, and easy maintenance.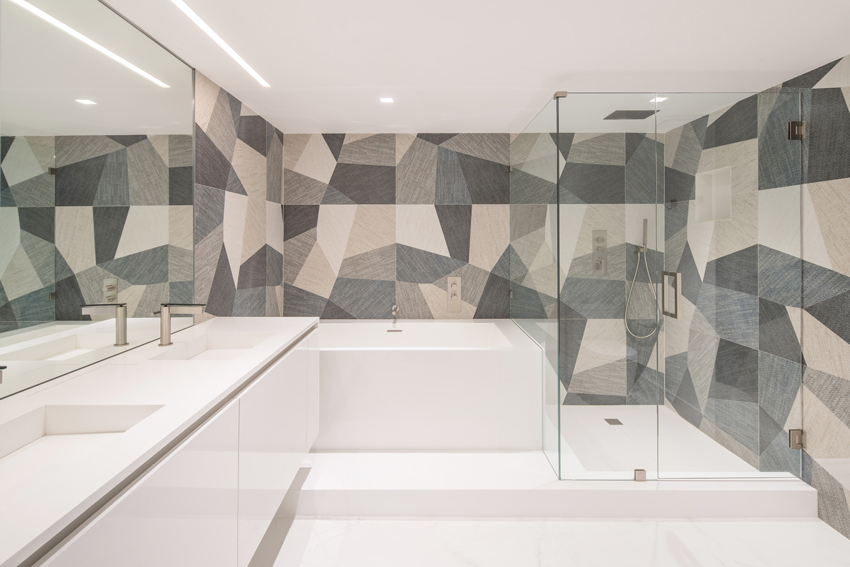 Photo courtesy of DEN Architecture
The "spa" bathroom for the Verburg Renovation in Miami Beach was designed by DEN Architecture. It selected a 36-by-36-inch porcelain tile with a striking geometric graphic along with large-format flooring for this renovation.
The combination of unique sizes and large-format porcelain tiles has also driven a movement toward ceramic "wallpaper." The "spa" bathroom for the Verburg Renovation in Miami Beach was designed by DEN Architecture. It selected a 36-by-36-inch porcelain tile with a striking geometric graphic along with large-format flooring for this renovation. Large-format tiles have fewer grout lines that expand a room's sense of space and make them easier to maintain. They can also change behaviors: new rules for walls installed with large porcelain writing surfaces allow for drawing and note taking and sketching at installations from kitchens to colleges.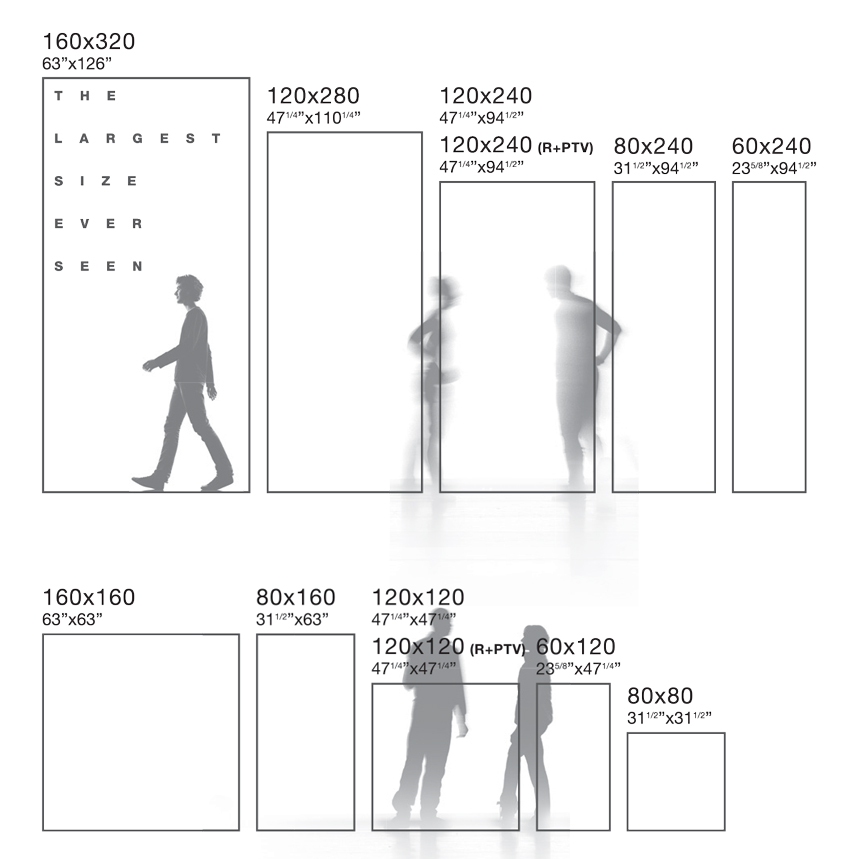 Image courtesy of Florim
Large-size porcelain stoneware sheets as thin as 6 millimeters (1⁄2 inch) can open up many new alternatives for interior and exterior applications.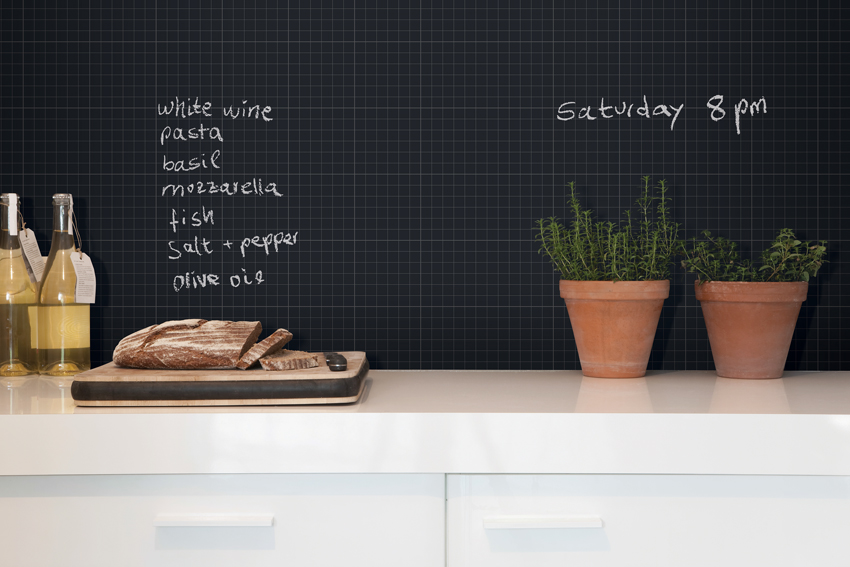 Photo courtesy of Ornamenta
New rules for walls installed with large porcelain writing surfaces allow for drawing and note taking on kitchen walls and even in children's bedrooms.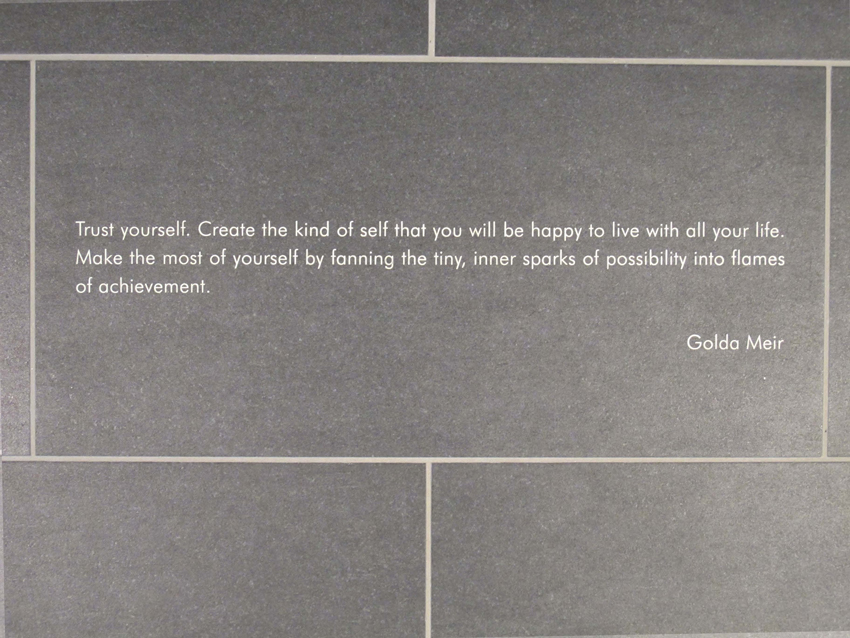 Photo: © Tom Arban/ARK
Inspirational sayings are engraved in ceramic flooring at the UJA Federation of Toronto Community Complex.
Employing CNC engraving machines, ceramic manufacturers are partnering with designers to introduce language into their projects. Guela Solow-Ruda and Christophe Gauthier of Architects + Research + Knowledge (ARK), for the UJA Federation of Toronto, provide a thoughtful description of their design intentions for the Community Complex Campus. Their intent included the notion of a "common ground" for the entire community, using tile surfaces to express the building's ideas both abstractly and literally, dissolving differences between diverse people. They used engraved large-format porcelain tile to extend the circulation route through the atrium. In terms of cultural identity, the engraved porcelain tiles created a canvas or substrate for abstract ideas, expressing the ideals of the Jewish community, never using the word "Jewish" but rather representing Jewish ideals: charity, friendship, respect, and beauty. Inserted along the pathway are inspirational sayings, engraved in individual tiles to inspire readers to participate in community life by reflecting on messages and then to look up and find themselves already immersed in the activities of the center.
The choice of ceramics with no volatile organic compounds (VOCs), easy maintenance, impact resistance, and high life-cycle analysis (LCA) values is consistent with the sustainable strategies employed in this project. Across the planet, ceramic manufacturers are following these principles to develop new products to meet ever expanding intelligent design for a variety of projects.
Sustainability: Environmental Product Declarations
Manufacturers in the ceramics industry have been stepping up to deliver products that meet some of the most stringent green building certifications. They are pursuing policies of sustainable development from selection of raw materials through to the products certified in accordance with the strictest green standards.
An environmental product declaration (EPD) is an independently verified document that provides comparable information about the life-cycle environmental impact of a product. As an example, 76 companies and 84 plants that represent 82.6 percent of all Italian ceramic tile production supported a study in 2014 that collected data that was then applied to the formulation of a new EPD. "Italian Ceramic Tiles Confindustria Ceramica" is a document referring to the average ceramic tile product manufactured by Confindustria Ceramica's member companies.1 Information on applications, construction, and technical data is defined from surface quality to structural density and water absorption in this EPD, providing samples of the sustainable characteristics of this product.
An EPD may be used for many different applications, including public procurement and building environmental assessments for certification programs. Characteristics that are measured by an EPD include both the environmental impact of the production of the ceramic product as well as the impact of the product after installation through deconstruction, or cradle-to-grave impacts. European environmental standards are embedded in building and product regulations, while energy use and carbon emissions are requested for product declarations and LCAs. In 2012, a detailed study was published by the University of Modena and Reggio Emilia, "Comparative life-cycle analysis of different types of flooring materials."2 In this study, porcelain tiles have a lower LCA and therefore a less detrimental impact on the environment. The LCA score of porcelain is 0.1042 compared to 0.15271 for parquet, 0.23685 for carpet, 0.53425 for marble, 0.66474 for resin, and 0.92207 for linoleum.
Environmental impacts are measured as per international standards ISO 14025 and EN 15804, which define the parameters of the declaration and the requirements for EPDs of a certain product category, including that of the Italian Ceramic Tiles Confindustria Ceramica. The Building Product Disclosure and Optimization – EPD Guide is a LEED v4 category. The USGBC provides additional information on its website for guidance.3 LEED-compliant ceramics contribute to the overall sustainability of a building, for example, in terms of the percentage of pre- and post-consumer materials used as raw materials.
Ecolabel is the European ecological quality mark granted to products and services with the best environmental performance. The label certifies that the product or service has a low environmental impact throughout its entire LCA. The Environmental Management and Audit Scheme (EU EMAS) is granted by an independent body to companies that have voluntarily implemented an environmental management system (EMS), enabling them to introduce continuous goals of environmental improvement, analysis, and public reporting of results.
Choosing a LEED-compliant ceramic product has numerous benefits toward categories in green certifications, such as LEED for Materials and Resources. Some sustainable attributes include the following:
Non-toxic ceramic tiles do not contain VOCs susceptible to the release of gases before, during or after installation.
Easy maintenance requires only warm water and neutral detergents. Tiles are also inert and release no substances. Their ease of maintenance contributes to reducing costs for consumers during the useful lifetime of the tiled surface and risk of pollution caused by the use of chemical products.
Durability ensures a life expectancy of up to 60 years in the United States compared to the average lifetime of respectively six, 10, and 15 years for carpet, vinyl, and wood floor coverings.
Resistance to extreme atmospheric conditions, chemical attack, fire, flooding, humidity, temperature variations, and UV radiation.
Local sourcing, recycled content, and recyclability: Raw materials are from readily available sources and are easy to dispose of at the end of their life cycle. They can also be recycled through reuse in the production process (minimizing the use of natural resources and the production of waste).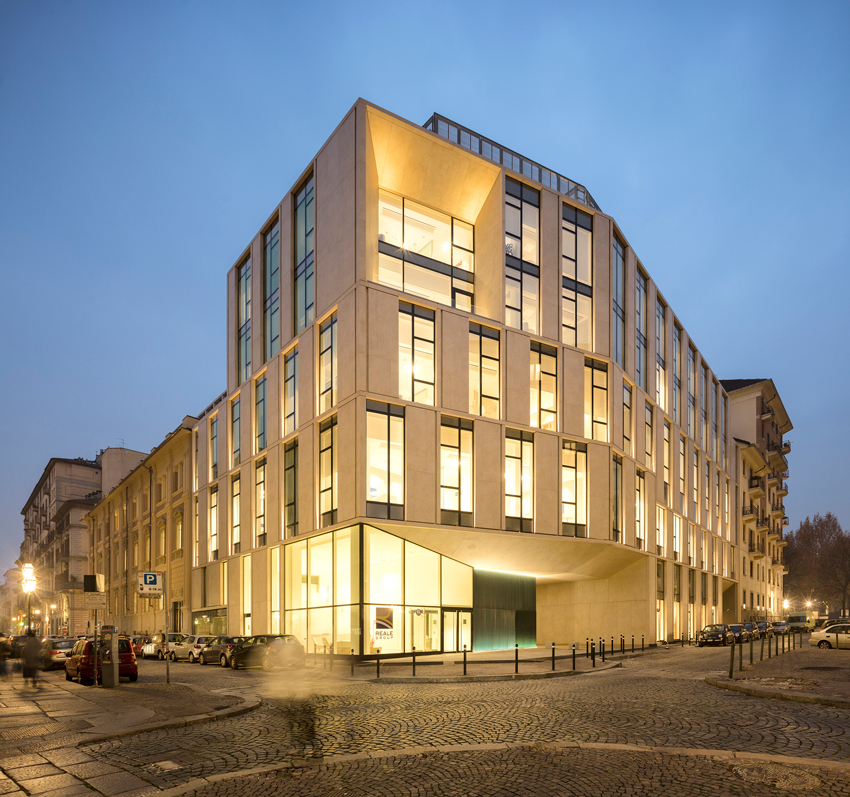 Photo courtesy of Iotti + Pavarani Architetti
The new Reale Group office in Turin, Italy, is designed to meet LEED Platinum standards and features lightweight composite panels constructed of large-format porcelain slabs.
Originally published in Architectural Record
Notice