Form Follows Fun: Design Options in Modern Ceiling and Wall Systems
Tessellated ceilings and walls take advantage of new technologies; metal and wood panels can be almost any shape, size, or finish, while contributing to LEED and offering a variety of sustainability opportunities.
This course is no longer active
Sponsored by Ceilings Plus
Learning Objectives:
Explain the use of tessellations in ceiling and wall design.
Describe the impact of contemporary design and panel-fabricating technologies on architectural options.
Differentiate between traditional and modern wood panel systems, including veneers that come from sustainably managed forests.
Define the role of ceiling and wall panel systems in acoustical control and noise reduction.
Identify how modern ceiling and wall systems can contribute to a number of different LEED credits.
Credits:
We appear to be in a new architectural era. The revolution was almost bloodless, but it was, nonetheless, a revolution. The tools of design have changed, from the sliding parallel rule to intelligent software so versatile that it is almost a direct extension of the imagination. The technology for manufacturing architectural products has kept pace, enabling the fabrication of forms and patterns that, until recently, would have been unthinkable and prohibitively expensive. Designers of the new era enjoy unprecedented freedom to explore, play, and design from the heart.
This change is nowhere more apparent than in ceiling and wall design. It is marked, among other things, by a renaissance in tessellation, an architectural tradition with ancient roots and still-unexplored potential. The tyranny of the rectangular grid has been broken. The third dimension has been breached. Moreover, elaborate and imaginative design in wood is no longer the exclusive privilege of high-budget projects. Walls and ceilings once again are surfaces for expression as well as function.
This course will explore the new design freedoms in ceilings and walls, with particular emphasis on tessellation, the use of wood and metal, and the interplay of shapes, textures, perforation patterns, and the seamless flow from digital design to computer-controlled fabrication.
In many people's minds, the concept of tessellation is inextricably linked with the work of M.C. Escher, and certainly that famous Dutch graphic artist dramatically demonstrated the visual and emotional power this type of pattern. (He was, in fact, inspired by tessellated designs found in architecture, specifically the elaborate tile work of the 14th century Moorish castle, The Alhambra, near Granada, Spain.) Tessellation may be defined as "completely covering a surface with a repeated shape or grouping of shapes," or from another point of view, "dividing a surface into polygons (i.e. multi-sided shapes)." The term comes from the Latin "tessellare," meaning "to pave with tiles." In other words, a tessellated surface can be thought of as covered with tile-like panels.
Tessellations are an ancient design tradition, having been used as decorative architectural motifs since antiquity. They have been featured in flooring designs and architectural ornament throughout the ages. In many eras, they also graced walls and ceilings. The Roman Basilica Nova, begun in 308 AD, with its towering groined and barrel vaults, tessellated in concrete octagonal coffers, is a stunning example.
During the twentieth century, the use of tessellation in walls and ceilings waned. It was due in part to the emergence of suspended ceilings: complex shapes executed in carved or cast materials were too heavy to hang efficiently on the walls or ceilings of modern structures. But to an even greater degree, it was a result of the aesthetic of the age. In every epoch, architectural motifs have related to the design and fabrication technologies in use. In the Industrial Age, the production line became the shape giver of modern architecture. Ribbons of material - whether glass, ceramic, metal, wood, or mineral fiberboard - moved down the line to cut-off mechanisms that produced rectangular sheets or panels. These right-angled building components were compatible with the drafting tools epitomizing the era - the sliding parallel rule and right-angled triangle.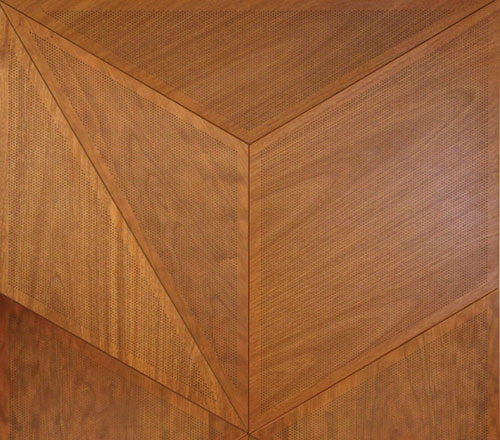 Lightweight aluminum panels with real wood veneers come together in a tessellated pattern. Micro perforations contribute to acoustical performance yet minimize visual impact.
Photo courtesy Ceilings Plus
Originally published in Architectural Record
Originally published in June 2010
Notice