Lighting Effects with Coiled Wire Fabric
Stunning results can be achieved by combining natural or electric lighting with coiled wire fabric
Sponsored by Cascade Architectural
Interior Design
There are certainly many cases where controlling solar gain and glare is not possible or practical on building exteriors. Hence, interior treatments such as blinds, shades, or drapery become the focus of solving those issues. One of the benefits of such interior solutions is their inherent controllability to suit differing lighting conditions over the course of a day, week, month, or year. Commonly, interior solutions are also less expensive than exterior solutions since they are not subjected to the same harsh conditions.
With all of the above in mind, coiled wire fabric has been very successfully used as a durable, attractive, and economical interior treatment over windows and other glazing. In some cases, it may be the only treatment used, or else it can be coordinated with other window treatments. Either way, there are multiple opportunities to create interior designs that blend the best of light filtering fabric with color, form, and texture. Similarly, in cases where skylights or clerestories are part of the building, coiled wire fabric can be suspended below it in artful or simply functional ways to reduce glare, channel the daylight, or provide a curvilinear contrast to an otherwise rectilinear design.
Interior applications are where the fullness of the coiled wire fabric can play a big role. When more material is used than simply what is required to cover a given area (as in an exterior panel), a billowing, drapery effect may be achieved. This is consistent with other styles of interior window treatments and can create a rather luxurious look. The weave, color, and texture of the selected coiled wire fabric can belie the fact that it is not cloth fabric and therefore offer a warm and comfortable appearance.
The coiled wire fabric can be installed as a full fixed or operable drapery system depending on the type of attachment or track system being used. Curved, segmented, and straight systems are all possible, so designing a fabric system to match a glazed opening or other feature can be very straightforward. This is true if small, single window units are the focus or if large, continuous glazed areas are part of the design. This is due to the ability of the coiled wire fabric to be provided in long, continuous sizes or to be seamlessly joined in the field such that no window opening size is too large or too small for consideration.
Another significant attribute of using coiled wire fabric for interior applications is its ability to allow for the predictable passage of air as well as light. Many exterior windows have HVAC components installed above, below, or adjacent to them that move air or radiant heat into the space. The coiled wire fabric typically is not bothered by the heat or cooling temperatures that emanate from these components, and the open nature of the weave allows air and temperature to pass through the wire fabric. Hence, the light-controlling aspects of the wire drapery will not necessarily interfere with the proper operation of the HVAC system the way that fabric drapery sometimes can.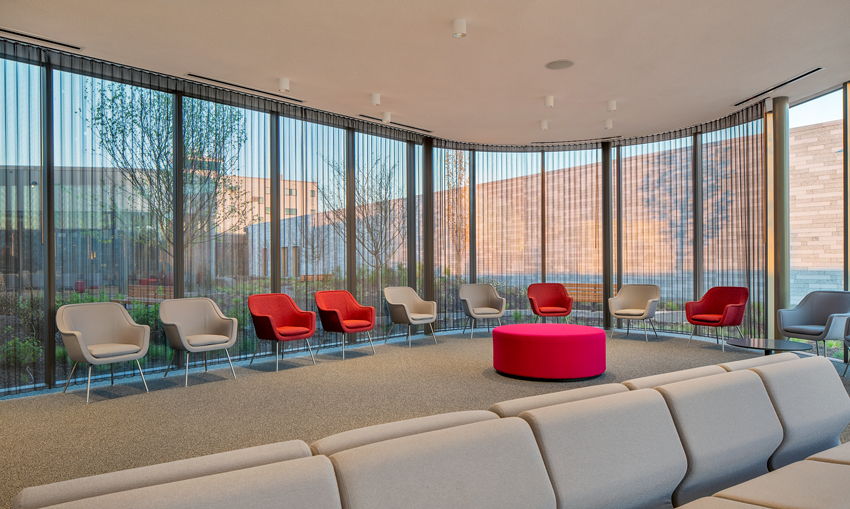 Photo: © William Horne Photo. Architect: Fennick McCredie Architecture
Coiled wire fabric can be used on interiors as a durable, appealing, window treatment to control glare but still allow for daylight, views, and HVAC operation at the windows.
Beyond the appearance and functional aspects of coiled wire fabric used on interiors are the other performance capabilities that it provides. Fundamentally, it is a very durable choice since the metal coils are not hampered by many of the usage and wear concerns of other materials, such as fabric, plastics, wood, etc. In fact, it may even protect the surfaces and glass that it covers. The overall appeal and durability often means that the material is not limited to covering windows on interiors but can be used elsewhere as a means to separate spaces, create a visual focus, or enhance lighting designs. In these cases, the coiled wire fabric can be hung to line hallways, enclose or define smaller interior spaces, enhance ceilings, or simply create a visual focal point to a space. It can even be used help with sound absorption and attenuation if the wire fabric is designed with those attributes.
Originally published in Architectural Record
Originally published in October 2020
Notice