Emerging Building Envelope Solutions You Can Use Today
Innovative trends in building envelope design, construction and commissioning are helping teams deliver high-performance enclosures to meet challenging project requirements.
Building Enclosure
ASHRAE Guideline 0 and NIBS Guideline 3
ASHRAE Guideline 0: The Commissioning Process describes the quality-oriented "Commissioning Process" (CxP) capable of achieving, evaluating and documenting that a facility and its systems meet the Owner's Project Requirements (OPR). The procedures, methods and requirements in Guideline 0 outline each phase of the project delivery and the associated commissioning processes from pre-design through occupancy and operation.
While ASHARE Guideline 0 outlines the commissioning process, NIBS Guideline 3 provides specific information related to commissioning the building enclosure. It is essential that a project's commissioning authority (CxA) understand and comprehend the basic process provided in Guideline 0 as well as the specific BECx requirements of NIBS Guideline 3. The latter recognizes that, just like other critical elements of a building, an independent review of the commissioning process is an impartial way to see that the design and construction of façades, fenestrations, roofing and other envelope components are all carried out and tested appropriately to perform as intended. As stated in the document, Guideline 3 "provides recommendations for navigating the enclosure commissioning process from its necessary inclusion in project planning to its continued emphasis throughout the life of a building. The Guideline is intended to be usable by all owners for all building types."
Regarding the process, NIBS Guideline 3 goes on to point out that, "The BECx process is utilized to validate that the design and performance of materials, components, assemblies and systems achieve the objectives and requirements of the owner. The BECx process achieves this through experience, expertise, modeling, observation, testing, documenting and verifying materials, components, assemblies and systems to validate that both their use and installation meet the owner's requirements."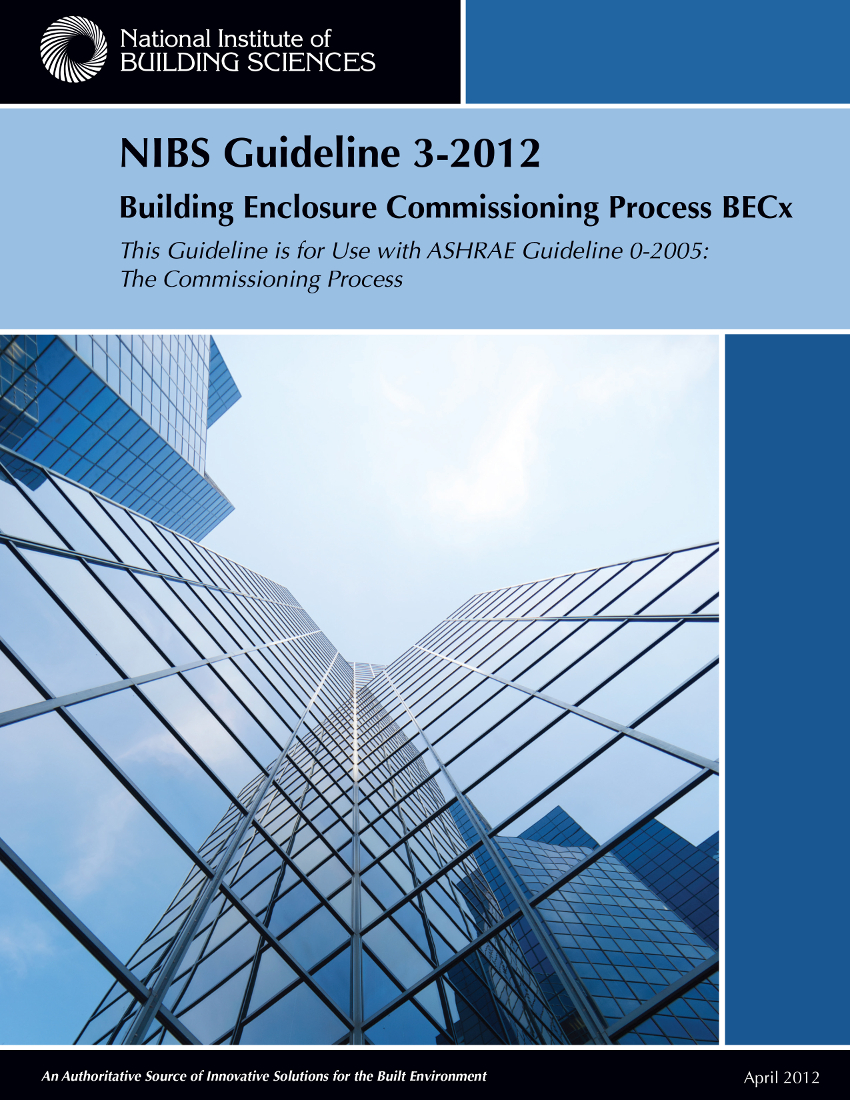 Image courtesy of NIBS
NIBS Guideline 3 for BECx is available for free through the online WBDG.
BECx Process Primer
The notion of "building enclosure commissioning" may conjure up thoughts of on-site performance testing. While such exercises constitute an important aspect of BECx, the process involves much more breadth of scope. BECx should begin at pre-design and continue through post-occupancy—in the same manner as the more common mechanical and electrical systems commissioning process. In fact, BECx goes hand-in-hand with the more familiar scope of systems commissioning.
In accordance with NIBS Guideline 3, the process basically looks like this:
During pre-design, the BECx team typically contributes to initial budget estimates and provides third-party expertise regarding the most appropriate building envelope materials and assemblies, what types of testing may be needed, and how project performance targets (e.g., energy or water efficiency) and/or enclosure longevity can be best achieved within project constraints and budget limitations.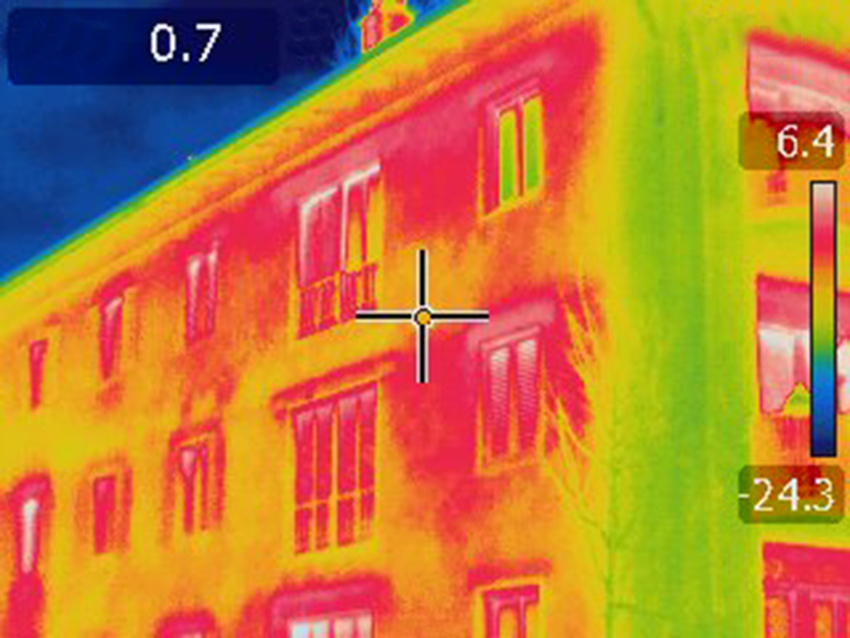 BECx can help project teams identify issues in the field related to a range of damage functions and rectify them before the project is complete. Pictured here is an infrared thermal imaging scan of an exterior envelope condition.
Over the course of the design development process, drawing reviews are critical for ensuring the continuity of various barriers that address the damage functions—particularly moisture management. Some drawing sets exhibit problematic details; a meticulous BECx drawing review can identify potential issues before they manifest themselves in the field.
During construction, mockups and on-site inspections take place with regularity. Testing mock-ups serve many needs of the BECx commissioning process throughout construction. The mockups can identify weak points in assembly design, help a team establish the most efficient construction sequencing, and serve in training exercises. Through on-site inspections, the commissioning authority can verify that sequencing is being executed properly and better ensure that field conditions will perform in accordance with the OPR.
Field testing occurs during the pre-occupancy phase and is just as vital as mockup testing. It is during this phase that the exercises most professionals associate with building enclosure commissioning take place. BECx protocol will ensure that an action plan is implemented to address insufficient field testing results. Ultimately, the building enclosure must meet the performance requirements specified by the owner.
During post-occupancy, BECx helps ensure that inspection and maintenance plans are in place for the building envelope and that critical documentation, such as warranties, are included in the owner's manual and delivered to the owner.
Any building project can benefit from BECx. When a facility is not subjected to an appropriate commissioning process, it is highly likely that the owner will not end up with a building solution that performs as intended by the project team.
Conclusion
Building envelopes are becoming more sophisticated—much like the rest of the building design and construction industry. With this sophistication comes greater complexity and more robust procedures for design, construction and commissioning.
Emerging trends with regard to building envelopes will continue to evolve at rapid pace. The impetus is on design and construction professionals to stay abreast of emerging trends in the industry to help project owners successfully achieve their high-performance goals.
Daniel J. Overbey, AIA, NCARB, LEED AP (BD+C, ID+C, O+M) WELL AP, is the Director of Sustainability for Browning Day Mullins Dierdorf in Indianapolis. His work focuses on high-performance building design and construction, environmental systems research, LEED- and WELL-related services, and energy modeling. Overbey is also a building science educator at the Ball State University and the Boston Architectural College. He can be reached at doverbey@bdmd.com
Originally published in Building Enclosure
Notice