Emerging Building Envelope Solutions You Can Use Today
Innovative trends in building envelope design, construction and commissioning are helping teams deliver high-performance enclosures to meet challenging project requirements.
Building Enclosure
Glazing Systems
Improved energy efficiency continues to be one of the strongest trends in building envelopes. This is driven by increasing stringencies in our energy codes and rating systems. However, glazing assemblies are typically the weak spot in the envelope's thermal barrier. In response, glazing manufacturers have responded by developing several new types of glazing products.
Glass Treatments
Beyond standard double-glazed insulated glass units, manufacturers are offering triple-glazed solutions (sometimes accomplished with intermediate films rather than glass), filmed interlayers, low-emissivity coatings, gas infills, ceramic silkscreens, acid etching, electrochromic interlayers to change the tint of the glass, and low-iron additives and other alterations for increased clarify and full-spectrum light transmittance.
There is more variety than ever before when it comes to glass types. The various treatments achieve a variety of aesthetic and performance outcomes as the industry trends toward fine-tuned glazed façades by customizing glass types to varying orientation and exposure in order to achieve better energy performance and greater visual and thermal comfort.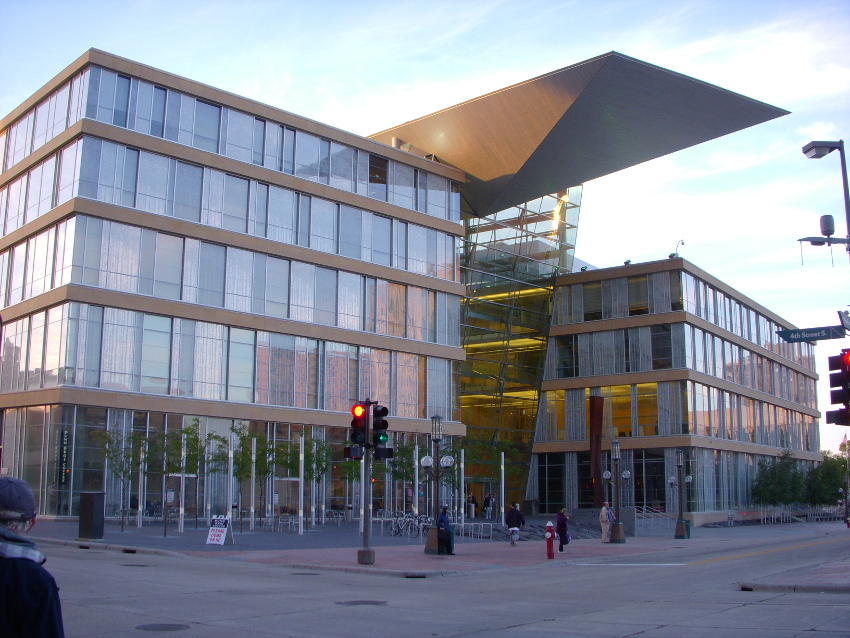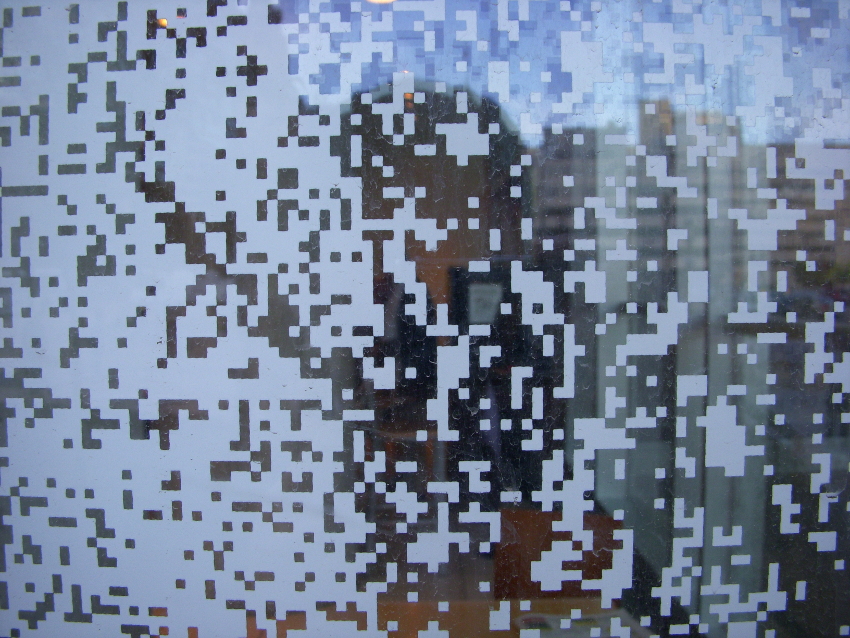 Photos courtesy of author
Aesthetics and energy efficiency prompted the use of silkscreened images on insulated glass units at the Minneapolis Central Library.
Framing Systems
But glazing advancements only address part of the problem with it comes to energy. The framing system that supports the glazing often undermines the improved thermal performance of the glazing itself. Conductive heat transfer through thermal bridging at the frames will most often decrease the overall assembly U-factor of the glazing system. Fortunately, there have been a number of advances here as well.
In addition to simplified construction techniques and options for factory-fabrication to shorten lead times, advancements in curtainwall and storefront framing systems permit continuous thermal breaks to meet increasing energy performance requirements.
Solar Control Devices
When it comes to solar control, the de facto solutions tend to be interior devices such as drapes and blinds. While such solutions may help mitigate intense sunlight, they also tend to cut views. Moreover, interior solar control devices do little to reduce solar heat gain through the glazing assembly. The best approach to reduce heat gains from direct solar radiation is to keep the sun's rays from directly striking the glazing assembly.
Enter exterior solar control devices such as overhangs, screens and sunshades. These devices may be fixed or automated and come in a variety of shapes, profiles and fastening options. They offer a bold aesthetic solution that can add up to superior energy savings. Research has shown that external shading devices can reduce solar heat gain through glazing by up to 80 percent.
Sunshades in particular have been popular in Europe for several years, but are now becoming more common in North American projects. Sunshades can be cantilevered or suspended. They can be customizable, allowing designers to select from a wide variety of blades, outriggers and fascias. Projections can typically be up to 5 feet in depth in order to suit a project's shading requirements.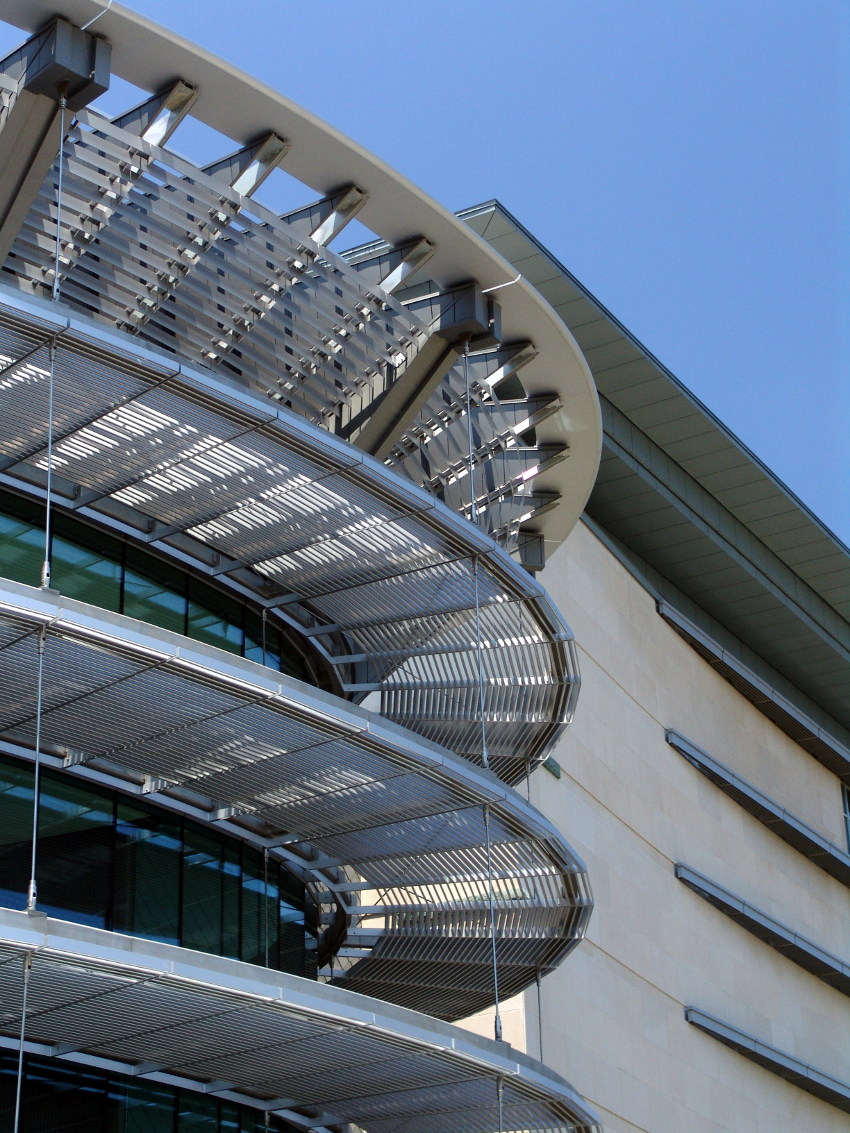 Photo by Keith Clark and Browning Day Mullins Dierdorf
Exterior sunshades installed at the Indianapolis Museum of Art.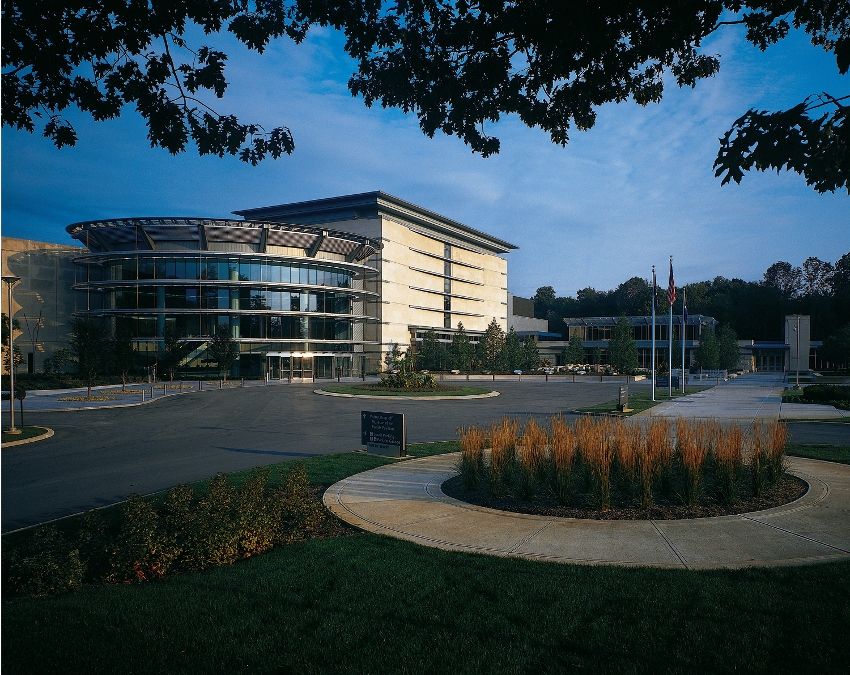 Photo courtesy of Greg Murphy and Browning Day Mullins Dierdorf
The Indianapolis Museum of Art.
Originally published in Building Enclosure
Notice