Whole System Acoustical Treatments
Improving Indoor Environmental Quality in Green Schools
This course is no longer active
Sponsored by Acoustical Surfaces, Inc. and Bonded Logic, Inc.
The decisions related to selecting and specifying acoustical materials include a number of factors driven by good design principles and owner requirements. Clearly, the first item of consideration is the best acoustical performance in the space being designed or in the material assembly being constructed. STC ratings are typically based on the full assembly so determining all of the materials such as structure, framing, finishes, and penetration treatments is needed to obtain an accurate rating. Typically in order to achieve a desired STC rating within a space, particularly if the desired rating is on the higher end, then additional acoustical material is added. Commonly referred to as "sound insulation," the choices of product are often similar to, and sometimes made from, the same material as thermal insulation since sound energy and heat energy are known to perform in a remarkably similar manner. Hence, just as adding insulation to a wall cavity reduces the amount of heat that flows through the wall, the same holds true for reducing the amount of sound that flows or is transmitted through that wall. And, just as there are choices in the types of thermal insulation that are used in buildings with correspondingly varying properties, so too there are choices in the type of sound insulation with varying properties. Insulation that is more tightly bonded, such as recycled cotton denim insulation, typically achieves higher STC ratings than comparable fiberglass insulation when incorporated into comparable wall assemblies based on independent testing.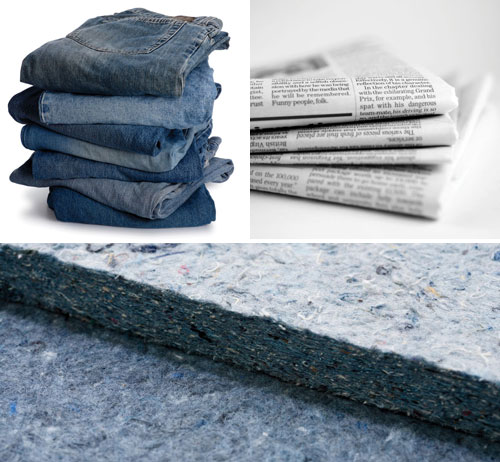 Sound insulation can be manufactured from recycled materials such as newspapers for cellulose insulation or denim fabric for cotton batt insulation and surface treatments.
Photos courtesy of Bonded Logic, Inc.
When it comes to improving reverberation times in a space, then the assembly is less important while the surface of exposed walls, ceilings, or floors takes over. In this case, the acoustical materials need to be selected based on their ability to absorb sound based on their NRC ratings. In any of these applications, all of their properties need to be considered including those listed below.
Fire Rating
For all building materials, fire rating is a significant concern. If acoustical materials are protected inside a wall or other building cavity, then the assembly may alleviate some of the fire rating need of the material. However, if it is located in a fire-rated assembly, then it needs to contribute to, not detract from, that fire rating. If, however, the acoustical material is placed on an exposed surface of the room being treated for RT, then the provisions of ASTM E-84 may well apply for fire rating and surface burning characteristics. Foam plastics are a particular concern in this case, while other materials that are not petroleum based can more easily meet these requirements.
Cost Effectiveness
The cost effectiveness of specified building materials is always a point of discussion, particularly when budgets are tight or subject to public scrutiny as in the case of public schools. Cavity insulation for controlling or improving STC ratings is generally considered a commodity and the cost may be very competitive across different manufacturers or material types, hence other factors may dominate the final selection decision. However, exposed treatments can vary widely in cost and appearance, so selecting the best solution for a particular application may require a bit more review. For example, interior panels could be fabricated from fiberglass insulation covered with fabric or from monolithic decorative acoustical cotton. While 2-inch fiberglass covered with fabric demonstrates similar acoustical performance to 2-inch acoustical cotton, the relative cost of the fabric covered fiberglass panel is more than 3 times as much. By performance contrast, 1-inch melamine covered foam acoustical panels cost more than 1-inch bonded cotton panels but only provide half as much acoustical absorption. Hence, it is important to compare not only the acoustic performance of a material, but also the thickness needed to achieve comparable performance between materials. Further, the surface treatment needs to be considered since it can add considerably to the cost. Obviously monolithic panels that don't require a separate covering will be more cost effective, and since they are often available in a variety of options including colors, design quality of the space can be maintained.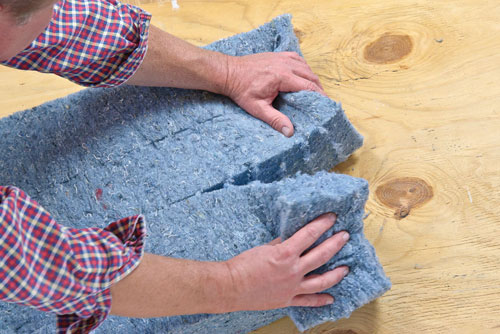 New products such as pre-measured perforated batts allow for faster and easier installation while minimizing waste on construction sites.
Photo courtesy of Bonded Logic, Inc.
Green Construction
Sustainability and green principles are clearly important in all material selections, particularly if LEED® for Schools is being pursued. Clearly, maintaining the integrity of the green principles of the building means addressing all of the materials in the building, including the acoustical treatments. Therefore, beyond the acoustic qualities, the following should be considered: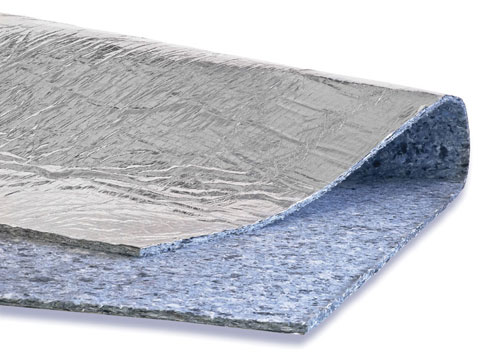 New products such as pre-measured perforated batts allow for faster and easier installation while minimizing waste on construction sites.
Photo courtesy of Bonded Logic, Inc.
Selecting materials with recycled content.

Sound insulation and surface treatments do not need to be manufactured from virgin materials. In fact some excellent products boast significant recycled content for the primary material as well as the added materials that form binders, treatments, etc. It is now possible and quite desirable to specify insulation that has significant percentages of both pre-consumer and post-consumer content, with post-consumer content preferred. Acoustic products that are manufactured from post-consumer content are now widely available throughout the United States. For example, both acoustic panels and batt insulation are currently available that are made from recycled cotton, or recycled denim in particular, that contain up to 80% recycled content by weight.

Selecting rapidly renewable materials.

Acoustic materials can be manufactured from a variety of raw materials, some of which are made from rapidly renewable sources such as cellulose or cotton fiber. Of course others are made from non-renewable sources like petroleum-based foam plastic. It is clearly preferable to specify such products which are now commonly available for up to 80% of their content by weight.

Reducing construction waste.

Materials that are easy to work with and can be readily installed into the building should produce less waste. Some acoustical batt insulation is available with perforations that allow for standard and irregular framing spaces to be efficiently filled with a reduction in waste. In all cases, specifying insulation that can be recycled instead of discarded if there is any surplus is clearly preferable and readily available.

Selecting regional materials.

This item is obviously dependent on the location of the building and the source of materials so it will not be possible for all projects. Nonetheless, where a source is within range of a building project, choosing acoustic materials that are locally available can contribute to regional material content in the building.

Reducing embedded energy in materials.

Many building product manufacturers that are serious about their own green processes will assess and identify how their product compares to others in terms of the energy used or the environmental impact of the manufacturing and delivery process. It is possible to select acoustic materials that demonstrate this quality which is sometimes inherent in the material choice itself. Petroleum-based products, for example, will contain inherently more embedded energy due to processing than natural, renewable products.

Indoor air quality contributions.

Some acoustic materials are better than others at avoiding indoor air quality problems. Since the material may be exposed to the interior space, selecting and specifying insulation that contains no harmful irritants or chemicals including no volatile organic compounds (VOC) is clearly important. Additionally, the ability of the acoustic materials, whether inside an assembly or exposed, to resist microbial growth is important in avoiding the presence of mold, mildew, or other health-related concerns in a space. Finally, selecting materials that pose no skin reactions either during installation or afterwards, contribute to the general health of those exposed to it. The good news for specifiers is that there are alternatives such as cotton fiber insulation and others that avoid many or all of these indoor air quality concerns.

Innovation in green design.

Using some of the acoustic principles discussed previously, it is quite possible to exceed the stated minimums for acoustic performance and be recognized for innovation credit.
Originally published in Architectural Record
Originally published in May 2012
Notice