Reimagining Restrooms for Human Health & Wellness
Evolving design expectations in the COVID-19 era
Sponsored by Bobrick Washroom Equipment, Inc.
Assessing Design Strategies to Enable Proactive Cleaning and Maintenance
While designers and manufacturers have important roles to play in hygienic restrooms, facilities must carry these strategies across the finish line. Specifically, there are several cleaning and maintenance issues that should be considered in the facility design, including:
Is there sufficient staff to clean effectively?
Are they trained to operate, disinfect, and sanitize properly and efficiently?
Do they know which cleaning/hygiene products and equipment to use when and where?
While architects typically do not have much influence in some of these areas, they have a tremendous influence in product selection. First, architects should ensure the accessories they specify support hygiene. Check specifications, technical data sheets, and support documents to confirm that they meet hygienic design requirements.
If the accessories specified by the architect do not work for any reason or are not durable enough, this compromises patron health and safety for the long term. Design professionals should understand the relationship between product durability and a facility's ability to support hygiene.
Positioning Facilities for Handwashing Success
Specifically, architects have a role to play in positioning facilities for handwashing success, especially from a maintenance standpoint.
To state the obvious, if buildings do not have soap, towels, and hot water, patrons will not be able to wash and dry their hands effectively. Facilities must make sure their fixtures and supplies are in order—and architects can help with that.
Non-operating soap dispensers are a common issue. This is why product selection for architects is so critical. Products that do not work efficiently or break easily lead to "dispenser downtime."
To ensure soap dispensers and fixtures are free of buildup, debris, or contaminants, they should be easy to disinfect, sanitize, and restock. Products with flat surfaces and stainless-steel surfaces are typically easier to clean than products with lots of nooks and crannies. Finally, products should be easy to obtain refills for and to refill.
Specifically, proprietary cartridges may pose risks to facilities that wish to provide reliable hygiene. Proprietary, cartridge-based soap-dispensing systems require the facility to use smaller, individual plastic soap cartridges. With each refill, janitorial staff must replace the previous plastic cartridge with a new one.
Proprietary soap cartridges may be prone to supply-chain interruptions. If facilities do not have the correct cartridge or product, they cannot operate safely and reliably. Further, the soap-cartridge manufacturer could be out of stock, resulting in dispenser downtime. Cartridge soap also generally empties faster than bulk systems. Over time, this excess packaging can lead to more waste.
Finally, cartridge systems can be expensive and are more labor-intensive, requiring staff to bend under counters to change them out.
On the other hand, when specifying a non-proprietary or "bulk" soap system that uses open-market soap or paper towels, facilities stand a much better chance of keeping their dispensers and stock rooms full through reliable supply-chain availability. Plus, they are easier to refill and produce less waste.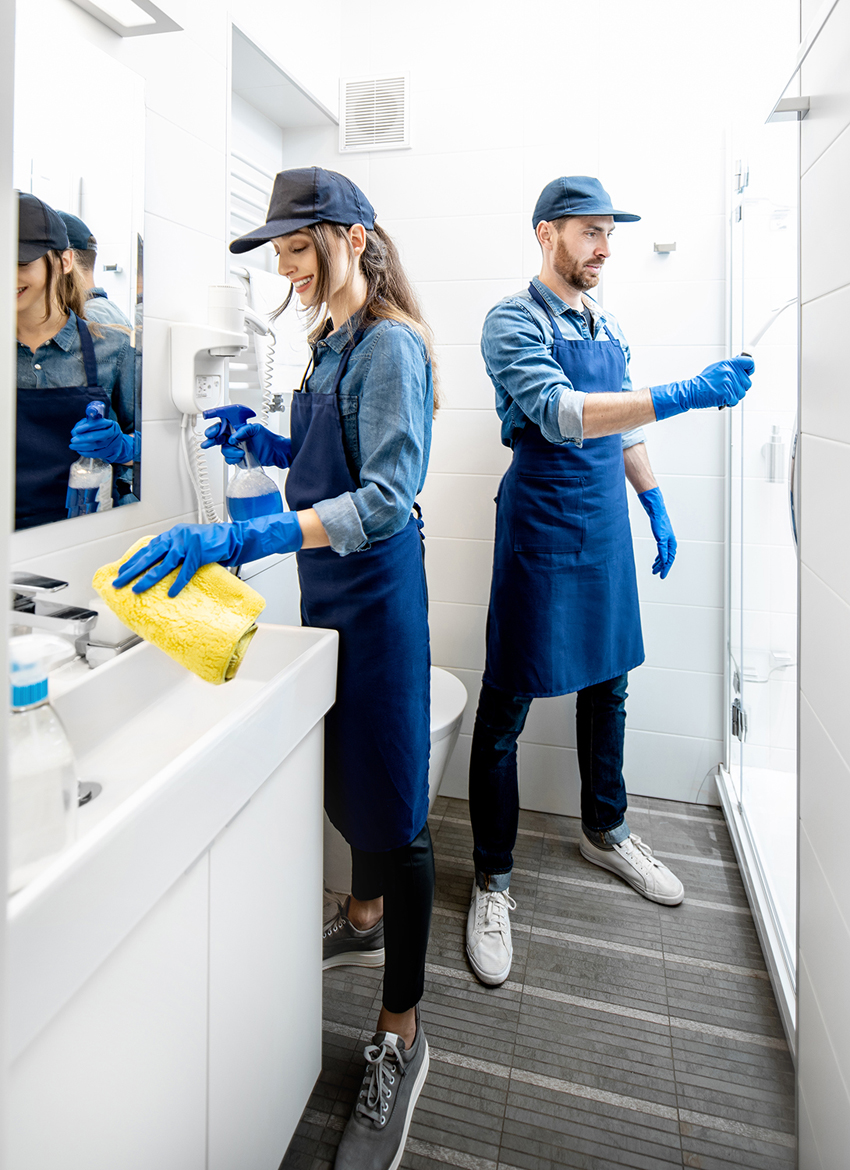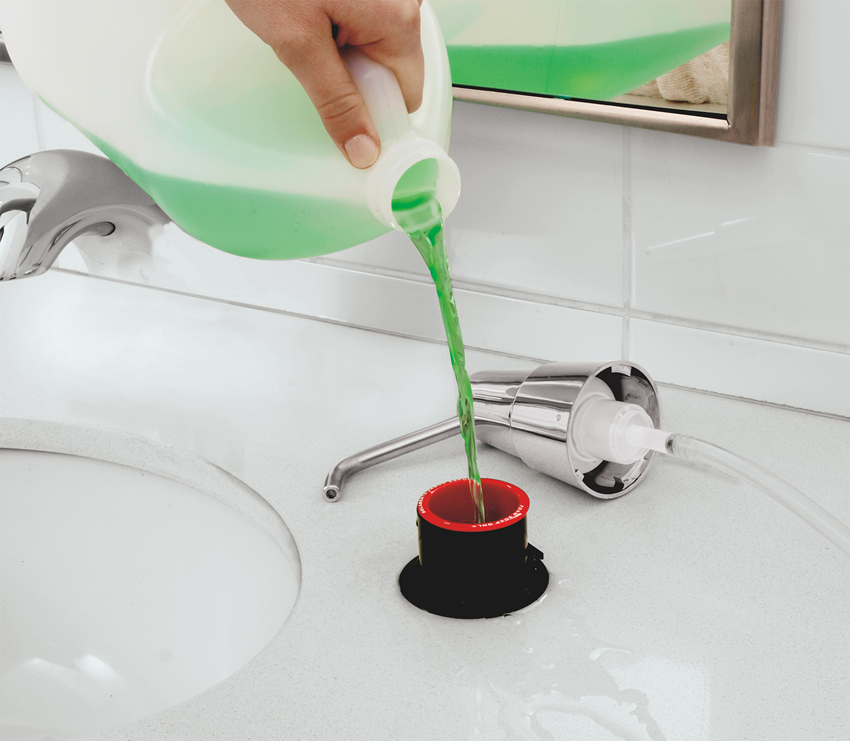 Photos courtesy of Bobrick Washroom Equipment, Inc.
Design strategies like top-filling soap dispensers enable reliable operation and optimal hygiene.
Considerations for the Future
Looking ahead to the future, architecture firms and manufacturers are watching several prominent areas for innovation, which may emerge as basis-of-design, including:
Gender neutral, single-occupancy toilet compartments;
Air-filtration and ventilation upgrades;
Sensor and automation innovations;
Turnaround corner entryways to eliminate sightlines into the restroom and optimize traffic flow when doors are eliminated; and
New standards and building codes to ensure safety and hygienic operation.
When designing restrooms for optimized human health and wellness, remember to adopt a holistic, 360-degree perspective. Evaluate the restroom designs first from an overall risk assessment standpoint, addressing building use, occupancy, and density. Consider your specifications from a product-selection standpoint, in terms of how users' hygiene needs are being met. Evaluate your space and layout design in terms of entries and exits, and queuing and gathering. And lastly, look at your project from a cleaning, maintenance, and mitigation perspective.
Conclusion
As one of the spaces impacted most by COVID-19, restroom design requires more attention than ever. All restrooms moving forward will require modified design approaches, and design teams should consider adapting new protocols to ensure that their designs are both hygienic and accessible for all patrons.
In summary, you should now understand:
The hygiene challenges for post-COVID-19 restrooms, including the science of virus and bacteria transmission, and CDC guidance for cleaning, disinfecting and returning to public spaces.
Product strategies for maximizing hygiene in commercial and public restrooms through effective handwashing and drying.
Space-planning strategies to optimize traffic flow and physical distancing between patrons while maintaining accessibility.
Design strategies to enable proactive sanitation, cleaning, and maintenance for reliable operation and optimal hygiene.
| | |
| --- | --- |
| | Bobrick is a 100-plus-year-old global restroom accessory and toilet partition company headquartered in North Hollywood, California, with seven manufacturing divisions across the United States, Canada, and the United Kingdom, and business operations that extend into 85 markets worldwide. A leader in product innovation and manufacturing, Bobrick prides itself on being a company that delivers best-in-class products and service while fostering an environment of collaboration and continuous learning. www.bobrick.com |
Originally published in Architectural Record
Originally published in March 2021
Notice