Reimagining Restrooms for Human Health & Wellness
Evolving design expectations in the COVID-19 era
Sponsored by Bobrick Washroom Equipment, Inc.
Effective Handwashing and Drying
Touchless, automatic soap dispensers and hand-drying solutions are now preferred by most facilities for the peace of mind they offer patrons. Touchless products minimize the number of touchpoints in the restroom to support the active use protocol, which aims to facilitate hygienic operation of products by patrons and maintenance staff. In addition to automatic soap dispensers, touchless hand-sanitizer dispensers, paper-towel dispensers, and automatic hand dryers also can support hygienic handwashing and drying.
However, in effect, manual soap dispensers are inherently the same as touchless dispensers, as the user interacts with them only before they wash their hands. Many manual soap dispensers can offer benefits that make them superior for a particular project. For example, ease of refilling and the ability to keep the dispenser filled with soap may be preferable to some facilities on modest budgets.
Facilities have unique hand-drying needs. Designers should evaluate the pros and cons of paper towels versus hand dryers. While paper-towel dispensers are often preferred for hygiene, some hand dryers may be appropriate. For example, an automatic hand dryer that contains the hands as they are being dried (pictured right) can prevent unsanitary water trails and promote good hygiene.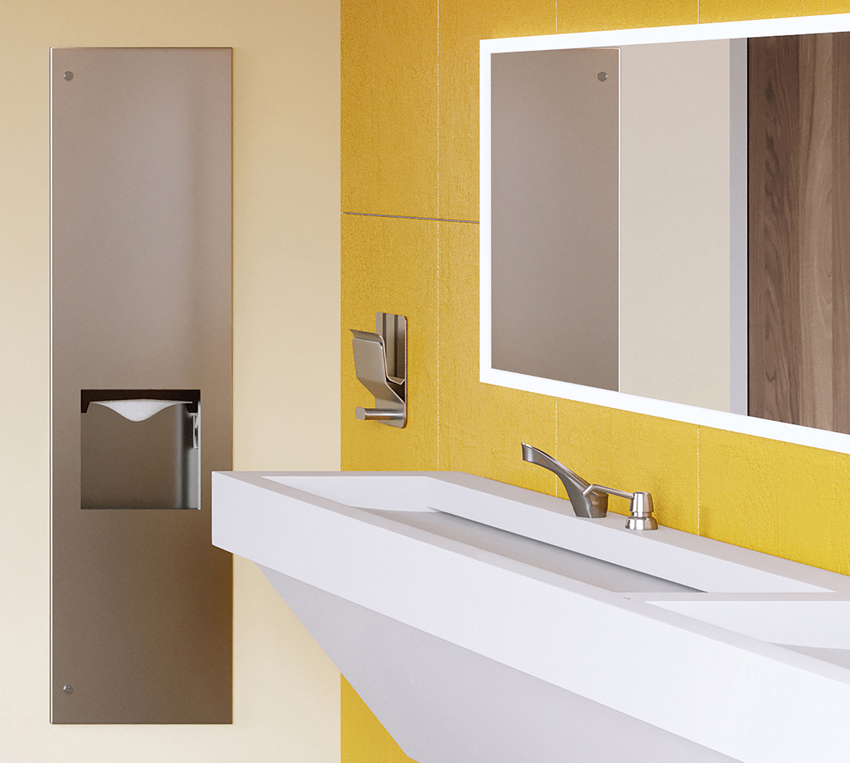 Photo courtesy of Bobrick Washroom Equipment, Inc.
For effective handwashing and drying in today's restroom environments, products and design need to work together to create a healthier restroom.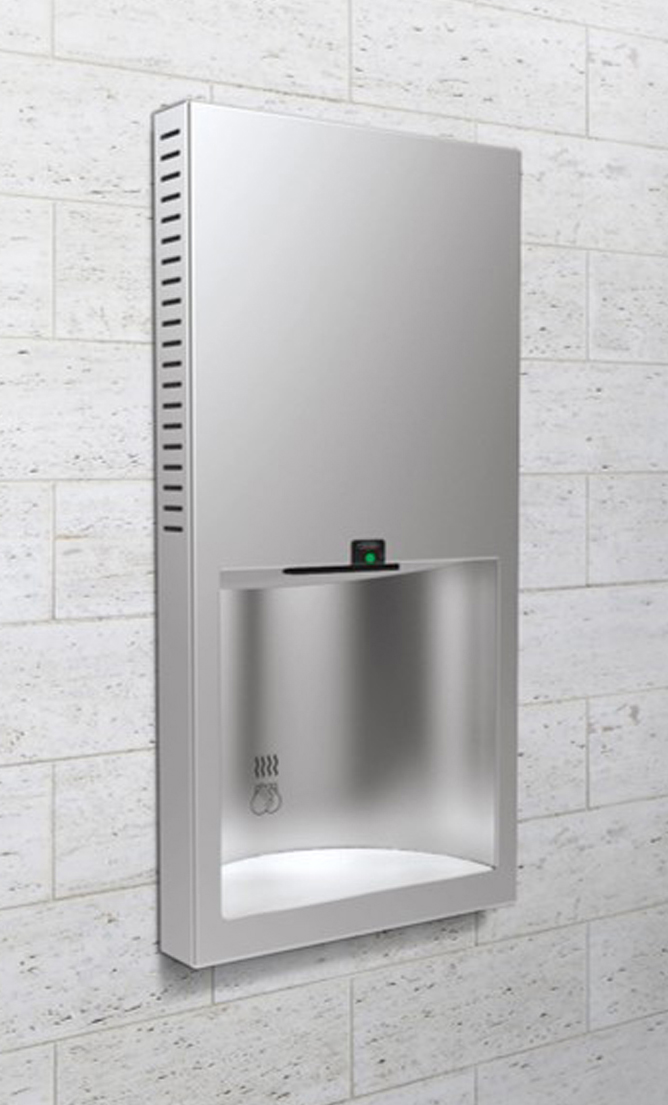 Photo courtesy of Bobrick Washroom Equipment, Inc.
Automatic hand dryer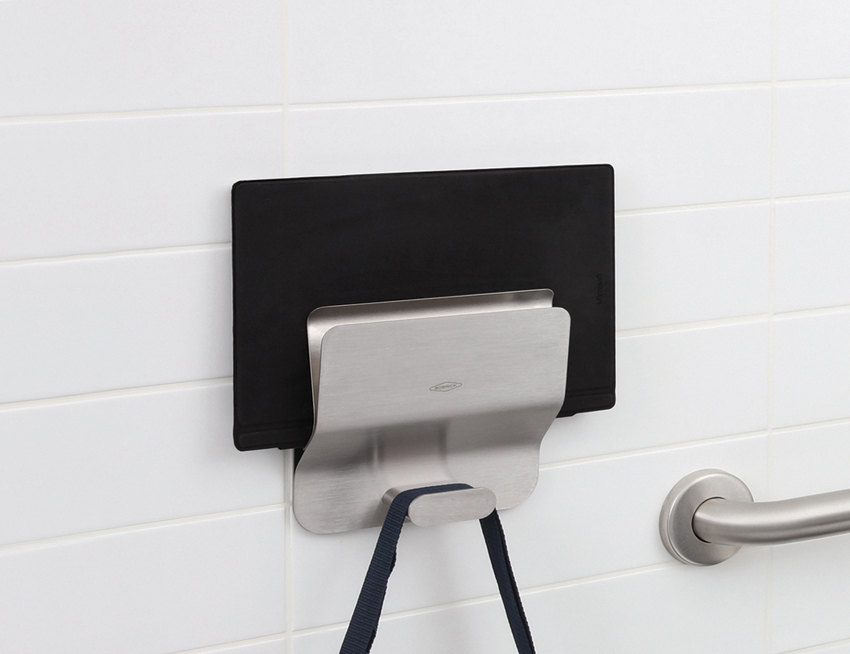 Photo courtesy of Bobrick Washroom Equipment, Inc.
Personal device holder
Additional Product and Design Solutions
Aside from handwashing and drying, a variety of other product strategies can help support health and wellness in the restroom while also addressing the active use protocol.
At the lavatory, counter-mounted accessories, such as soap dispensers, can help eliminate unsanitary water trails. In addition, reducing the distance between the lavatory and the hand-drying solutions and waste receptacle ensures a smooth transition from handwashing to drying. Touchless, floor-standing waste receptacles can also be added between lavatories to accommodate increased waste capacity and help enforce physical distancing.
Another design strategy is to combine touchless hand dryers in cabinets with paper-towel dispensers and waste receptacles, which facilitates completely drying hands while retaining airflow within the cabinet, minimizing dispersion of airborne droplets and reducing paper-towel usage.
To further reduce risk of transmission of disease, consider adding personal device holders to the lavatory area for safe storage of cell phones, tablets, and purses. These products keep personal items off wet and unsanitary countertops and floors.
Antimicrobial Surfaces and Cleanability
Hygienic, nonporous surfaces are recommended for patron health and wellness in restrooms for their antimicrobial properties and ability to be cleaned effectively. Some restroom accessories, such as baby-changing stations, come with antimicrobial additives that inhibit the growth of bacteria, mold, and mildew on the surface of the product and provide antimicrobial protection for the life of the product.
Antimicrobial copper is one of the most effective touch-surface materials, killing greater than 99.9 percent of bacteria. Several independent studies have reported antimicrobial efficacy of uncoated copper and copper alloy surfaces against human pathogens, including one strain of coronavirus. Some toilet cubicles are available with copper handles and latches.
When antimicrobial materials cannot be used, which may often be the case due to budget and other considerations, any nonporous surface will be easier to clean by maintenance staff. This includes stainless steel accessories and countertops manufactured with materials that have grout-less surfaces for infection control and easy cleaning and disinfecting.
Toilet-Compartment Solutions
When designing toilet copartments and cubicle interiors, remember that you must comply with applicable accessibility standards for building location, jurisdiction per ADA, ICC/ANSI A117.1, or individual state requirements. This remains the top priority, even before hygiene.
Inside the toilet compartment, the objective is to provide products that patrons feel are "tools" for their use to ensure their hygienic safety from contacting bacteria. For example, placing a horizontal combination dispenser-disposal under the grab bar provides patrons with a toilet-seat-cover dispenser, toilet-tissue dispenser, and personal waste disposal all within easy reach.
Touchless plumbing fixtures support hands-free operation on toilets and urinals. Adding paper-towel dispensers, waste disposals, and hand-sanitizer dispensers inside toilet compartments, at urinals, and adjacent to entry and exit doors can help patrons to protect hands from touching grab bars and compartment latches.
Specify toilet compartment door latches that operate without grasping the latch with fingers. They can be operated manually using the elbow, forearm, or the side of the fist. Some compartment door handles and latches can also be made with antimicrobial copper for added protection.
Various occupancy indicator solutions are available to assist with signaling and facilitate physical distancing.
Like other areas of the restroom, use toilet compartments and urinal screens manufactured of materials that have grout-less, nonporous surfaces for infection control and easy cleaning and disinfecting.
Proper Waste Disposal
Waste disposal can also impact the cleanliness of restrooms and patron health. Waste receptacles are available in a range of configurations to support design objectives. To support well-designed restrooms, recessed waste receptacles and combination units help maintain a low-profile design and minimize the spatial footprint of waste-disposal solutions.
Automatic or foot-operated waste receptacles provide yet another opportunity to reduce the number of touchpoints in the restroom, and placing freestanding waste receptacles near entries, exits, or corners provides a place to dispose of paper towels that patrons may use to grab door handles.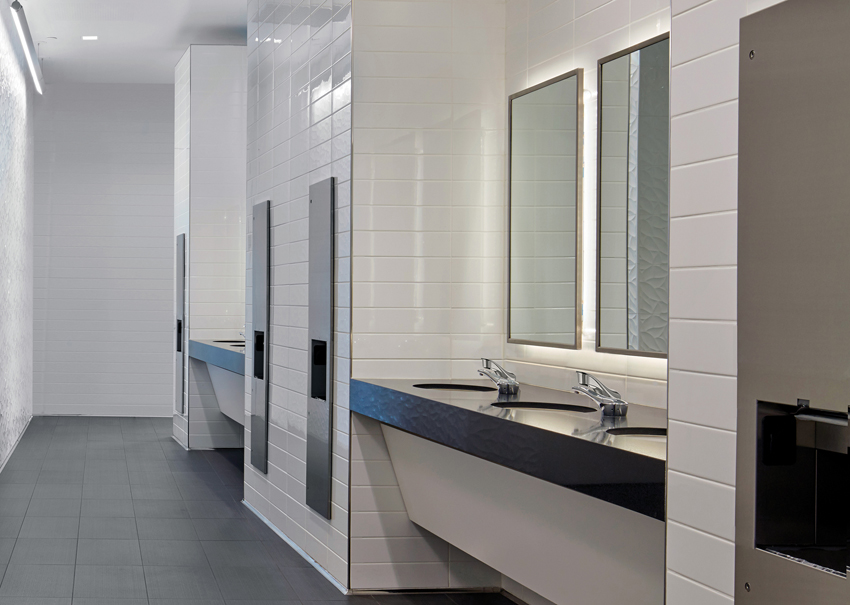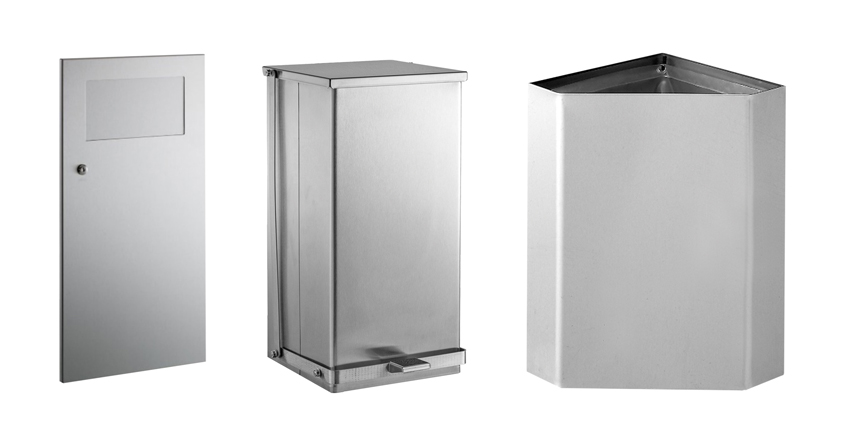 Images courtesy of Bobrick Washroom Equipment, Inc.
Proper touchless or corner-optimized waste-disposal solutions maximize hygiene.
Other Considerations
Several other product solutions can influence health and wellness in the public restroom more indirectly. A number of touchless entrance and exit solutions are emerging on the market, from antiviral touch keys to hands-free sensors, and dividers and screens can provide a physical barrier between patrons, at urinals, or even at handwashing stations.
CDC guidelines indicate that air quality and ventilation can influence the ability for viruses to transmit in indoor spaces. A number of HVAC solutions can help address this, such as increasing HVAC system capacity to increase fresh air intake and changes per hour; increasing frequency of air flushing of existing, contaminated air; programming HVAC to flush air 2 hours before and after occupancies, per ASHRAE standards; advance maintenance and quality of air filtration; reducing and maintaining relative humidity of 40–60 percent in restrooms; and reducing amplification of airborne microbes, per UL standards.
Originally published in Architectural Record
Originally published in March 2021
Notice