Reimagining Restrooms for Human Health & Wellness
Evolving design expectations in the COVID-19 era
Sponsored by Bobrick Washroom Equipment, Inc.
Although the actual cleaning methods may not change due to an outbreak, diligence and frequency may be intensified during an outbreak. Therefore, carefully consider your choices for lavatory countertop surfaces and toilet partition materials, as ease of cleaning and disinfection of these surfaces is critical.
To help address these challenges, Gensler architects have established these five key protocols for restrooms in the COVID-19 era: occupancy, signaling, queuing, door entry, and active use.
The occupancy protocol aims to limit the number of people using the restroom at once. Addressing this protocol may involve assessing the potential peak usage times, occupancy per floor, male-to-female split, and occupancy signage. All of these factors can influence the occupancy strategy of the restroom.

Image courtesy of Gensler
The signaling protocol focuses on communication through products, hardware, and signage. Standard solutions include door locks, while smart solutions may involve sensors. For a low investment, manual or digital occupancy indicators can be used at entrances and toilet-compartment doors. As a mid-tier investment, digital occupancy/in-use signage can be installed at the door, with remote sign integration. And, for a higher investment, dynamic occupancy signs can be mounted at the door.
However, even with signaling, queues are likely to form during peak hours. Design and operational strategies can work together to optimize queues. Operationally, staff can be encouraged to time their breaks to avoid peak demand. A design solution may include vinyl floor decals to demarcate queue distancing.
Entry, exit, and partition or cubicle doors are another challenge. While removing or blocking restroom doors may be an option in certain situations, when restrooms or toilet compartments face the workplace directly, doors must remain. Simple hardware solutions exist, but viability depends on privacy locks and latches.
To solve these challenges, personal antiviral touch keys are available for a touchless entry experience or self-cleaning touchpoint skins can be installed, as well as hands-free or foot-operated door pulls. As a higher investment solution, hands-free electronic sensors or door openers can be utilized.
Much of this course will focus on the active use protocol. Active use refers to the user's physical interaction and activation—via touch, gesture, or otherwise—with products and technologies in their environments. A person utilizing a manual soap dispenser is an example of active use, as is that same person using a touchless dispenser. In addition, janitorial staff refilling a soap dispenser is also active use, as a secondary user is interacting with the product within its scope of intended use.
In the COVID-19 era, active use of technology and accessories will continue to shift toward touchless solutions, from paper-towel dispensers, soap dispensers, and faucets to toilets and urinals—and signage will encourage healthy behaviors/habits. Meanwhile, smooth surfaces without nooks and crannies are becoming preferred due to ease of cleaning.
Healthy Product Solutions
For a healthy, safe restroom, products can work together to help address today's design challenges and meet the Gensler protocols—both at the lavatory and inside the toilet compartment.
In the restroom environment, product solutions for healthy handwashing and drying include a touchless faucet and soap dispenser, as well as a personal device holder for storing cell phones, tablets, purses and bags away from potentially wet or unsanitary surfaces.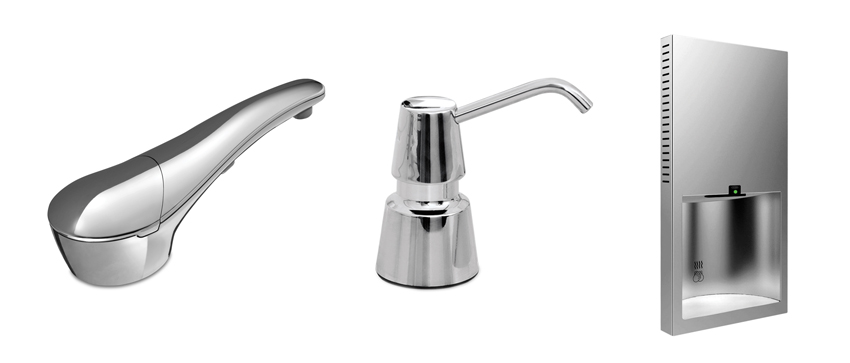 Image courtesy of Bobrick Washroom Equipment, Inc.
Hygienic soap-dispensing and hand-drying solutions must be considered based on traffic type.
Recessed hand dryers also can contribute to a healthy restroom by containing air plume and minimizing unsanitary water trails, as the patron's hands are placed in a cabinet alcove. Nonporous surfaces are used throughout the room, including the countertop, for effective sanitization.
In this cubicle environment (pictured right), toilet-compartment panels, doors, and urinal screens are increased to a minimum of 84 inches high and extend to within 3 inches of the floor. This supports physical-distancing spacing. In addition, the cubicle material—high-pressure laminate (HPL)—is easily cleanable with EPA-approved antibacterial solutions. Cubicle and toilet partition materials, such as high-pressure and wood veneer laminate, solid-color reinforced composite, and compact-grade laminate, are all easily cleanable with most cleaning solutions.
Later in the course, we will address how restroom layouts must be modified to achieve effective physical distancing and control and reduce restroom capacity.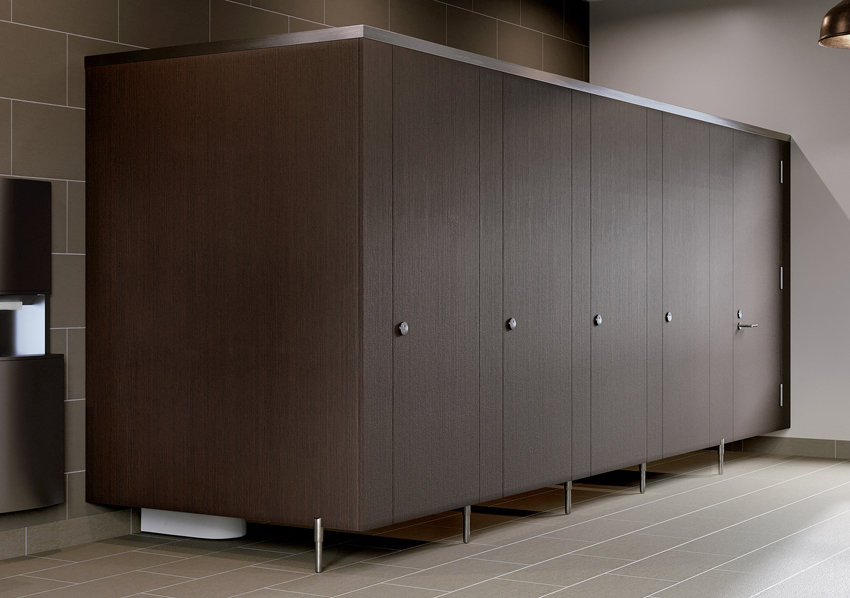 Image courtesy of Bobrick Washroom Equipment, Inc.
Increased-height toilet compartments can provide a larger physical barrier between users.
A 360-Degree Perspective for Evaluating COVID-Safe Restroom Design
Throughout this course, we will explore a case study that illustrates some of the learning objectives by providing a 360-degree view of a restroom project designed for the COVID-19 era. We encourage this 360-degree evaluation to help architects design restrooms that are optimized for health and wellness.
First, evaluate your restroom designs from an overall risk-assessment standpoint, addressing building use, occupancy, and density. Infection prevention is always a top consideration, even during normal times, and there are different considerations depending on whether the building is a hospital, mall, or low-occupancy building.
It is also important to consider your specifications from a product-selection standpoint in terms of how users' hygiene needs are being met. Then, evaluate the space and layout design in terms of entries and exits, queuing and gathering, and other considerations. Finally, look at your project from a cleaning, maintenance, and mitigation perspective. Consider how design decisions that influence cleaning and maintenance can reduce risk for the facility and its occupants.
Evaluating Product Strategies for Maximizing Hygiene
Next, we will evaluate product strategies for maximizing hygiene in commercial and public restrooms through effective handwashing and drying.
Before considering specific products, remember that restroom layout, product operation, and placement must comply with applicable accessibility standards' requirements for building location, jurisdiction per ADA, ICC/ANSI A117.1, or individual state requirements. This remains the top priority, even before hygiene. Then, restroom design and operation should support control of bacteria transmission and CDC cleaning and disinfecting guidelines.
Originally published in Architectural Record
Originally published in March 2021
Notice