Designing Restrooms for Sustainable Operation
Sponsored by Bobrick Washroom Equipment, Inc.
This test is no longer available for credit
Communicating the Value of Sustainability
For the fourth learning objective, we will identify ways to educate your client in order to support your specification.
Communicating the Full Value of Sustainable Products
When specifying products for any project, typically you will provide support materials, such as building information modeling (BIM) analyses, technical data sheets, and compliance documentation. However, equally important is communicating the full long-term value of the products that you specify to the appropriate stakeholders in the project.
Each stakeholder has the ability to challenge or value engineer products out of your specification. To design authentically green buildings, always consider the impact of products on operations and discuss operational value with the project's stakeholders. Key stakeholders in the restroom may include your contacts with the property management company, who may challenge your specification for any reason, including initial investment; as well as building service contractors or facility managers and operators, who may challenge your selections due to perceived ease of maintenance.
As an architect, you may engage with a manufacturer's representative, who can facilitate effective communication and provide these parties with the necessary information to defend your sustainable choices.
When the necessary information is not provided, any of these parties may replace your choices with their own products, compromising not only the operational efficiency of the restroom but also your aesthetic vision and the occupant experience.
"Good, Better, Best" Approach
All product options have attributes that make them more or less sustainable. Thus, the concept of "good, better, best" can be a useful approach for communicating the value of sustainable products to project stakeholders. This communication strategy can take a holistic approach, considering all project requirements, or it can be considered along the axis of a specific requirement, such as energy costs.
For example, there may be a good, better, and best choice if the goal is simply to reduce energy costs. However, in most cases, multiple attributes must be weighed and considered, from ease of maintenance to consumable savings to durability. In these cases, it may be helpful to communicate to your client what the options are and why your choice is the optimal solution. Here are some examples that may help you support your specification.
When communicating the value of sustainable operation relative to initial investment, it is instrumental to make astute dollars-and-cents comparisons whenever possible.

Photo courtesy of Bobrick Washroom Equipment, Inc.
Figure 6
The chart in Figure 6 shows the relative operating cost difference of high-speed hand dryers across three different wattage levels.
Note that the 0.2-kilowatt dryer is the most economical by a significant margin. For every $5 spent to operate the 1-kilowatt unit and every $2.50 spent to operate the 0.5-kilowatt unit, the 0.2-kilowatt unit spends only $1 in electricity costs.
Over the course of a year in a high-traffic environment, this can make a significant impact on the annual operating cost of a building. This good, better, best approach is likely to resonate with a cost-conscious facility, in particular.
When supporting your hand-drying specification, a similar comparison strategy can be utilized to help your client and other parties understand the cost-benefit result on restroom operations.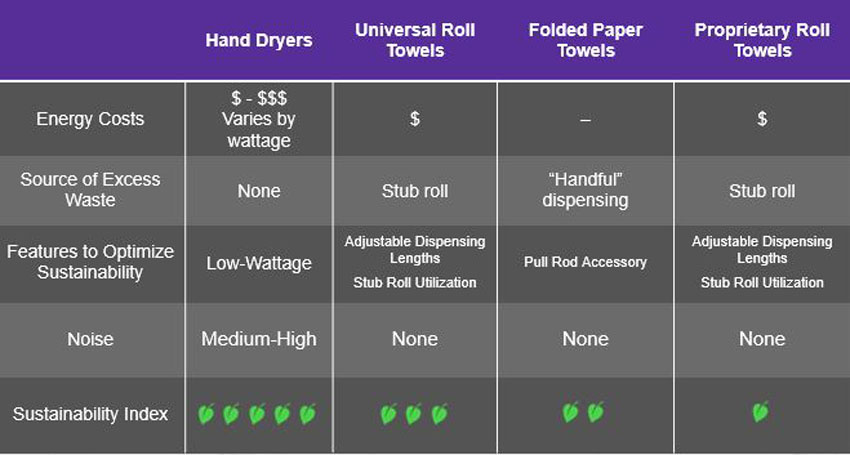 Photo courtesy of Bobrick Washroom Equipment, Inc.
Figure 7
The chart shown in Figure 7 summarizes the general sustainability of the most common types of hand-drying solutions for commercial restrooms. As you can see, hand dryers are the most sustainable option, as they require no consumables and do not generate waste.
Universal roll towels are the next most sustainable option. Not only do they allow facilities to purchase towel rolls on the open market, but these systems are also available with adjustable dispensing lengths and stub-roll utilization options to minimize patron usage and waste.
Folded, or C-fold, paper towels are the next most sustainable option, especially if a pull-rod accessory is installed to prevent "handful" dispensing by patrons.
Finally, proprietary roll towels are the least sustainable option. Not only do they require facilities to purchase towels from the manufacturer at locked-in prices, but these systems generally also utilize perforated paper towels with no dispensing length adjustment or stub-roll utilization features.
This framework can help the appropriate parties understand the value of your soap-dispenser specification as well. As you can see in Figure 8, nonproprietary bulk foam systems are generally the most sustainable option, as they can be refilled with bulk jug foam soap, reducing plastic waste while minimizing water use. Nonproprietary dispensers also typically allow top filling, drastically reducing maintenance to support economical operation. Bulk, nonproprietary liquid soap is slightly less sustainable than its foam counterpart. Next, any cartridge-based soap system will generally be less sustainable, as they require proprietary plastic cartridges. In addition, proprietary systems typically must be replaced beneath the counter.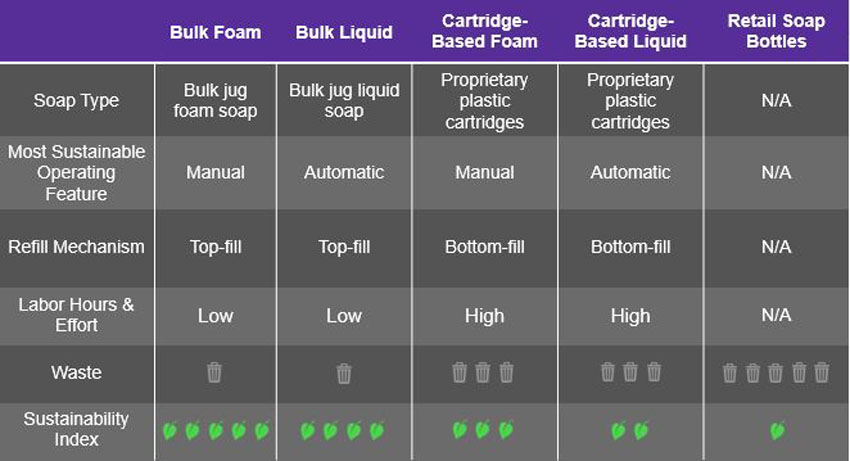 Photo courtesy of Bobrick Washroom Equipment, Inc.
Figure 8
Finally, some facility owners may replace specified products with small bottles of consumer retail soap, which is the least sustainable option, as they are often disposed of completely after every use.
The Value of Durability
Communicating the value of durability also can help you support your specification. Products that can withstand heavy use and abuse over long periods of time reduce replacement cycles, leading to more economical operation for your client. This can have a positive impact on the environment in terms of reduced usage of raw materials used to manufacture new products; reduced energy usage from the manufacturing process; reduced manufacturing waste, and thus, less waste in landfills; and lower transportation impact in the supply chain.
Toilet Partition Durability
By specifying the most durable toilet partition material for your projects, the system will last longer, reducing the need for additional construction materials and all of the resources associated with manufacturing and transportation.
When defending your toilet partition material choice, it is critical to communicate the durability benefits of each material as it relates to the documentation you provide. Generally, the most durable toilet partitions materials are compact laminate, color-through phenolic, and high-pressure laminate. To support claims of durability, related compliance and testing documentation should be provided to support your specification.
Conclusion
Restrooms, perhaps more so than any other space found in all commercial buildings, rely on usage of consumables. Consumables, from soap to paper towels to batteries, are frequently a source of janitorial and economic strain for larger facilities and heavy traffic facilities.
However, design professionals have the opportunity to mitigate the impact of traffic and wasteful patron behaviors by specifying thoughtfully designed products engineered to keep costs and maintenance at bay.
Now, you should understand:
the health and wellness benefits associated with sustainable operation.
common sources of costly, nonsustainable restroom operation and related solutions.
the relationship between sustainable operation and the preservation of the designer's aesthetic vision; and
ways to educate your client to support your specification.
Thank you for your interest in Designing Restrooms for Sustainable Operation. We hope we have demonstrated the importance of designing restrooms with sustainable operation in mind, as well as strategies to help you specify sustainable products and educate your client. Please contact Bobrick Washroom Equipment, Inc. if you have questions related to the information presented within this program.
| | |
| --- | --- |
| | Bobrick is a 100-plus-year-old global restroom accessory and toilet partition company headquartered in North Hollywood, California, with seven manufacturing divisions across the United States, Canada, and the United Kingdom, and business operations that extend into 85 markets worldwide. A leader in product innovation and manufacturing, Bobrick prides itself on being a company that delivers best-in-class products and service while fostering an environment of collaboration and continuous learning. www.bobrick.com |
Originally published in Architectural Record
Originally published in November 2019
Notice