Introducing new palettes in the kitchen to enhance welfare, health, and durability
Sponsored by BLANCO
This test is no longer available for credit
Color in the kitchen gains added importance given the prevalence of open floor-plan settings. Color sets the kitchen apart aesthetically; a thoughtful palette helps delineate the kitchen space for better environmental legibility. Using color to define work areas in the kitchen and alert occupants to shifts in height is a vital strategy in ensuring occupant safety and welfare, particularly in the long term. Installing a colored sink offers an aesthetically pleasing option to differentiate this kitchen work zone. Selecting a neutral, saturated color also means greater design flexibility, allowing the sink to pair easily with new curtains, paint, or tile through the years.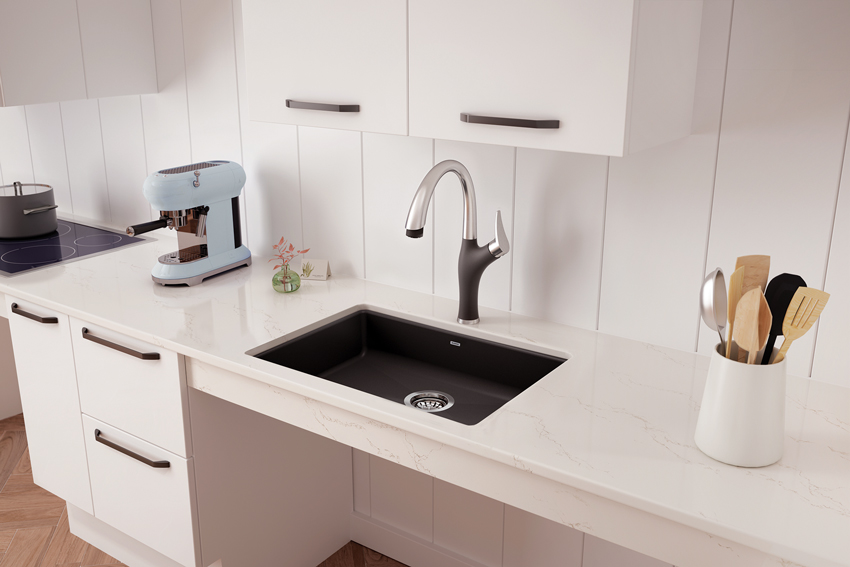 Photo courtesy of BLANCO
Shown is an ADA-compliant sink and kitchen design. As an additional welfare benefit, the project uses a colored sink to differentiate this kitchen work zone.
Transcending Trend: Color and Life Cycle
Dominant in building and design today are the twin concepts of sustainability and life cycle. Though color is often regarded as a shifting trend, thoughtful selection of a palette enables a kitchen sink to offer an aesthetic highlight while also providing design longevity.
Sustainability is a key element of the architecture profession's approach to design in the 21st century, as it tackles the compounding global challenges of resource availability, water quality, and increasing pollution. It is part of an architect's approach to protecting the health, safety, and welfare of the public. Community sustainability goals are fulfilled in large part by an architect's ability to create practical solutions to the challenges posed by climate change, population growth, and the pursuit of more connected, healthier communities.
Particularly when approaching color in features like sinks, which may last in place for 20 or more years, one must bear in mind a preference toward that longevity. The sink is the most utilized appliance in the kitchen, and there are many factors to consider before selecting the right sink for a client's lifestyle. Attention to sustainability is also paramount for clients. Among architects and design professionals surveyed, a majority of clients shared that water or energy savings were of top importance in their kitchen design. Second was whether the products and design were environmentally friendly.
Smart, neutral colors can withstand the test of time, offering an updated aesthetic for a kitchen but not one that will be outdated within five years. Color palettes should be made to last in those components that have a long life cycle.
A classic, neutral color scheme acts as an investment, allowing clients to avoid buyer's remorse and ensuring an interior design that will never grow old. Neutral colors, particularly those like gray, are happy to play along with multiple paint schemes and easily work with changing accents, like new throw pillows in a bold color or a beautiful bouquet of bright flowers.
"In the kitchen, we're dealing with very long-lasting goods," says Brigitte Ziemann, head of design at BLANCO. "If you're planning a kitchen, then it's a real investment, and you do it thoroughly because it also involves a whole lot of work. In some circumstances, major renovations are done. You do that every 15 to 20 years at the most. And therefore it's important that our products have this longevity, this visual validity, so that they can survive a timespan of 15 to 20 years. You have to still like them after 15 years. That's not the same as jeans or a cool purse. If I don't like it, then I buy myself a new one. But when it comes to such firmly installed things like a kitchen interior, you don't just throw it away."
Knowledge Check
Why would an architect or design professional choose to incorporate a colored sink in the kitchen?
For aesthetic reasons only.
Employing color in a sink allows for better wayfinding and legibility in the kitchen, ensuring a safe work environment for multiple ages.
Colored sinks are currently not available.
Originally published in Architectural Record
Originally published in May 2019
Notice