Introducing new palettes in the kitchen to enhance welfare, health, and durability
Sponsored by BLANCO
Learning Objectives:
Discuss the evolution of color in today's kitchen and the expansion of sink colors available to architects and design professionals.
Explain the important role that color plays in generating human interaction within the built environment, and discuss how occupants react to color.
Employ color to create wayfinding and legibility in the kitchen, ensuring a safe work environment for multiple ages.
Integrate color and new sink technology to aid occupants as they age and create the proper environmental conditions for aging in place.
Select a kitchen sink color that will allow the sink to maximize its life cycle while complementing shifting design schemes.
Credits:
This course can be self-reported to the AIBC, as per their CE Guidelines.
This course is approved as a Structured Course
This course can be self-reported to the AANB, as per their CE Guidelines
Approved for structured learning
Approved for Core Learning
This course can be self-reported to the NLAA.
Course may qualify for Learning Hours with NWTAA
Course eligible for OAA Learning Hours
This course is approved as a core course
This course can be self-reported for Learning Units to the Architectural Institute of British Columbia
This test is no longer available for credit
The modern sink has moved beyond the confines of simple stainless steel or white porcelain. Today, a wide variety of sink designs, sizes, and colors allow professionals to realize the perfect kitchen, no matter what the style. Kitchens have developed an individual character, and that vision is supported by a cast of colorful sink options that bring personalized design front and center.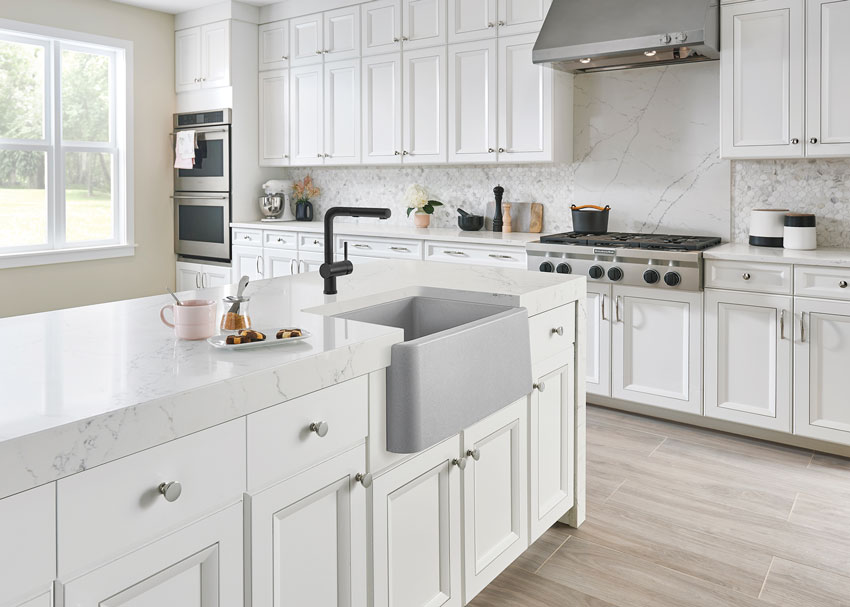 Photo courtesy of BLANCO
New sinks today offer an intelligent array of color in the kitchen, creating modern aesthetics and enabling occupant welfare.
In a survey conducted by Frank Advertising, 60 design and architectural professionals were asked to weigh in on the top three trends influencing kitchen design for 2019. Among the assortment of responses, "color" was the most repeated word.1
Color is important. Not only is it a primary aesthetic driver, but design professionals are also seeing color becoming more than just a trend because it has major implications for welfare and health as well. Evidence demonstrates that color can evoke powerful emotions and create interactions that drive safety for building occupants.
The Evolution of Color in Today's Kitchen
The expansion of the color palette in residential construction is making its way definitively into the kitchen.
According to a Houzz survey, while white continues to hold the top position in kitchen cabinetry color, gray is now used in one in 10 new cabinets—11 percent, as compared with 8 percent and 9 percent in 2017 and 2018 studies, respectively.2 When hardware and fixtures are matched in the kitchen, gray cabinets are significantly more likely to be matched with brushed or satin nickel door hardware (52 percent), compared with white or wood cabinetry (40 percent and 48 percent, respectively).
Frank Advertising's 2019 Kitchen Design Survey asked architectural and design professionals to forecast the top three trends they felt would influence kitchen design. For cabinet colors, survey takers highlighted gray and onyx as rising contenders in the kitchen, and a majority believe that traditional warm-tone cabinet colors will become more popular, with less demand for white.
Styles and finishes in the kitchen are shifting, Houzz reports. While transitional remains the most popular style (21 percent), farmhouse (14 percent) has seen steady gains, now nearly tying with contemporary (15 percent) for second place.
Interestingly, a majority of homeowners are mixing metal finishes in hardware and fixtures with matte nickel, oil-rubbed bronze, and matte black. And engineered materials are retaining their dominance. Engineered quartz (48 percent) surpassed all natural stone materials (43 percent) in popularity. As more and more homeowners discover the ease of care and breadth of design choices in engineered products, the trend trajectory suggests that their popularity will continue to soar.
The entire kitchen, from walls to floors to hardware, is experiencing a color revolution. While strategies like pairing analogous colors (groups of colors that are adjacent to each other on the color wheel, like red, orange, and red/orange) or monochromatic colors (the use of only one color in shades from dark to light, like navy to powder blue) still reign, designers are increasingly using complementary or triad palettes. Bright blue cabinets may pop against white subway tile and yellow textiles under a complementary approach; a vivid palette of green cabinets, copper hardware, and an aubergine accent wall offers strikingly modern appeal with a triad palette.
In a residential setting, designers are increasingly cognizant of capturing the feeling the client wants to evoke in a space. In a serene design scheme, the homeowner may wish to use the kitchen to unwind and therefore prefer a palette of cool colors for calmness and peace. Another client might seek to highlight the kitchen as the hub of a busy, central, and social space in the home and therefore use stark, dominant colors like red to increase appetite and energy.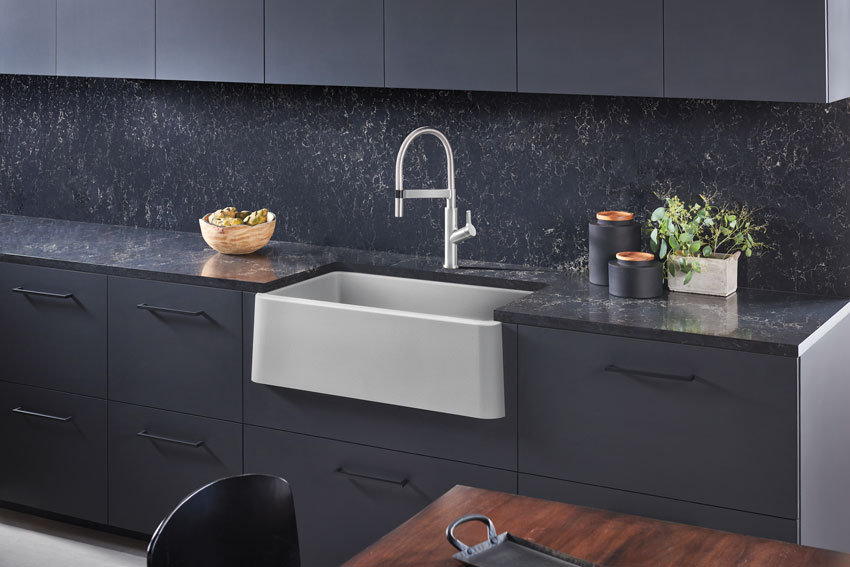 Photo courtesy of BLANCO
The expansion of the kitchen color palette means a greater ability to personalize the space and evoke a client's desired mood.
This revolutionary wave of color has also reached the sink. As one of the most used and highly functional components of the kitchen, sinks should not be excluded from embracing these new palettes. Sinks are no longer bound by the material color conventions of the past, confining them to stainless steel, copper, or porcelain. Complementing the rise of gray cabinets, a fresh palette of neutral colors, from natural stone tones to black, is allowing the sink to become either a design highlight or an important supporting cast member for an overall design scheme.
"Neutral colors don't have to be boring!" writes Shelley Little of Freshome's Very Best.3 "In fact, a calm, neutral backdrop allows you to bring out some pretty bold elements into your design that may otherwise look garish." Little notes that a neutral backdrop creates a welcoming interior when mixed with warm textures, and has great options for modern interiors, allowing the architectural elements of a design to take center stage. "Neutral is anything but boring, rather it is for the savvy home designer that loves keeping their options open," Little concludes.
The new neutrals are reflected in granite composite sink colors. An emerging sink material over the past decade, granite composite sinks are made from crushed stone that is mixed with a resin filler in an average ratio of 80 percent stone to 20 percent resin. This combination produces a material that shares aesthetic qualities with real granite without the maintenance and durability issues associated with solid stone sinks. It also allows for a range of color options, depending on the manufacturer. The variable color palette gives it the ability to pair well with a variety of natural stone and granite countertops. Certain manufacturers offer granite composite sinks in as many as nine colors, moving from white to gray, sand, brown, and black. These color options can either make a sink a focal point or help it blend in with counter.
Granite composite sinks are tough and highly resistant to stains and scratching, but, as a general rule, granite composites have a higher durability than quartz. The leading granite composite sinks also boast heat resistance up to 536 degrees Fahrenheit, exceptional cleanability with hydrophobic finishes, and resistance to household acids and alkali solutions.
Originally published in Architectural Record
Originally published in May 2019
Notice