Best Practices for Site Preparation and Installation of In-Grade Fixtures
Tips for designing a trouble-free installation in outdoor settings
Sponsored by B-K Lighting
Learning Objectives:
Explain the importance of soil drainage to in-grade fixtures and determine the type of soil present on a project.
Apply best practices when specifying and installing in-grade luminaires.
Compare and contrast different types of well lights and direct burial lights to select the right fixture for a project.
Explore options for bringing power to the recessed in-grade fixtures.
Credits:
This test is no longer available for credit
Some projects demand that designers find a way to distribute light upward from the ground in highly trafficked outdoor areas. Recessed in-grade luminaires are the solution for uplighting features of an architectural structure or landscape, without creating a tripping hazard or maintenance obstacle in the area of intrigue. The in-grade luminaires are recessed into the ground and installed flush with the walking surface, enabling passersby to admire the sculpture, column, or canopy of trees and move safely through the space. Achieving the desired illumination goals with these luminaires requires many of the typical considerations that are made when selecting any luminaire, interior or exterior, such as reviewing the light distribution pattern and evaluating the energy needs and lamp life of the fixture. These recessed in-grade fixtures also require attention to details that are less typical in the sphere of lighting fixture specification, namely, the type of soil available on a project and the drainage it can provide.
Many designers may be surprised to know what a difference good drainage makes on the overall longevity and performance of a recessed in-grade installation. In fact, poor drainage is the predominant cause of water ingress that leads to the failure of an in-grade fixture. This article will provide best practices for matching the type of recessed in-grade fixture with the available soil type, creating adequate drainage, and options for bringing power to the fixtures.
The Dirt on Drainage
Recessed in-grade fixtures need drainage, because, despite impressive technological developments, water and electrical components still do not mix. As it relates to recessed in-grade lighting fixtures, relentless exposure to water can rust out the interior hardware or short out a ballast or socket, ultimately causing the fixture to fail. Although electrical products destined to be installed in the ground are often designed to better manage exposure to water and precipitation, best practices suggest that measures be taken to reduce the total soak time of an in-grade fixture.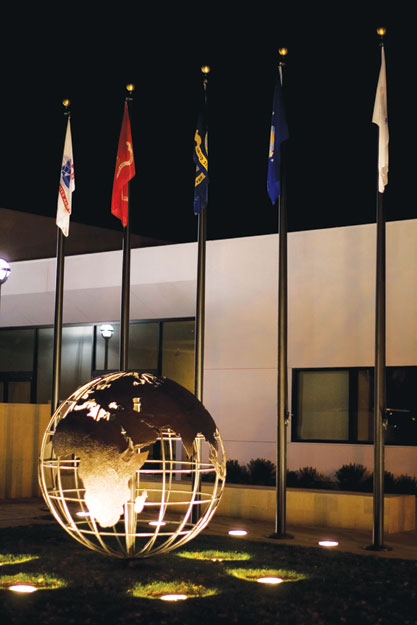 Photo courtesy of B-K Lighting
Clovis Veterans Memorial, Clovis, California. Recessed in-grade fixtures installed in dirt or in concrete require adequate drainage to protect their longevity and performance.
Originally published in Architectural Record
Originally published in December 2014
Notice