Designing for High-Traffic Outdoor Spaces
A variety of products provide design options for high-traffic outdoor spaces
This course is no longer active
Sponsored by Architectural Area Lighting, Bison Innovative Products, Kim Lighting, Soil Retention, the StressCrete Group, Tournesol Siteworks, and Unilock
Poles of spun concrete have a long service life, require minimal maintenance, have minimal vibration and deflection qualities, and are easily installed because they can be directly embedded to the site via a baseplate mounting system. This direct embedment eliminates the need for a footing and makes the spun concrete poles cost effective. The concrete poles also meet ASTM and AASHTO wind loading requirements and have a lifetime warranty.
Spun concrete poles also provide some safety advantages. Electrical fires cause power failures because of salt corrosion on poles. Concrete poles do not require any further fire protection because concrete is a non-combustible material. With Concrete poles, the structural integrity remains intact safeguarding people from power failures.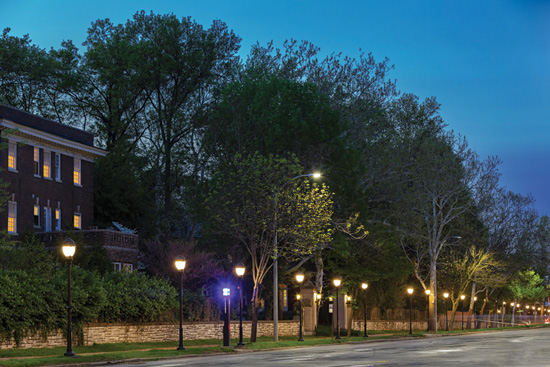 Photo courtesy of Architectural Area Lighting
Decorative pedestrian-scale lighting, Skinker Boulevard, St. Louis, Missouri
Spun concrete poles can also contribute to LEED® certification points as concrete is comprised of naturally sourced materials of water, sand and aggregated. Concrete poles are 100 percent reusable at both the existing site and for new site applications. The extremely long life span (75+ years) means that they can be reused to mount new upgraded lighting fixtures for future site upgrades and expansions. This minimizes energy and materials costs. Therefore, concrete poles can potentially offer up to 2 credits to LEED MR 1.3. Spun concrete poles contain Portland cement, which has a very good reflectance ratio (approx .35) and they can be made of a light colored concrete. This leads to a reduction in Heat Island affect for the site and can contribute to LEED Site Credit 7 Heat Island reduction. Other possible LEED credits may be obtained for MR 4.1, 4.2 for the recycled content of the poles and MR 5.0 for use of locally sourced materials.
Benches for Comfort and Image Appeal
The best outdoor spaces have site amenities that make them both comfortable and appealing to users. Appropriately placed benches provide rest stops for users and can affect how people use a space based on their location. Design and material selection are other factors to consider in the selection of benches. There are a wealth of available materials for bench fabrication which include stone, concrete, wood, metal, recycled plastic. Material selection should be based on site location and projected use as well as availability of bench materials. Benches fabricated from recycled or locally sourced materials will assist in gaining LEED credits for a project.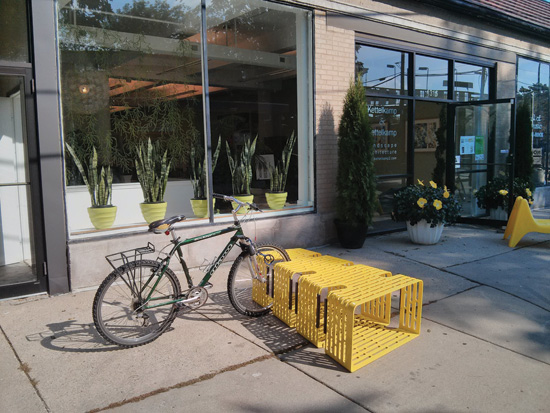 Photo courtesy of Tournesol Siteworks
A multipurpose bench used in Brisbane, Australia
Thermally Modified Wood
Natural wood products can be very durable in high-traffic outdoor areas and they provide a strong appeal for users because of the material's warmth and natural feel. Thermally modified wood provides a more durable product than traditional cedar or teak benches and they are sustainable because the wood that is used is locally derived domestic Forest Stewardship Council (FSC) certified wood. Thermally modified wood benches also provide long-term dimensional stability and rot resistance without chemicals. Thermally modified wood benches utilize wood planks for backs and seating with either cast aluminum or cast iron frames.
Modular Concrete
Concrete provides an alternative option for benches. Concrete can be molded into varied shapes and forms providing designers with greater variety in composition of site elements and thus adding image appeal to outdoor spaces. Modular concrete benches provide a highly configurable modular seating system which promotes social interaction. Concrete is also a very durable material for high-traffic areas.
Skyline Tower is a 24-story office tower located in Bellevue, Washington's central business district with direct access to the highly traffic transit system. The Skyline Tower provides impressive views of the Seattle skyline, Mt. Rainier, and the Olympic Mountains. It also offers a pedestrian friendly exterior plaza with modular concrete benches as a defining design element.
Multipurpose Benches
Not all high-traffic areas are large open spaces. Many high-traffic public areas are busy streets or streets that have been transformed into pedestrian plazas or in some cases "complete streets"7 with an interface of pedestrians, vehicular traffic, and bicycle traffic. Multipurpose benches can provide a site amenity that serves both pedestrians and bicyclists and also assists in saving space for those narrow, small outdoor areas. Multipurpose benches provide both seating and a bicycle rack.
These multipurpose benches can be fabricated from a variety of durable materials. Some are all metal, some of combined metal frame and high-density plastic, some of combined metal frame and wood. The bicycle rack components are integrated into the rear or side of a traditional bench or in some cases integrated within a rectangular backless bench framework.
In addition to providing a site amenity that serves the "social" element of public outdoor spaces, these multipurpose benches also can serve as space dividers in large outdoor areas.
Planters for Curb Appeal
Commercial heavy-duty planters can help to delineate outdoor areas, add options for greening an areas, and contribute to image and curb appeal making the space more inviting to users.
Planters for high-traffic areas are available in heavy duty glass fiber reinforced concrete. The glass reinforcing prevents the planter from deforming under the weight of the soil. The planters are, however, lighter in weight than traditional concrete planters so they are less costly to ship and easier to maneuver around the space.
Benches, bike racks, and planters contribute to the overall image appeal of an outdoor area, providing comfort and amenities that will entice users to take a break. These elements can also help to define smaller spaces within a larger outdoor area.
Conclusion
There are many emerging trends resulting from the increased traffic and use of outdoor public spaces. Changes in ADA (Americans with Disabilities Act) compliance requirements and the advent of new sustainability criteria have required designers to use newer products that are durable, sustainable, meet ADA criteria and provide both safe and aesthetically pleasing elements within highly used outdoor spaces.
Designers are seeing emerging product trends in:
• Shifting colors of LED lighting to reduce the "blue light" color tones

• Adaptive control systems with lighting to allow users to better control and regulate the direction of the light and the amount of energy used.

• Modular site amenities and pavement products to provide more flexibility and creativity with outdoor space design.

• A greater variety of materials being used in the fabrication of light poles, benches, bike racks, planters and pavement products.

• A greater number of sustainable, locally derived and eco-friendly products
Designing for high-traffic outdoor spaces presents many opportunities to utilize new products and emerging product trends in creating outdoor spaces that meet the four key qualities of accessibility, aesthetic image appeal, comfort and sociability.
Endnotes
Whyte, Wm. H., The Social Life of Small Urban Spaces, 1980, Edwards Brothers, Inc., Ann Arbor, Michigan
ICPI Tech Spec 13 – Slip and Skid Resistance of Interlocking Concrete Pavements, http://www.icpi.org/node/3830
Elena M. Pascarella, PLA, ASLA, is the principal of Landscape Elements LLC,an award-winning landscape architectural firm based in Warwick, Rhode Island. Ms. Pascarella is a graduate of the Rhode Island School of Design and has done graduate studies in historic landscape preservation at the University of Virginia. Landscape Elements LLC provides landscape architectural design and planning services in CT, RI and MA. Ms. Pascarella has written a number of articles for Architectural Record that have addressed sustainability (Grey to Green Infrastructure, November 2012) and urban trees (Trees Need Dirt, December 2014).
Originally published in Architectural Record
Originally published in June 2015
Notice