Designing for High-Traffic Outdoor Spaces
A variety of products provide design options for high-traffic outdoor spaces
This course is no longer active
Sponsored by Architectural Area Lighting, Bison Innovative Products, Kim Lighting, Soil Retention, the StressCrete Group, Tournesol Siteworks, and Unilock
Site Amenities for High-Traffic Outdoor Spaces
Site amenities that enhance comfort and safety will make an outdoor space much more inviting. In high-traffic areas, site amenities such as benches, planters, and site lighting should be durable to minimize maintenance and energy efficient to lower operation costs. Sustainability criteria and certifications are a way of ensuring a successful, cost-effective project.
Lighting plays a major role in visual comfort and security. Architectural flood lighting, pedestrian-scale decorative lighting, and in-grade luminaires for targeted up-lighting enhance and accent the beauty of the architecture and site features.
Benches provide comfort and enhance the image of outdoor spaces. According to the Project for Public Spaces, users are drawn to outdoor areas that present a positive image and provide comfortable elements such as benches. Benches can be fabricated from a variety of materials including cast iron, aluminum, composite wood, recycled plastic, concrete, and natural wood. Each material has benefits and can be used appropriately in high-traffic outdoor spaces.
Lighting for Parking and Larger Outdoor Areas
The International Dark Sky Association (www.darksky.org) has completed research on LED lighting. LED lighting is much more efficient than conventional incandescent lighting at converting electrical energy to light. In conjunction with newer luminaire designs, LED lamps provide reduced energy use without compromising safety. Through this reduced energy demand/use, LEDs lower carbon emissions and also lower costs to the user/consumer. Use of LED technology for lighting can contribute qualification points to LEED® and SITES™ rating systems. A possible 16 total credits can be earned toward LEED certification in the use of LED lighting.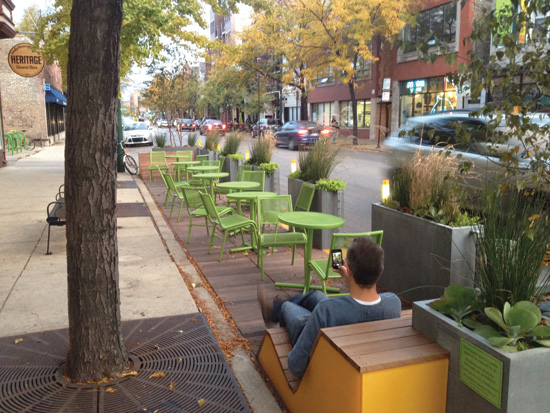 Photo courtesy of Bison Innovative Products
A pop-up park in Chicago using modular wood tiles
For larger outdoor spaces and parking areas, architectural LED flood lights with targeted optics provide safe levels of lighting for high-traffic areas while allowing the designer control over excessive or trespass lighting outside of the application areas through the use of targeted optics.
For targeted optics, LED modules are recessed into the fixture housing to provide a glare-free zone with zero upright. The independent LED modules function as multiple points of an omni-directional optical system arranged to create the most optimum light distribution. Each luminaire has adjustable emitter modules to provide maximum spacing with uniform horizontal and vertical illumination. These modules are capable of a 70-degree vertical tilt and 350-degree rotation without ever moving the luminaire housing.
The International Dark Sky Association evaluates the zonal distributions and blue light content of LED luminaires and has established a Fixture Seal of Approval Program.6 Obtaining their seal of approval is dependent on the luminaire meeting one of many criteria including:
• Fixture must emit no light above 90 degrees (with the exclusion of incidental light reflecting from fixture housing, mounts, and pole).

• Fixture must have a listed correlated color temperature (CCT) configuration of 3,000K or below.
The luminaires comply with Dark Sky requirements for light trespass and light pollution and the structural LED optical system and flat lenses produce zero light above 90 degrees.
Incandescent and high-intensity discharge lamps can produce unnecessary light concentrations beneath the luminaire. The LED modules significantly reduce point source glare and smooth hot spots of other LED luminaires. Users experience the appropriate illuminance levels for uniform and quality lighting throughout the various needs of the application. Improving the light levels in the dark zones reduces shadowing and potential hazard areas, providing for a more secure design.
The LED modules in architectural LED flood lighting are designed with two distinct but complementary methods to manage the life-limiting heat produced by the LED diodes. Both conduction and convection are used and the optical system is monitored by circuitry tying back to the driver controls. Heat is drawn away from the housing chamber and dispersed into the air around the luminaire to maintain diode performance output and ensure longer life.
Dark Sky compliance through the International Dark Sky Association can be met through the use of cut-off fixtures, and the LED luminaires can also meet Illuminating Engineering Society (IES) TM15 requirements or "BUG" criteria. BUG stands for Backlight, Uplight, and Glare. The IES established the BUG criteria in 2005 as a result of increased demand for reduction in glare and light trespass. LEED SS 8.8 for exterior lighting credits are given if the site lighting used provides optimum down lighting (Dark Sky Friendly™) fixtures. Fixtures must be full cut-off for park/rural settings and for residential/commercial settings, have less than 2 percent uplight above 90 degrees.
LED light conversions were made in Boston, Massachusetts, when the city embarked on a major conversion of their light fixtures to more energy-efficient LED fixtures. Starting in 2012, Boston converted thousands of their existing 175W and 250W Mercury Vapour Acorn lights with replacement 60W and 75W LED lights. The City plans to change all existing Acorn lights with LED lights by the end of 2016. Boston's city-wide LED conversion has cut their energy consumption by 50 percent and payback is expected in 1.5 years.
The City of Austin, Texas holds a "south by southwest" (SXSW) event every year. This event sees high-traffic use, and LED lighting provided the necessary light levels to enhance the safety of the event. The poles supporting the LED lights also provided an aesthetic image appeal as the City hung 55 decorative pendants from them. This is a City of Austin pilot program which includes 12 new streetlights and the conversion of 48 streetlights on Sixth Street between Interstate 35 and Brazos Street. The lights will brighten after the bars close for the night to enhance nighttime safety and return to normal once crowds disperse. The light levels are controlled remotely.
In-Grade Flood Lighting Provides Safety and Ambiance
Architectural LED flood lights are also available as in-grade or in-ground fixtures. In-grade fixtures or luminaires can provide both safety and ambiance lighting in areas where pole-mounted flood lighting would not be appropriate. In-grade luminaires can be placed to provide uplighting of trees, flagpoles, and buildings, and the ambient light provides both aesthetic visual safety illumination.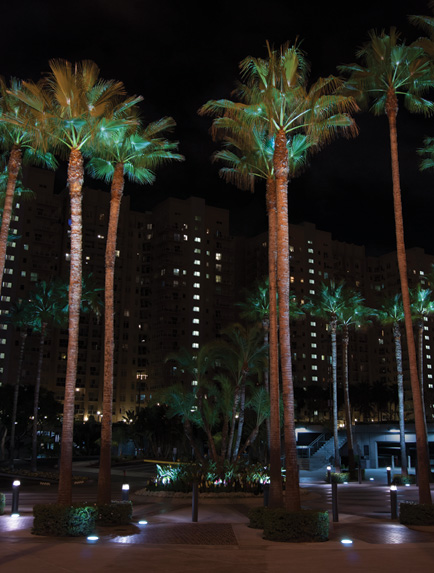 Photo courtesy of Kim Lighting
In-grade flood lighting at Long Beach Convention Center, California
Aiming can be controlled in LED in-grade luminaires with a Bluetooth-enabled mobile device. The end user, designer, or property manager can select either an iOS or Android mobile device to change the optical orientation and dim or brighten the amount of light from the luminaire. To contribute to the sustainability of a project, the housings for LED in-grade luminaires can use durable brass castings and use lenses of thick tempered glass to protect against breakage, chipping, and scratches. IP68 type connections protect the interior of the light and prevent dues, moisture, and water intrusion.
The IP rating system is the Ingress Protection rating ( IP = Ingress Protection). These ratings are part of the International Electrical Code standards. The rating system classifies the degrees of protection provided again the intrusion of various elements. The first digit provides the intrusion rating against solids and the second digit provides the rating for intrusion against liquids. In-grade flood lights have been used by the communities of Long Beach, California and Fort Myers, Florida.
Pedestrian-Scale Decorative Lighting
Pedestrian-scale decorative lighting presents another option for lighting in high-traffic outdoor areas. These luminaires are available in a range of pole heights and luminaire sizes to provide options for various outdoor lighting applications.
Pedestrian-scale decorative lights can provide energy-efficient LED point source lights while providing reduced glare lighting through diffused lenses. A die-cast back housing with segmented, high-reflectance, aluminum mirrors provides a precision optical system to put light where it is needed, minimizing light trespass, sky glow, and other forms of light pollution. These optical systems are engineered for highly controlled and more effective light distribution. Because of their glare reduction and minimal light pollution, these lights are International Dark Sky compliant and meet the standards of the Design Light Consortium (DSL) of the U.S. Department of Energy.
Pedestrian-scale decorative luminaires are produced with sustainable technologies that have as small an impact on the environment as possible. Renewable materials such as aluminum and glass are used.
Light poles do not need to be fabricated of metal or fiberglass. Spun concrete poles can provide durable, cost-effective lighting for outdoor areas. Concrete poles are fabricated of 8,000 psi concrete so they are four times the strength of a sidewalk and will last over 75 years. Concrete light poles are durable, maintenance free, do not rust, and can take considerable impact. Concrete poles also retain their color, and the color is not applied to the surface but is embedded through the entire depth of the pole as part of the fabrication process.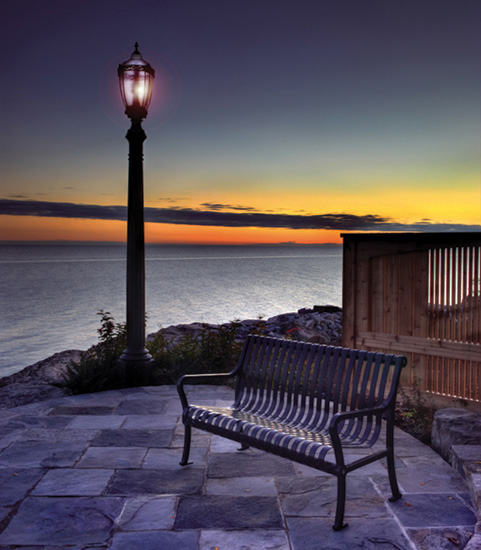 Photo courtesy of the StressCrete Group
Spun concrete poles combine elegance with durability in outdoor spaces.
Spun concrete poles are a centrifugally cast reinforced concrete. They are commonly referred to as a "spun concrete pole" as they have the compressive strength of concrete but contain strand cables around which the concrete is spun. This cabling provides the tensile strength to the pole. The poles meet ASTM and CSA standards for spun concrete poles. The spinning process introduces qualities into the concrete which cannot be obtained by more conventional casting methods. Through the spinning process, the concrete attains a higher density and strength. The spinning process allows a hollow raceway to form inside the pole, thereby providing a smooth conduit for electrical cables.
Originally published in Architectural Record
Originally published in June 2015
Notice