Designing for High-Traffic Outdoor Spaces
A variety of products provide design options for high-traffic outdoor spaces
This course is no longer active
Sponsored by Architectural Area Lighting, Bison Innovative Products, Kim Lighting, Soil Retention, the StressCrete Group, Tournesol Siteworks, and Unilock
Pavements for Accessibility and Sustainability in High-Traffic Areas
Of the many products available for pavement surfaces in high-traffic outdoor areas, modular pavers have seen increased popularity as they provide a wealth of design options with respect to color, size, and surface finish while being easy to install. Modular pavers provide flexibility for the design composition as well as ease of maintenance as individual units are easily removed and replaced should any unit become damaged through excessive abuse or severe impacts.
Studies have been done by the International Concrete Paving Institute (ICPI) regarding interlocking concrete pavers and ADA compliance.
Concrete Pavers
Interlocking precast concrete pavers provide many options with respect to size, shape, color, and surface texture. These pavers have been available to designers for many years and used in pedestrian, vehicular, and heavy-duty settings where durability is a requirement. The latest technologies and manufacturing processes take this durability to the next level in order to ensure the product maintains its texture and color without degradation in high-traffic areas. New processes have also given us products with surface textures and colors that look like natural stone as well as products that are unique and contemporary in styling and surface texture.
Pavers were originally manufactured with a mix of large and small aggregate throughout the entire unit that allowed for the large aggregate to become exposed at the surface over time.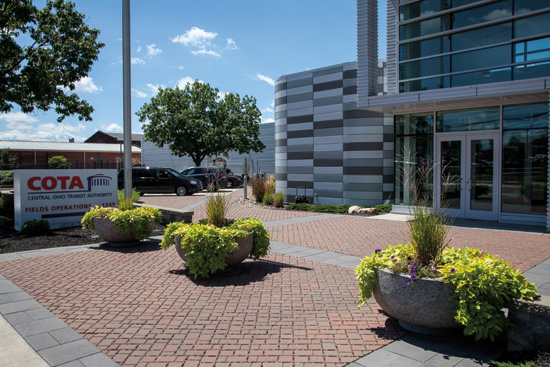 Photo courtesy of Unilock
Central Ohio Transit Authority, Columbus, Ohio, used interlocking concrete pavers in a variety of colors for patterning.
Today, select manufacturers combine large and small aggregates in layers through the entire precast concrete paver mix with the larger aggregates in the base to provide strength and the smaller aggregates towards the top. A blended layer of the highest level performing minerals that are fade-resistant is embedded into the surface of each stone during the manufacturing process. This not only provides variable options for color and texture aesthetic but ensures that the surface will not fade, crack, peel, or delaminate, and offers a durable surface that maintains its color and character through years of high-traffic use.
When specifying precast concrete pavers, designers should consider the application and use—pedestrian, vehicular, or both. Other factors to consider in specifying interlocking precast concrete pavers include how the paver is made, the paver size or sizes, color, subsurface preparation, and the desired paver pattern. In addition, designers should determine whether the project must meet LEED®, SITES™, or IGCC (International Green Construction Code) criteria and if so, consider the selection of a color with a high solar reflectance index (SRI) value to reduce urban heat island effects and/or a permeable paver.
A number of interlocking precast concrete pavers are permeable and are available in a wide variety of styles and colors with ADA-compliant joint spacing thus helping to meet LEED®, SITES™, and IGCC criteria and assist in meeting local demands for sustainability. The Interlocking Concrete Paver Institute provides information relating to the permeability of interlocking precast concrete pavers.
ADA Design Guidelines require that surfaces be firm, stable, and slip resistant. The ADA Design Guidelines recommend that the static coefficient of friction for flat surfaces along accessible routes be 0.6 and 0.8 for ramps. ADA advisory material recommends various test methods to assess surface slip resistance. The Interlocking Concrete Pavement Institute's technical Specification Section 13 provides information on the slip and skid resistance of interlocking concrete pavements.5 When specifying precast concrete pavers, designers should note their capacity for slip resistance, resistance to salt erosion, and tolerance to resist oil and gas spills. These characteristics, along with their colorfast pigments and durable aggregate composition, can provide a surface material that is able to withstand high traffic as well as severe weather conditions.
To meet durability criteria, pavers are manufactured to comply with both ASTM C936 and CSA (Canadian) A 231.2 industry quality standards for strength and absorption as well as dimensional tolerances. During the manufacturing process, pavers are carefully tested, and hourly product density tests are performed. The high strength of concrete pavers, combined with low water absorption, provides a hardscape material that won't crack, peel, or delaminate. Interlocking precast concrete pavers can offer up to four times the strength of poured concrete.
High-quality pavers are manufactured with the highest-quality minerals and pigments that are color stable and do not fade. Interlocking precast concrete pavers can be made in custom colors and textures as well as with custom recycled content. At the United Nations Center in New York, the old window pane glass was ground and made into a pozzolan that was added to the concrete pavers during the manufacturing process as part of the recycled content of the paving stones.
Case studies have been done on the durability and quality of interlocking precast concrete pavers involving applications at high-traffic areas in Cleveland, Ohio. The Uptown Alleyway project was designed by James Corner Field Operation. The project covers approximately 65,000 square feet of both vehicular and pedestrian areas. Of the total area, approximately 35,000 square feet is permeable. This is the City of Cleveland's first permeable public roadway project. The alleyway uses long plank pavers in a variety of grey color tones. Due to the heavy pedestrian and vehicular traffic, it was essential that the paver surface be durable, color-fast, highly abrasion resistant, and strong to withstand the harsh winter climate.
The aesthetic appeal of interlocking precast concrete pavers lies in the variety of available colors and textures. While some options mimic natural stone, bricks, or cobbles, others offer contemporary surfaces, shapes, and sizing. It is this variety that allows the landscape architect or designer to execute their creative vision for the project, or to follow industry trends such as long, linear plank designs or large-format slab paving. From roof decks to streetscapes, permeable to heavy-duty, there is a paver for every application.
While color is always evolving, other trends include mixing different paver shapes within the paver pattern and varying textures for aesthetic appeal.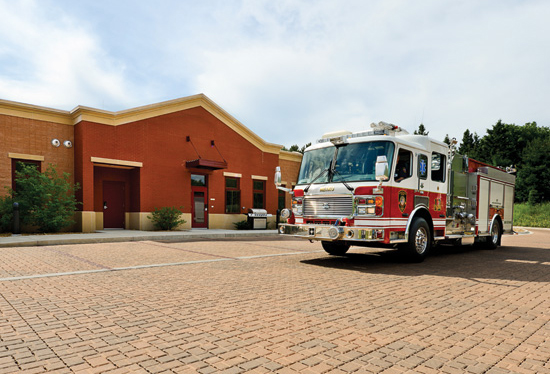 Photo courtesy of Unilock
The Grand Traverse Fire Station, Grand Traverse, Michigan, designed by Gourdie-Fraser, Inc., shows color options for permeable interlocking concrete pavers.
Originally published in Architectural Record
Originally published in June 2015
Notice