Large, Low Velocity Fans: Making Energy Efficiency a Breeze
Advanced, good-looking solutions for air movement in large spaces
This course is no longer active
Sponsored by Big Ass Fans®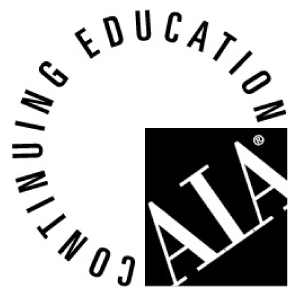 Continuing Education
Learning Objectives - After this course, you should be able to:
Discuss the characteristics of large, low velocity ceiling fans and recognize the latest developments in fan technology.
Explain the energy saving implications of various air movement methods.
Discuss fan design, layout, and specify for large spaces.
Describe the aspects of using large, low velocity fans for sustainable design and how they can bring value to a LEED project.
Credits:
With rising energy costs and the increased accountability to operate efficiently, business owners, facility managers, home owners and architects are all looking for innovative ways to cut energy costs without cutting corners. And let's face it: not everyone can afford air conditioning or tolerates its negative environmental impact. One energy-conscious cooling alternative harkens back to the pre-air conditioning days — the ceiling fan. But this is not your grandmother's version; the traditional ceiling fan has been reinvented for large industrial, commercial, and residential spaces. The latest technology in industrial-grade air movement has been custom-engineered for shopping malls, offices, churches, schools and other sound-sensitive environments. Moreover, it has been executed on a scale large enough to make it a significant component of a cost-effective, energy-efficient building design.
Today's large, low velocity ceiling fans make the statement that it's possible to create a beautiful environment utilizing serious energy-saving products. With Big Ass Fans, architects have the opportunity to implement sustainable products that are not just eco-friendly but also cost effective. This article will discuss the characteristics of large, low velocity ceiling fans, as well as their sustainability quotient, with an eye toward detailing energy costs. Practical considerations of specifying large, low velocity fans in large spaces will also be covered.
What is a large, low velocity ceiling fan?
Large, low velocity ceiling fans, also known as high volume, low speed (HVLS) fans, operate on a different principle than their conventional ceiling fan counterpart. These fans are significantly larger and operate at slow speeds to minimize power usage. The fans use aerodynamic, extruded aluminum airfoils designed to provide the optimum airflow at the lowest possible operating cost. These fans may have as many as ten blades that slowly revolve to create a massive, gentle current of air in all directions, covering up to 30,000 square feet of space. Because they move vast volumes of air, the fans can create a cooling effect over large areas. As a general rule of thumb, the more airfoils a fan has the more uniform the resulting airflow will be. Fewer blades will produce choppier bursts of air that dissipate more quickly, while fans with more blades establish a consistent circulation of air without needing to turn faster.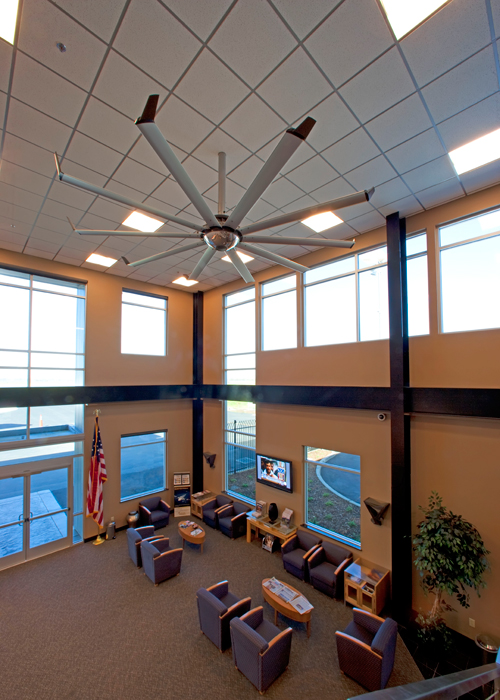 Large, low velocity fans are an aesthetic, energy-efficient way to keep
large spaces comfortable.
Photo Courtesy of Big Ass Fans®
Originally published in Architectural Record
Notice