The Business of Architecture: Expanding Services for the Profession
Forensic architecture, furniture design, and biophilic design are just some of the ways architects are moving the profession in new directions.
Sponsored by Benjamin Moore & Co.
Learning Objectives:
Describe three tools often used in forensic architecture.
List two styles of architect-designed furniture showcased at Design Miami.
Explain the basic tenets of biophilic design.
List the three new categories of mass timber construction proposed for the IBC.
Credits:
This course is approved as a core course
This test is no longer available for credit
This course is part of the The Business of Architecture Academy
Below are a set of links to building type studies from Architectural Record, which are in-depth analyses of particular kinds of buildings, with photos, drawings, specifications, detailed descriptions, and design solutions. Click on each link below, read the article then complete the quiz to earn your credit and certificate of completion.
Architects are known as design leaders, innovators, and problem solvers. These articles highlight new directions the field of architecture is taking as well as ways in which some architects are thinking about their work and its impact on the world.
Interview with Forensic Architecture Founder Eyal Weizman
Eyal Weizman, founder of the firm Forensic Architecture, discusses the multidisciplinary approach used in forensic architecture and the political power of architectural analysis.
Alex Klimoski
Obituary: Florence Knoll Bassett, 1917–2019
Florence Knoll Bassett was an architect who studied with some of most important architects of the 20th century, working on pieces that came to define the 20th century corporate office. She was also an entrepreneur who helped architects expand their practices into furniture design.
Fred A. Bernstein
Interview with Dr. Eve Edelstein
Dr. Eve Edelstein is an in-house researcher and "neuro-architect" based in Perkins+Will's San Francisco office. She discusses the use of scientific evidence in designing everything from workplaces to health-care facilities.
Anna Fixsen
Interview with Richard Rogers
In this interview, Richard Rogers, Pritzker Prize winner and 2019 AIA Gold Medal winner, talks about his life and work and the future of architects as problem solvers.
Deane Madsen
Design Miami 2017: Furniture by Architects, Design by Artists, and an Early Look at the ICA
Architect-designed furniture held center stage at Design Miami, where seductive seating and storage, lacquered wood tables, and butcher-block style school furniture exemplified this not-uncommon avenue for architects.
Fred A. Bernstein
Living Future Institute Announces Biophilic Design Award at Greenbuild 2017
The International Living Future Institute names Khoo Teck Puat Hospital in Singapore the winner of its first-ever Stephen Kellert Biophilic Design award, representing the relatively new tenets of biophilia. The goal is to inspire architects to bring nature into their own projects.
Alex Klimoski
Tax Overhaul Leaves Architects Largely Unscathed
In the aftermath of the 2016 election, the AIA chose to focus on three issues that would have ramifications for all architects: fair treatment under the new tax laws, protection of the Federal Historic Tax Credit, and preservation of the 179D efficient building credit.
Deane Madsen
New Code Changes Will Streamline Mass Timber Permitting
Changes to the IBC may streamline the process for mass-timber-construction permitting. Use of mass timber has taken off, and Thomas Robinson of LEVER Architecture in Portland explains the ICC code changes.
Deane Madsen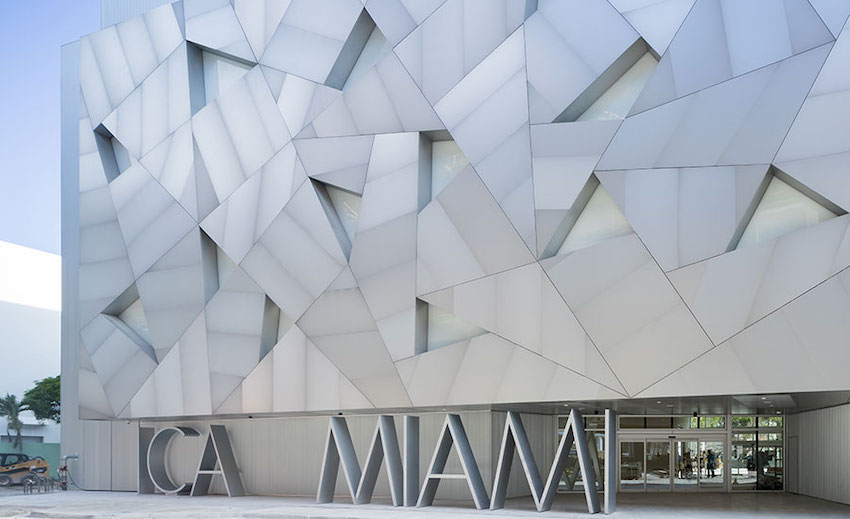 Photo © Iwan Baan
Institute of Contemporary Art, Miami
| | |
| --- | --- |
| | Benjamin Moore & Co., a Berkshire Hathaway company, was founded in 1883. One of North America's leading manufacturers of premium-quality residential, commercial, and industrial maintenance coatings, it maintains a relentless commitment to innovation and sustainable manufacturing practices. The Benjamin Moore premium portfolio spans the brand's flagship paint lines, including Aura®, Regal® Select, CENTURY®, Ultra Spec®, Natura®, and ben®. The Benjamin Moore Diversified Brands include specialty and architectural paints from Coronado®, Lenmar® and Insl-x®. Benjamin Moore & Co. coatings are available primarily from its more than 5,000 locally owned and operated paint and decorating retailers. |
Originally published in May 2019
Notice