An Introduction to High-Performance Coating Systems (Article Course)
High-performance coatings add to the structural integrity, soundness, and health impacts of buildings, building sites, and structures
Sponsored by Benjamin Moore & Co.
Learning Objectives:
Explain the purpose and common applications of high-performance coatings.
State why, where, and how high-performance coatings are used and how they help improve the durability, longevity, and other aspects of structures and surfaces.
List and define the most commonly used types of high-performance coatings.
Describe the environmental and operational conditions that impact coating performance and service life.
Identify the factors that influence coating system selection.
Credits:
This program meets NAHB's continuing education requirements and participants will earn 1 hour of con
This course can be self-reported to the AIBC, as per their CE Guidelines.
As an IACET Accredited Provider, BNP Media offers IACET CEUs for its learning events that comply with the ANSI/IACET Continuing Education and Training Standard.
This course is approved as a Structured Course
This course can be self-reported to the AANB, as per their CE Guidelines
Approved for structured learning
Approved for Core Learning
This course can be self-reported to the NLAA
Course may qualify for Learning Hours with NWTAA
Course eligible for OAA Learning Hours
This course is approved as a core course
This program meets NAHB's continuing education requirements and participants will earn 1 hour of continuing education credit for the following NAHB designations: CAPS, CGA, CGB, CGR, GMB, and GMR.
This course can be self-reported for Learning Units to the Architectural Institute of British Columbia
While architects, interior designers, and building professionals are accustomed to using traditional, acrylic architectural paints, most are less familiar with high-performance coatings. Yet, in certain situations, these coatings are exactly what is needed for a project. The catch is that the world of high-performance coatings requires specific knowledge; professionals in this field go through extensive training to learn how to specify these products. Not surprisingly, professionals not in this particular field often find themselves unsure where to start when considering these products. This course is an entry point to the world of high-performance coatings by introducing these coatings and exploring why, when, and where they are used. Once building professionals have the foundation they need to work confidently with coating specialists, they can begin to take advantage of products that outperform architectural paints in just about every way.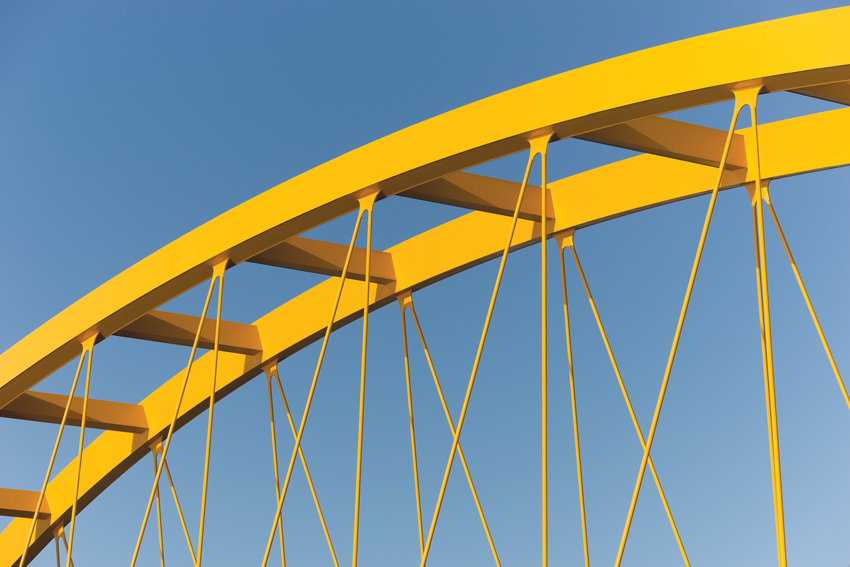 Specifying the correct coating can help ensure durability, longevity, and reduced maintenance costs over the life of the project.
The chances are good that through the course of a day, most people come into contact with several high-performance coating systems without thinking about what the material is or why it is important. Anyone who has walked over painted metal grates on the street, crossed a bridge, taken their kids to a playground, boarded a subway car or bus, entered a school or health-care facility, had a meal at a restaurant, passed a shipping container or dumpster, or attended a sporting event at an arena has likely encountered some type of high-performance coating.
While larger industrial structures such as power plants, oil rigs and pipelines, and other facilities may come to mind when discussing high-performance coatings, they are by no means the only places these coatings are used. As the general list above suggests, these coatings are used on many common structures and surfaces, and they are so ubiquitous that most people do not even notice them, let alone think about what they are or how they are used.
High-Performance Coatings: The Big Picture
Let's start with the big picture of where high-performance coatings are used and what they are designed to do. In the most basic sense, these coatings are designed for protection, performance, and aesthetics. That is, they protect capital investments by maintaining the integrity of the surface and structure for safety purposes. High-performance coatings are used to extend the surface life of the structure and increase the time until the structure needs to be recoated. For example, a steel bridge in a major urban center that has nonstop daily traffic needs to be as safe as possible for as long as possible, and a high-performance coating system can help by resisting corrosion and adding durability. The coating also addresses an aesthetic need, whether that is to make a bold statement with color or to provide a muted color that blends in with the surroundings. Either way, the coating adds color and durability to the structure, depending on the project.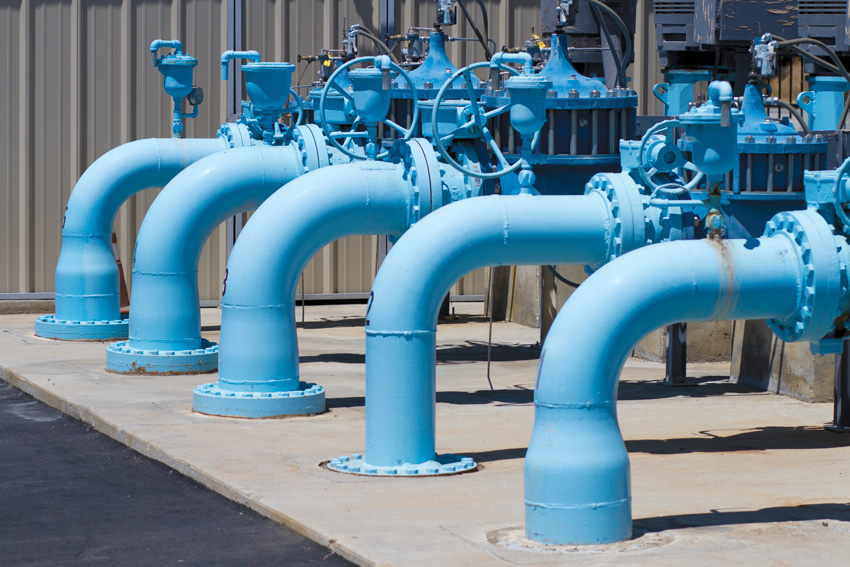 High-performance coatings can be part of an overall strategy to ensure caustic or dangerous chemicals remain secured.
High-performance coatings are typically used in environments where structures and surfaces require enhanced abrasion and chemical resistance and require added durability. They are designed to meet the requirements of their primary function, which is to protect the surface that they are coating. In some cases, the coatings may protect surfaces from excessive use and abuse—for example, flooring in an automotive shop garage or on the steps, railings, and in hallways of a large sports arena. In other cases, they may protect surfaces from corrosion caused by simple exposure to the elements or aggressive environments that may include corrosive chemicals. Regardless of the case, high-performance coatings enhance the overall durability of whatever they coat. This added protection is provided to ensure the safety of not only the people who come into contact with the structures but also the immediate physical environment surrounding the structures.
As a paint product, high-performance coatings also have a secondary function, which is to enhance the aesthetics of a structure or space. Coatings may be used in many different ways: to downplay a space (e.g., a neutral tan or grey), to highlight a key feature (e.g., a bright red or yellow fire hydrant or holding tanks colored to indicate different contents), or to beautify or brand a space (e.g., high school lockers, or a transit system bus or subway car). Whatever the case, high-performance coatings are everywhere—all it takes is learning to see them and understand why they are there.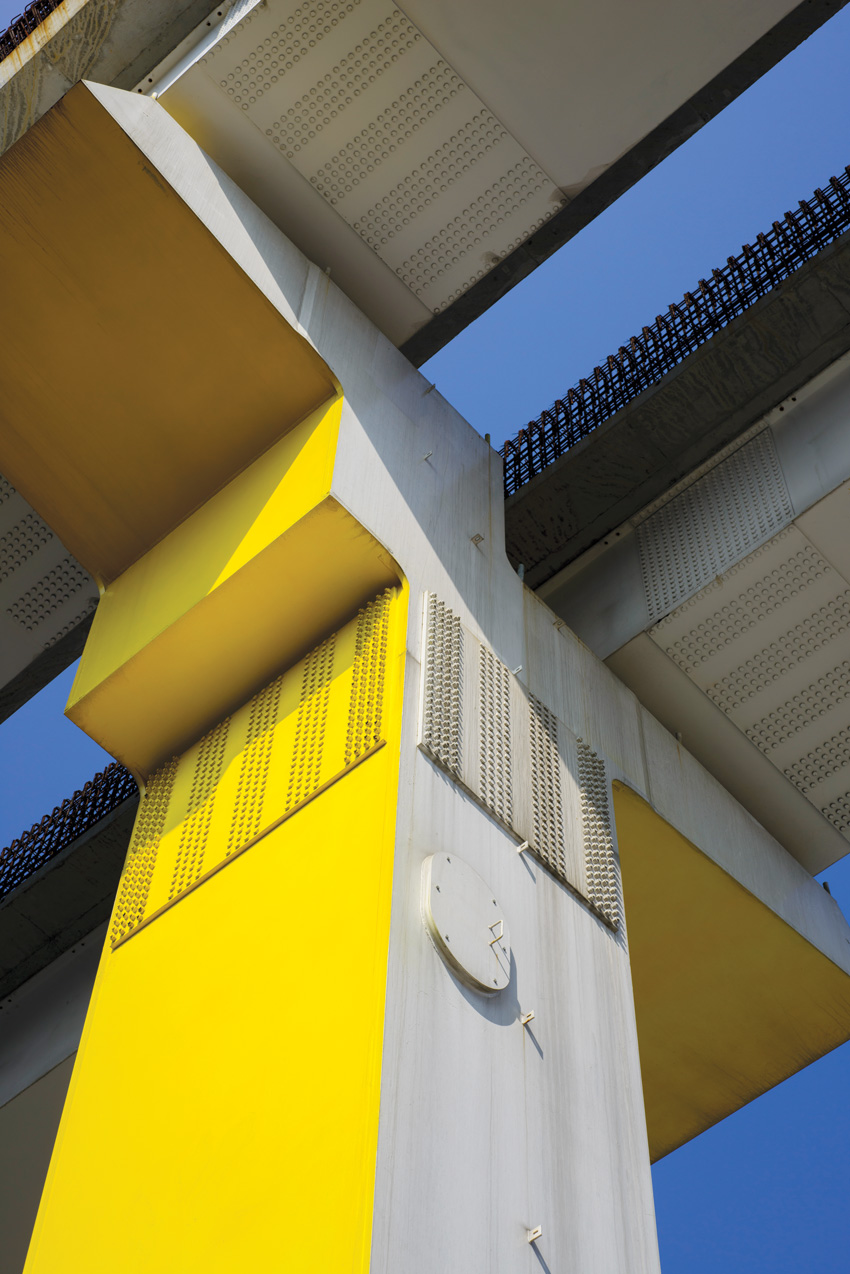 Concrete, cement, and brick masonry are vulnerable to chipping and cracking. However, when they are properly primed and coated, they become better protected from a potentially damaging environment.
Originally published in Architectural Record
Originally published in June 2018
Notice