Tested for code-required wind pressures and the latest impact resistance, highly engineered doors, shutters, and hardware assemblies are turning tornado shelters into aesthetic, functional spaces
Sponsored by ASSA ABLOY
This test is no longer available for credit
Specifying Doors and Shutters
In tandem with the trend of storm shelters evolving from dark, underground cellars into daylit, aesthetic spaces, ICC 500-compliant doors tested for pressure and impact resistance can be made to look and operate like standard passage doors, enabling architects to further the aesthetic appeal of a shelter. "No architect likes a door which looks like a security door or vault door," says Waller.
Window shutters are also a great way to bring natural light into the shelter space. Tested and labeled shutters are operated from the inside and are available with self-latching features. For regular latching, Glenn recommends placing operational instructions within 60 inches of the floor.
Designers can also select ICC 500-compliant hardware that permits unlatching the door with a single motion, helping to make the door ADA accessible. In addition, ICC 500-listed doors with a labeled fire rating are available.
In researching products, Corey Schultz cautions architects to be wary of labels like "storm resistant," "meets the ICC 500," and "FEMA approved." Firstly, there are many types of storms, and not all products have been tested and certified for tornado applications. Secondly, ICC 500 has significantly different requirements for tornadoes and hurricanes, and thirdly, FEMA does not "approve" products. When selecting doors, shutters, and hardware, architects should verify that the products have been tested for wind pressures and impact from wind driven debris.
"For a door, it should be tested as a unit, including a specific door type, door size, frame type, frame attachment, and specified hardware," explains Pirtle. "Similar to a UL wall or ceiling assembly, this door unit must be constructed, as tested, in the field to ensure proper performance under the wind loading and debris impacts that it will experience during a tornado."
In addition, architects should ensure that testing requirements and procedures were performed on the largest and smallest doors, double and single doors, and in the direction of the door swing as they will be installed. Furthermore, Glenn instructs, "Proper architectural and structural coordination is essential in ensuring correct installation, operation, and long-term maintenance for the building and the building owner."
Offering a list of best practices for architects and contractors, Glenn also advises:
Reaching out to the door manufacturer for anchoring details
Verifying the rough opening requirements and tolerances
Regarding the flooring condition, the bottom strike needs to be mounted with anchoring directly to the concrete
Never substituting tornado storm doors
Holding a preconstruction meeting prior to storm shelter door installation
Ensuring that the opening is square and plumb
Following the manufacturer's installation details and anchor requirements
Creating a punch list checklist
Harris also points out that impact-protective devices are only permitted where the rated pressure is greater than the wind pressure that will occur at the location where they are used. Therefore, architects should consult with their structural engineer for a determination of the wind pressure that could occur at each location of an impact-protective device.
Offering some valuable lessons-learned information, Schultz relates an unfortunate tragedy involving the failure of a supposed tornado-resistant door when an EF 4 tornado ripped through the towns of Vilonia and Mayflower, Arkansas, in the spring of 2014. Sadly, a door in a homemade, aboveground masonry shelter blew open, killing the wife and seriously injuring the husband.
In the aftermath, Corey Schultz says that the door and frame were analyzed at Texas Tech University Wind Science Lab to determine why the door failed. Firstly, the researchers found that the door and frame were light-duty hollow metal with three residential-grade dead bolts and three standard-duty hinges.
Secondly, as Corey Schultz explains in his blog, "Tornado Shelters – Arkansas Tornado Shelter Door Failure," there was no anchorage securing the frame to the masonry walls, the cavity of the frame was filled with mortar, and the adhesion between the mortar and the masonry was the only thing holding the door in the opening.
In conclusion, "the door, frame, and hardware were not designed or constructed to withstand tornadic wind forces. The door was apparently struck by a piece of OSB or plywood in the center of the door, bending it, and destroying the center dead bolt and the lock set. Further, the top dead bolt failed, and the door hinges and hinge screws were also damaged."
ICC 500 vs. FEMA P-361
Underscoring the importance of only specifying and installing fully tested door assemblies, designers should request documentation from manufacturers proving that their products are listed to the ICC 500 requirements for tornadoes. That said, it should be noted that some proprietary systems legitimately list FEMA P-361 as the reference to which their products were tested.
To better understand the difference between the two documents, FEMA P-361 is a best practices guideline, whereas ICC 500 is an enforceable standard that uses language such as "required" and "shall" as opposed to "recommended" and "should."
Whereas FEMA P-361 safe rooms are intended to provide "near-absolute protection" to occupants, ICC 500 storm shelters provide "life safety," explains Kilzer. Furthermore, FEMA P-361 has more stringent siting requirements when building in flood-prone areas. "The scope of FEMA P-361 includes not only the criteria from ICC 500 but also emergency management considerations and risk assessment commentary that are beyond the scope of ICC 500," he adds.
Another noted difference is required wind-speed design. While ICC 500 requirements can vary from 130 mph to 250 mph depending on the project's location, FEMA P-361 requires a 250-mph wind speed to be used in all areas, according to Pirtle.
Harris points out that building teams pursuing FEMA P-361, as compared to the requirements of ICC 500, will need to coordinate more with the local emergency planning committee, and the shelter will often incur additional costs.
"It should be noted that if a safe room is being constructed with FEMA grant funds, adherence to all of the FEMA Recommended Criteria is required," adds Kilzer.
Case Studies
At Ewalt Elementary School in Wichita, Kansas, this was actually the case, with partial funding from FEMA's Hazard Mitigation Grant Program supporting a classroom shelter space for 600 occupants. Meeting FEMA P-361 requirements, the shelter was part of a four-classroom addition to a Pre-K–5 school built in the mid-90s.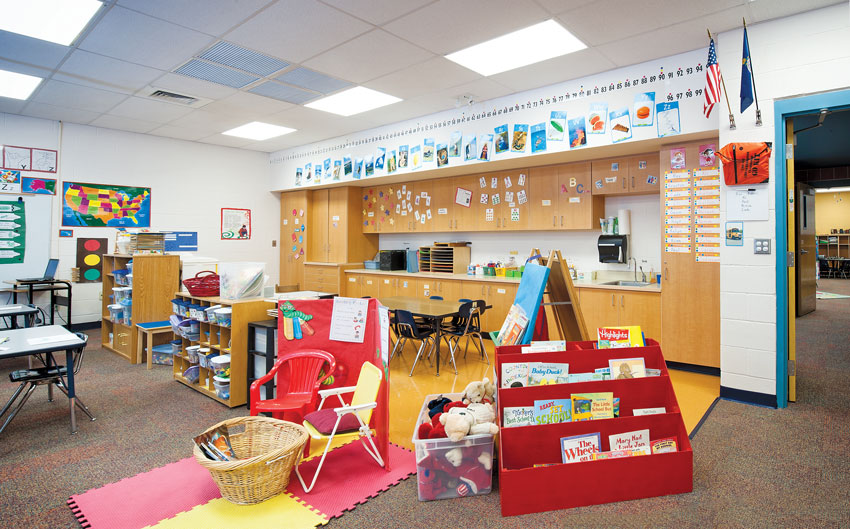 Photo courtesy of Schultz Squared Architects LLC
At Ewalt Elementary School, this FEMA-compliant tornado shelter is built to house 600 occupants and appears as a regular classroom.
"One of the goals for this addition was to match the existing building facade and to make the classrooms not appear to be storm shelter space," explains Corey Schultz, architect of record on the project.
However, matching the 8-foot by 8-foot classroom windows in the existing building was a little tricky. "In terms of a tornado shelter, these window openings were quite large, making this project somewhat unique. The school district also wanted the windows in the shelter classrooms to have operable vents, allowing teachers to open them for fresh air," he adds.
By specifying a tornado-tested shutter assembly—consisting of a pair of reinforced hollow metal shutter panels in a four-sided hollow metal frame, which did not require an intermediate vertical mullion—the architects were able to deliver the desired aesthetic.
"The window shutters and frames are painted to match the wall color, and the teachers are allowed to use them in the normal position as magnetic bulletin boards so they do not loose wall space within the classroom," explains Corey Schultz. "For purposes of sheltering, the shutters are deployed—i.e., closed and locked—providing protection for these large openings."
"Tornado-tested access doors were also designed at each end of the corridors leading to the classroom and held in the open position under normal use," he adds. "This minimizes daily wear and tear on the door hardware, which is extremely important, as these types of door systems must be in working order at the exact time the shelter occupants need the shelter."
For another recent project at Auburn High School in Auburn, Alabama, Perkins+Will specified 23 tornado-resistant doors for the school's gymnasium to make it a code-compliant tornado shelter space. Because the doors also had to support emergency egress, a variety of tornado-tested, ADA-accessible, panic-exit hardware was included in the design.
"While the doors are a steel, tornado-resistant design with heavier construction, they appear like normal doors with no exposed rivets or steel bands," says Jamgochian.
Moving Forward
In the grand scheme of things, Kilzer observes that over the past few code cycles, tornado shelter design has evolved from recommended to required in certain occupancies and wind zones. "I anticipate this trend to continue as more engineers and architects get familiar with shelter design," he says.
Similarly, Jamgochian predicts, "as more shelters are constructed and it becomes apparent that they are feasible to build even on projects with tight budgets, I think you will see more states and local municipalities requiring storm shelters."
Currently, the interpretation of the ICC 500 storm shelter design requirements varies considerably from city to city. However, Thomas Campbell P.E., LEED AP, associate, senior project manager, Parkhill Smith & Cooper, Frisco, Texas, anticipates that the code will evolve to more clearly define items such as occupancy requirements, the minimum scope that triggers the need for adding a storm shelter when renovations/additions to existing schools occur, and travel distance to storm shelters.
Eventually resulting from research being conducted on the behavior of tornadoes and their effects on buildings and other structures, experts anticipate future refinements in the design of shelters and how they are sited within a facility.
In fact, NSSA's Design Practices Committee, which Harris chairs, is currently writing guidelines for owners, design professionals, building officials, and contractors on how to apply ICC 500-2014 to tornado shelters for schools and first-response centers where required by the IBC. Furthermore, the group is proposing some changes to the next cycle of development for the next edition of ICC 500.
Reiterating Pirtle's comment on the eventual effects of current research, Kiesling states, "With design experience comes innovation and upgrading in design practice which will eventually be reflected in standards upgrades. Performance assessments will continue to be made, and recommendations growing out of the assessments will impact standards."
| | |
| --- | --- |
| | ASSA ABLOY is the global leader in door-opening solutions, dedicated to satisfying end-user needs for security, safety, and convenience. ASSA ABLOY's mission is to provide complete opening solutions backed by value-added services to help people feel safer and more secure, thus creating more freedom in their lives. www.assaabloydss.com |
Originally published in Architectural Record
Originally published in December 2017
Notice