Tested for code-required wind pressures and the latest impact resistance, highly engineered doors, shutters, and hardware assemblies are turning tornado shelters into aesthetic, functional spaces
Sponsored by ASSA ABLOY
This test is no longer available for credit
Locating the Shelter
Offering some perspective on the evolution of storm shelter standards, Jim Bell, CSI, CDT, windstorm coordinator, ASSA ABLOY, Smithville, Tennessee, explains, "In the past, you just went out and bought a $7 sign and hung it up somewhere, declaring that it was a shelter. Then we went to the idea that if you're going to put a sign on something and direct a large number of people to a space with the implicit direction that you will be safer if you go there, then you have to actually provide a level of safety to them. And from that, we've evolved to: You shall provide safety to the occupants in the K–12 environment."
When designing storm shelters for tornado protection in K–12 schools and other buildings, design teams must first determine where the shelter will be located within the floorplate.
"Architects should look to interior areas of buildings to design reinforced six-sided enclosures to resist the highest winds from tornadoes or straight line gusts," explains George M. Blackburn III, M.Arch., AIA, BCxA, Carrollton, Texas. However, "the area within the building should be selected with a consideration for the possibility of rising water."
If a large space like a gymnasium or auditorium is selected, the structure must be reinforced to withstand a tornado. Advantages of this location include housing a large number of people and an absence of exterior windows, in some cases. Furthermore, these spaces lend themselves to hardening with concrete walls and roof structures and highly engineered doors.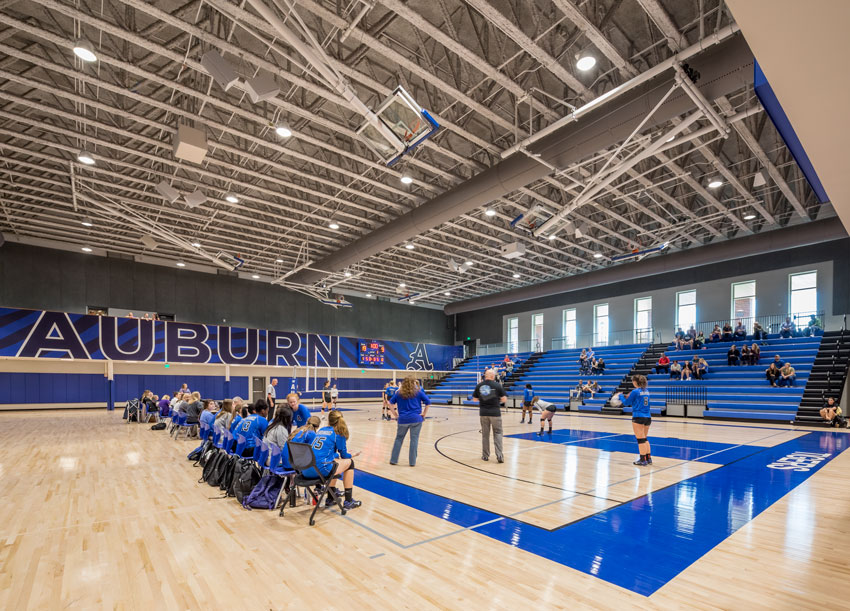 Photo courtesy of Perkins+Will
A total of 23 tornado-resistant doors were designed for Auburn High School's gymnasium in Auburn, Alabama. Because the doors also had to support emergency egress, a variety of tornado-tested, ADA-accessible hardware was included in Perkins+Will's design.
On the other hand, drawbacks include the fact that these areas may be located far from classrooms—even a different floor—and being that tornadoes can appear with little to no warning, there may not be sufficient time to transport students to the shelter.
When the shelter is located underground, Patrick Glenn, AIA, REFP, LEED AP, partner, managing principal, Glenn Partners, Dallas, points out that these spaces must meet additional siting criteria and flood design requirements. Aboveground and integrated storm shelter design—as opposed to separate, isolated, and underground cellars—are becoming more the norm as more manufacturers, material vendors, and construction teams gain experience in this particular field, he says.
One area that is not recommended for shelter spaces are corridors that often have openings that continue through to the outside at either end, thereby creating a wind tunnel effect. "The speed of this air can actually increase and move faster that the air on the exterior of the building," explains Shauna Schultz, AIA, CDT, in a Schultz Squared Architects blog on tornado shelters. "Most tornados carry debris with the wind, and that debris can find itself moving very swiftly through the corridor where the inhabitants are taking shelter."
Another problem, says Shauna Schultz, is isolating a shelter to a corridor running through the middle of a non-shelter building, as the design needs to separate the structure so that the non-shelter can "blow away" without damaging the structural integrity of the shelter.
Offering a good rule of thumb for locating storm shelters in an International Masonry Institute continuing education unit titled "Tornado & High Wind Sheltering," Tom Elliott, CSI International, lists the following as good shelter solutions: multipurpose spaces, classrooms, music rooms, media center, gym/cafeteria, locker rooms, and wrestling rooms. He classifies not-so-good shelter solutions as corridors, storage rooms, science labs, restrooms, stair enclosures, basements, mechanical/ electrical equipment rooms, and separate buildings.
Shelter Design
In terms of taking a more aesthetic, architectural approach to the design, Schultz Squared Architects views storm shelter design as designing educational spaces that are serving as shelters, not shelters that are serving as educational spaces. "We want people to walk into a classroom and say, 'This doesn't look like a shelter to me,'" states Corey Schultz. Bell agrees, saying, "We want it to look like a classroom, not a bank vault."
One way to accomplish this is to have a classroom serve as the hardened shelter space. "The key to this approach is to install specialized doors, or shutters, which normally stand open against the wall next to a window but can quickly be swung 180 degrees to cover the window and protect the classroom in the event of a tornado," says Corey Schultz. "The face of the shutter can hold a whiteboard or displays of artwork so the teacher doesn't lose wall space. When they need it, it's there, but day in and day out, they don't need it."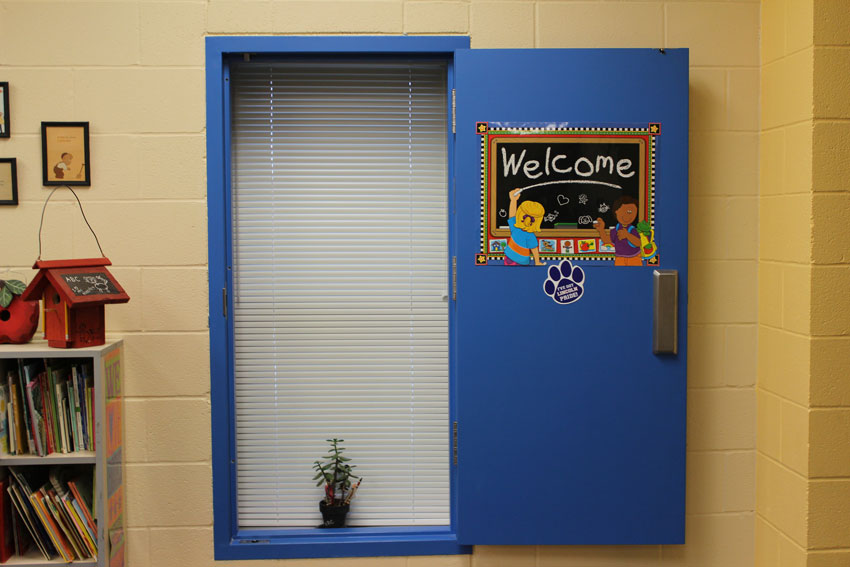 Photo courtesy of PBA Architects
Tornado shelter-certified school storm shutters support openings in storm shelters and lend an attractive aesthetic.
Storm shutters are a great product, says Harris, as they allow conventional windows to be used in the shelter, matching the host building.
"Storm shelters should not look like World War II bomb shelters, but rather architecturally pleasing structures or spaces with attractive entrances, good lighting, interior finishes, and furnishings," adds Waller. "A storm shelter can, and in many cases, should have dual uses, such as breakrooms, restrooms, conference rooms, and the like."
Along these lines, Joe Jamgochian, AIA, CPHC, LEED AP BD+C, architect, Perkins+Will, Atlanta, suggests that the biggest factor is incorporating some transparency into the design. "This can be achieved by either incorporating storefront glazing systems tested to the ICC-500/FEMA P-361 requirements or by arranging the storm shelter doors so they can be held open during normal occupancy," he explains. "Another way architects can prevent the underground cellar aesthetic is to utilize high ceilings, bright interior finishes, and quality lighting."
Pirtle—who also serves as NSSA's president—agrees, suggesting that the specification of certain finishes and structural components will enable the shelter space to look, feel, and function just like any other space in a facility.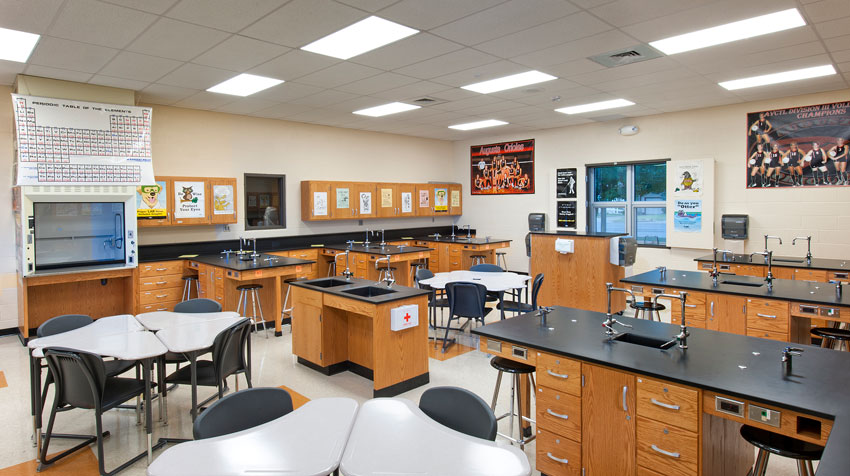 Photo courtesy of Schultz Squared Architects LLC
Tornado-rated shutters tested for wind and pressure compliance enable this Augusta High School shelter space in Augusta, Kansas, to appear as a regular classroom space with a window, and posters attached to the shutters' interior.
"For example, architects can couple ICC-compliant shelter wall components that replace interior steel studs without increasing the wall thickness with ICC-compliant ceiling panels to form an interior space that offers the occupants protection near or in their classrooms or workspaces," he adds. "Wall and ceiling finishes can be attached just as they are to a steel stud framed room, forming a shelter space while not disrupting the floor plan."
As a word of caution, Harris advises minimizing hanging objects as sudden changes in interior wind pressures from exposure to a tornado can shift hanging items and dislodge them, making them potentially lethal flying objects.
Glenn also notes that modern construction techniques, such as precast envelopes and insulated concrete form structural systems, can potentially enable higher-quality architectural design. That said, the shelter location may ultimately determine how creative the design can be. For example, athletic locker room spaces, which contain the plumbing fixtures required by code, are often selected. However, these areas are traditionally not considered "high-design" areas and are more known for functionality, high durability, and low maintenance.
Originally published in Architectural Record
Originally published in December 2017
Notice