Access Control: Delivering Security, Life Safety, and Convenience
Specifying appropriate door and hardware components for building projects
This course is no longer active
Advertorial course provided by ASSA ABLOY Door Security Solutions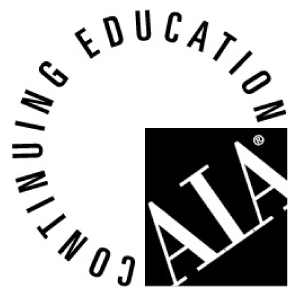 Continuing Education
Learning Objectives - After this course, you should be able to:
Determine what access control is and why it is a necessary component in building design.
Identify the basic components of an access control system.
Understand the security and life safety benefits of a comprehensive access control system.
Credits:
Designing a building without considering the placement of plumbing, heating ducts or electrical wiring would be impractical, yet it happens all the time with another critical building component. Access control has traditionally been treated as an afterthought in building construction, a design approach that can lead to additional installation expenses and compromises in aesthetics, not to mention poor integration of security components that have been hastily lumped together.
This oversight causes problems for building owners. Doors and hardware, essential elements of an access control system, constitute less than two percent of overall construction expenses, but statistics show they figure in about 25 percent of all punch list items at project closeout. Most of these punch list items could be eliminated by devising an effective access control system that is incorporated into the overall building design.
Making Buildings Safer: Integrating Equipment and Procedures
Security is a circle, a closed loop without gaps. A building may have numerous security components in place, but a single interruption breaks the loop and compromises the whole system. For that reason, it is vital to take a comprehensive approach to security so that every possible risk is minimized.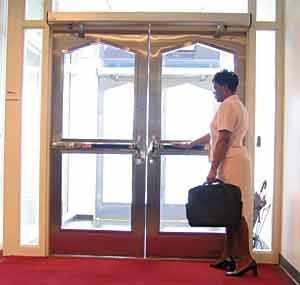 The use of horizontal sliding-door systems has been popular as invisible fire breaks at the juncture of internal spaces, such as galleries at the Getty Museum in Los Angeles.
Getty Museum, Los Angeles, California.
Architect: Richard Meier & Partners, Architects
Photo credit: Sutton Photography
Regardless of the building type, whether schools, hospitals, or offices, components of the access control system will fall under the categories of design, hardware, and procedures. These components should mesh together to create an access control system that delivers security, life safety, and convenience.
Today's door control hardware is capable of performing a given task with a certain degree of stealth. Properly functioning hardware goes unnoticed when it performs the basic tasks of providing security, life safety, and convenience. There is no need for safety and security to be difficult or obtrusive, at least not with the locking hardware options available.
This stealth effect is created by seamless integration of door control hardware with the rest of the building's security controls. When working in tandem, the security controls should deliver uninterrupted service and facilitate easy access and egress. Properly functioning doors should allow an orderly flow of traffic. A broken or malfunctioning traffic light at a busy intersection creates backups, delays, and safety hazards. Likewise, uncoordinated hardware control systems lead to doorways that impede safety and security.
Originally published in Architectural Record.
Notice