Voices for Sustainable Architecture
Sponsored by Armstrong Ceiling and Wall Solutions

1 AIA LU/Elective; 0.1 IACET CEU*; 1 AIBD P-CE; AAA 1 Structured Learning Hour; This course can be self-reported to the AANB, as per their CE Guidelines; AAPEI 1 Structured Learning Hour; This course can be self-reported to the AIBC, as per their CE Guidelines.; MAA 1 Structured Learning Hour; This course can be self-reported to the NLAA.; This course can be self-reported to the NSAA; NWTAA 1 Structured Learning Hour; OAA 1 Learning Hour; SAA 1 Hour of Core Learning
Learning Objectives:
Explain how President Obama links sustainability with affordability and equality.
Use the new tool available for calculating embodied carbon.
List one way that rigorous standards are better for building occupants, as well as the building profession as a whole.
Describe the strategies used in the Bullitt Foundation project and how it was designed to be restorative and leave the world a better place.
This course is part of the Sustainability Academy
This course is part of the The Sustainability Academy
Below are a set of links to building type studies from Architectural Record, which are in-depth analyses of particular kinds of buildings, with photos, drawings, specifications, detailed descriptions, and design solutions. Click on each link below, read the article then complete the quiz to earn your credit and certificate of completion.
Architects have long been leaders in educating clients and the public about implementing energy savings and other sustainable tactics in their projects. This course presents a range of interviews and writings from leaders and doers in the architecture profession and covers topics such as the link between sustainability, affordability and equality and the role of increasingly rigorous standards.
President Obama Talks Sustainability, Affordability, and Air Force One at Greenbuild 2019
A conversation with President Barack Obama at Greenbuild 2019 in Atlanta
Miriam Sitz
The Next Level of Sustainable Architecture
While major global powers refuse tough action on the climate crisis, architects, engineers, and contractors can help lead in reducing embodied carbon.
Cathleen McGuigan
Interview with Stacy Smedley
The Seattle-based designer spoke with RECORD about sustainability and a new tool for calculating embodied carbon.
Miriam Sitz
Two Architects Check the Pulse of Sustainable Building Practices
Amid the pressure to surpass even LEED standards, two architects from RECORD's latest and past Products of the Year contest juries shared their view of next steps.
Kelly Beamon
Obituary: Michael Sorkin, 1948-2020
Read about one of the most distinctive voices for social justice and sustainability in the design of the urban environment.
Cathleen McGuigan
Interview with Julie Hiromoto
The chair of COTE talks with RECORD about her recent testimony before a congressional subcommittee.
Miriam Sitz
What Is Your Sustainable Design Resolution for 2020?
RECORD asks several architects about their firms' goals for improving material choices and product sourcing

Interview with Earth Day Organizer Denis Hayes
Fifty years ago, Americans observed the first-ever Earth Day and Denis Hayes was the event's principal national organizer.
Joann Gonchar, FAIA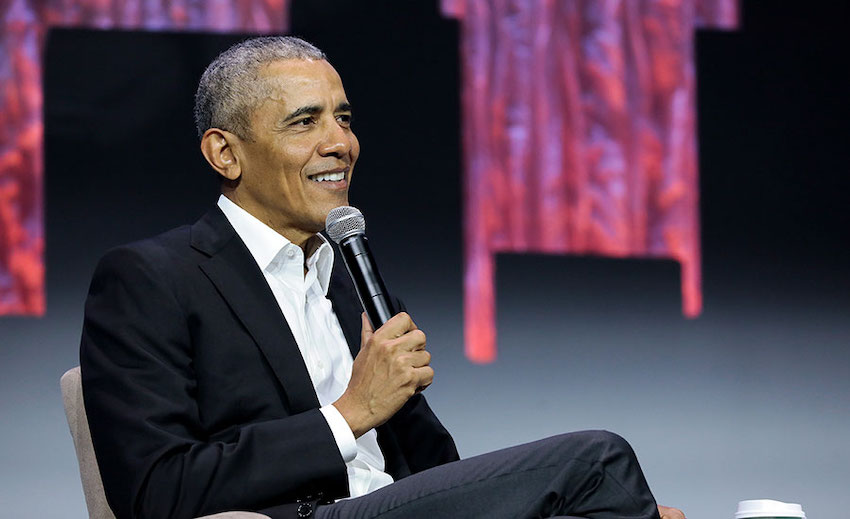 Photo © Oscar and Associates
President Barack Obama spoke at Greenbuild 2019 in Atlanta on Wednesday, November 20, 2019
Armstrong World Industries is a leader in the design and manufacture of innovative commercial ceiling and wall systems. At home, at work, in health-care facilities, classrooms, stores, and restaurants, Armstrong Ceiling & Wall Solutions offer interior options that help create healthy, sustainable spaces that protect people and cultivate well-being and comfort so they can be at their best.

Armstrong is committed to developing new and sustainable ceiling solutions, with design and performance possibilities that empower its customers to create beautiful, high-performance residential and commercial buildings. Armstrong continues to grow and prosper for the benefit of all its stakeholders. armstrongceilings.com/commercial


Originally published in June 2021
Notice