Use Cementitious Wood Fiber for Great Acoustical Design
Sustainable panels and roof decks help spaces sound better
Sponsored by Armstrong Ceiling and Wall Solutions
CWF: The Sustainable Solution
CWF panels are made from renewable wood sources, magnesium from sea water, and recovered magnesium waste. CWF panels contain no toxic binders, no asbestos, or formaldehyde and are naturally degradable in a landfill.
The truly sustainable nature of CWF acoustical products is surprising to some designers because of a commonly held misconception about the material. CWF products were originally developed as a substitute for asbestos-cement. Interest in CWF was sparked by a post-World War II shortage of the asbestos fibers used in asbestos-cement. As knowledge of the health hazards caused by asbestos spread, CWF became an even more attractive alternative. The similar uses and timeframes of development have caused some confusion in the industry, but there is no asbestos in CWF. In replacing a hazardous material, the industry found something that is naturally sustainable and often used in green building.
CWF Contributes Toward LEED Credits
Many aspects of CWF acoustical panels and roof decks contribute toward green building. The premiere resource in the United States for defining green building is the Leadership in Energy and Environmental Design (LEED) green building rating system. CWF acoustic panels and acoustic roof deck products can contribute a number of credits in LEED for New Construction (NC) and LEED for Existing Buildings and LEED Schools rating systems. LEED-appropriate characteristics of CWF include: being made from rapidly renewable resources that are locally mined or harvested, minimizing the packaging and waste present on a construction site, improving the thermal efficiency of a space, and improving the acoustical performance of a classroom, to name a few.
Made from Rapidly Renewable Resources
The wood fibers used in CWF can come from a rapidly renewable resource, such as the Trembling Aspen (Populous Tremuloides). The growth time for the Trembling Aspen is ten to fifteen years for pulping and stranding, which is comparable to the growth time of either bamboo or cork. This particular Aspen tree is also considered to be self-propagating. New planting is not required for reproduction. Instead, when a tree is cut, three new trees will begin to grow back from the original tree's root structure.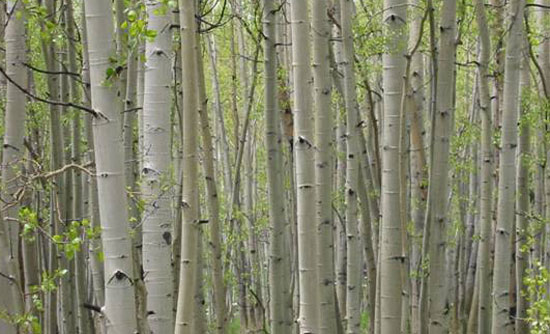 To determine if the CWF product is made from a rapidly renewable resource, look for products or manufacturers that are affiliated with the Forest Stewardship Council (FSC). This program contains a comprehensive system of objectives and performance measures that integrate the perpetual growing and harvesting of trees with the protection of wildlife, plants, soil and water quality.
Regionally Mined, Harvested and Manufactured
LEED and many other green building programs emphasize the importance of using materials that are regionally mined, harvested and manufactured. All of the raw materials found in CWF are readily found and extracted throughout the mid-western United States. For example, Trembling Aspen trees used for the wood fibers are commonly found in Wisconsin and the magnesium oxide, sodium silicate, and calcium carbonate used in the natural binder are mined in Michigan, Illinois, and Ohio respectively.
Minimal Construction Site Waste
CWF acoustical products are manufactured and shipped in a manner specifically designed to minimize waste at the construction site. These panels or roof decks are shipped without the need for boxing and minimal crating. This minimalist approach to packaging also minimizes the packaging waste at the construction site and the subsequently necessary packaging disposal. In addition, products can arrive cut to 1-foot length increments. This reduces or eliminates the field cuts and waste created at the construction site. CWF products are biodegradable and can be composted, eliminating landfill needs.
Improve Thermal Efficiency
The R-value of a building material or insulation is the measure of how well that material resists heat flow from one side of the material to the other. The higher the R-value, the better the thermal management of the material or, said another way, the better the material is at resisting heat transfer. The composite acoustical roof deck with insulation can provide R-values as high as R-44. This impressive thermal management contributes toward improving the overall energy efficiency of the project and, subsequently, contributes toward earning LEED credits for the overall efficiency of the space.
Improve Acoustical Performance of Classroom
One of the prerequisites for the LEED Schools program is entitled Minimum Acoustical Performance. This credit is concerned with creating classrooms that are quiet enough for teachers and students to communicate effectively with one another. CWF acoustical products are designed specifically to enhance the acoustical performance of any space, including classrooms, and can be applied toward satisfying these design objectives.
These are just a few of the areas where CWF panels and roof decks can contribute toward LEED credits. In total, there are at least thirteen specific LEED credits that CWF acoustical products can help satisfy. They are:
EA Prereq 2—minimum energy performance.
EA credit 1—optimized energy performance.
MR Credit 2—construction site waste management.
MR Credit 4—Recycled Content
MR Credit 5—Regional Materials
MR Credit 6—Rapidly Renewable Resources
MR Credit 7—Certified Wood
EQ Performance 3 (LEED for Schools)—Minimum Acoustical Performance
EQ Credit 3.1 and 3.2—Construction IAQ Plans
EQ Credit 4.1—Low-Emitting Materials, Adhesives and Sealants
EQ Credit 4.4—Low-Emitting Materials, Composite Wood and Agrifiber Products
EQ Credit 10 (LEED for Schools)—Mold Prevention
EQ Credit 11 (LEED for Schools)—Low-Impact Cleaning and Maintenance Equipment Policy
In the pursuit of doing what is right for the environment, the project space, and the project budget, it is rare that one product can offer the best solution for each area of concern. CWF acoustical interior panels and roof decks are environmentally-sustainable products that improve the acoustical experience of a space in a cost effective way. It is a solution that can be cheered and it will create a space in which the applause can be heard clearly.
| | |
| --- | --- |
| | Armstrong Commercial Ceiling and Wall Solutions is the global leader in acoustical ceilings and wall systems with the broadest portfolio of standard and custom metal and wood options available, including clouds, canopies, baffles, and blades. armstrongceilings.com/commercial. |
Originally published in June 2013
Notice