Understanding Code-Compliant Integrated Ceiling Solutions
Using modern ceiling installation systems to meet design intent, IBC code requirements, and construction schedules
Sponsored by Armstrong Commercial Ceiling Solutions
Acoustical Performance
As noted previously, complaints about noise and acoustical performance of a space are at the top of workplace gripes. To achieve comprehensive acoustic quality—an ideal combination of sound blocking and absorption of unwanted sound—acoustical ceiling products should perform at a high level according to two essential measurements: CAC and NRC.
Ceiling panels with high CAC and NRC ratings help block and absorb unwanted sound in open and closed office spaces that are used for both collaboration and focus work. These attributes are even more important in closed offices where privacy is key and sound could otherwise travel to adjoining spaces, such as other offices and corridors.
Failure to plan appropriately for sound or deciding to control for only one acoustic variable will spell dissatisfaction with the final built environment.
The decision to select a less-expensive product or traditional construction method that skimps on design control can mean owner dissatisfaction. Last-minute plan alterations typically add to the budget through increased labor and materials, and can make for an unsightly and inconsistent finish. Use of preconstruction services actually saves time and money for the project, particularly in designs calling for acoustical or drywall ceilings that require a unique solution or that call for special attention; with one-of-a-kind products; in custom applications; in new systems; in plans with complex geometries; and in systems with challenging transitions. By using detailed manufacturer shop drawings, specification sheets, and CAD/Revit drawings, you can easily create a perfectly finished ceiling using less time, labor, and material.
Code Compliance
Ceiling installation requirements follow the International Code Council's International Building Code, or IBC. The IBC has been adopted by all 50 states. The code spells out the minimum performance standards for installation, acoustical standards, fire performance, and seismic restraint.
Code requirements continue to proliferate as higher-performance buildings with increased use flexibility are specified.
The important codes related to suspended acoustical or drywall ceilings include:
• C636/C635 M-13: Standard Practice for Installation of Metal Ceiling Suspension Systems
• E580/E580 M-14: Standard Practice for Installation of Metal Ceiling Suspension Systems in Areas Subject to Earthquake Ground Motions
• C645-14: Standard Specification for Nonstructural Steel Framing Members
• C754-15: Standard Specification for Installation of Steel Framing to Receive Screw-Attached Gypsum Panel Products

Code updates can spawn confusion over which new products or systems meet code requirements. If a product or installation does not meet the prescriptive requirements in the code, then an evaluation report may be required. To complete the evaluation, a manufacturer must submit product information and testing to independent evaluation agencies, like the ICC Evaluation Service (ICC-ES) and International Association of Plumbing and Mechanical Officials Uniform Evaluation Service (IAPMO ES). These evaluation services appraise the building products based on acceptance criteria. Products that meet the acceptance criteria receive an evaluation report stating that the product either complies with the code or is an alternate to what is specified in the code. Product reports are nationally recognized reports and are usually accepted by code officials to verify compliance.
As ceiling systems advance and buildings demand higher performance and in-depth certification, it is important to ask for and obtain reports from the manufacturer's representative in the submittal process to ensure the products specified meet code requirements, both for IBC and ASTM.
Embracing the Latest in Ceiling System Innovation to Meet Client Needs
With innovations in pre-engineered ceiling systems, you can create high-performance, constructible ceiling designs faster and easier than ever before. For specifiers, pre-engineered component options and a broad variety of standard products with added capabilities and one-of-a-kind design support means design choices for every application, with assurance of quality and consistency. For the contractor, pre-engineered ceilings offer reduced labor and jobsite risk, and faster, more accurate installations.
Embracing the Latest in Innovation to Fully Realize Design Potential
Ceilings play a fundamental role in supporting a building's design and purpose. Grid and framing systems form the backbone of the ceiling plane, and work in concert with panel materials not only to carry forward the aesthetics of a structure, but also to host a building's vital mechanical, electrical, and support systems.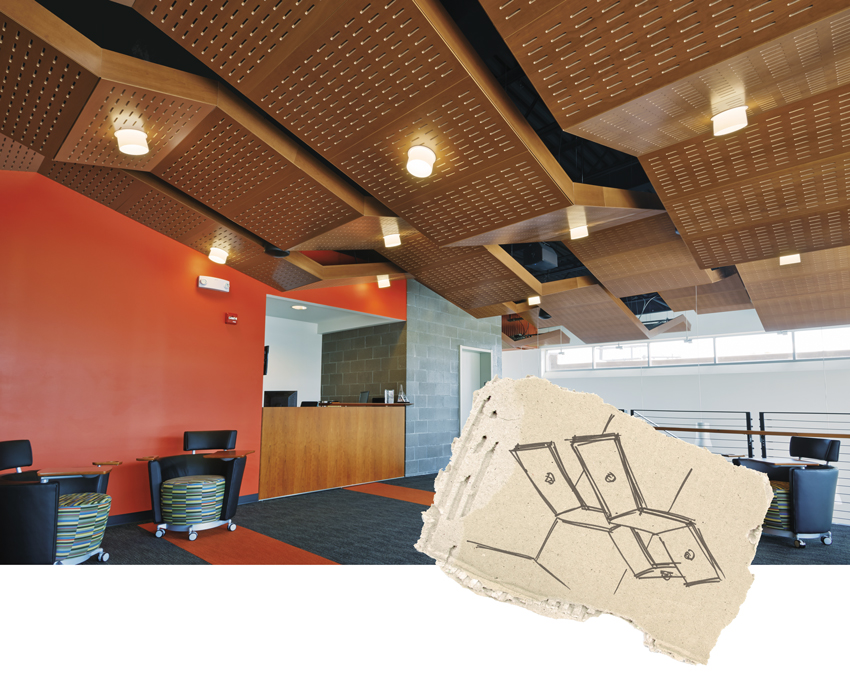 Photo courtesy of Armstrong Commercial Ceiling Solutions
Lyric Opera House Kansas City, Missouri HJM ARCHITECTS INC. Kansas City, Missouri Wood Panels hung on faceted suspension system
With the innovation and abilities of pre-engineered ceilings, creating high-performance, constructible, integrated systems is faster and easier than ever before.
For the architect, pre-engineered ceilings mean design choices for every application, but also provide the assurance that design aesthetics and acoustics are constructible, ensure enhanced installation quality and consistency, and lower project costs. The performance requirements of the space—aesthetics, environmental, durability, acoustics, seismic, recycling, light management, fire performance, humidity, durability, color, and codes/standards—are secured from the initial set of drawings to the final walk-through.
Pre-engineered ceiling solutions take on new importance, as traditional ceiling construction methods are no longer compatible with current design trends and today's expedited construction schedules. Pre-engineering allows architects to win the challenge of designing spaces that use modern, best construction practices and that meet design intent, code requirements, and accelerated deadlines.
Amanda Voss, MPP, is an author, editor, and policy analyst. Writing for multiple publications, she also serves as the managing editor for Energy Design Update.
| | |
| --- | --- |
| | Armstrong Commercial Ceilings is the global leader in acoustical ceilings with the broadest portfolio of standard & custom metal and wood options available including clouds, canopies, baffles, and blades. www.armstrong.com/commceilingsna |
Originally published in Architectural Record
Notice